Allergy Armor Bed Bug Bedding Packages
$95.84 - $155.83
$67.09 - $109.08
Allergy Armor Bed Bug Bedding Packages

As bed bugs have made a swift comeback here in the U.S. there is an ever increasing demand for bedding that will seal your bed from bed bugs and allergens. With Allergy Armor Bed Bug Bedding Packages, you get just that and all in an affordable, easy-to-use kit. With four separate components, you can completely seal and protect your bedding from bed bugs, dust mites and other household allergens while giving your bedding a fresh look.

Allergy Armor Bed Bug mattress covers encase your entire mattress and zip up to form a waterproof membrane that is impenetrable to bed bugs, dust mites, dust mite feces, and other allergens. Its laminated urethane membrane lining stops even the smallest allergens. While Allergy Armor Bed Bug may not be suited for extremely hot sleepers since the urethane membrane reflects some body heat, for most people, this will not be an issue.
---
Features
Your Bedding Package includes:
1 Allergy Armor Bed Bug mattress encasing-100% Polyester Stretch-Knit
2 Standard size Allergy Armor Classic pillow covers:
1 Allergy Armor Basic box spring cover
Impenetrable Urethane Lining
Breathable Membrane Barrier is Waterproof so never worry about spills
Affordable and Effective Protection against Bed Bugs, Dust Mites, Pet Dander, Mold, and Other Allergens
Bed Bug Certified mattress encasings
Total coverage self-locking zipper design
Fire retardant material
Easy to install and to remove
Lasting Allergy Relief with a 2 year warranty

---
Allergy Armor Bed Bug Bedding Packages - A Closer Look
Allergy Armor Bed Bug allergy bedding needs to be washed only about three or four times a year. The laminated urethane membrane is breathable and cool, but some extremely hot sleepers find it uncomfortable. The stretch-knit design gives these encasings some elasticity while retaining comfort.
---
Measuring Your Mattress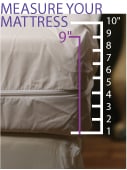 It is important to measure the depth of your mattress before ordering your allergy relief bedding. Most Allergy Armor Ultra mattress covers come in four depths: 9" deep, 12" deep, 15" deep, and 18" deep. For mattresses 9" deep and smaller, order 9" encasings. For mattresses with depths of 10" to 12", order 12" encasings and so on. Extra fabric makes installation easier, and it can be easily tucked between the mattress and box springs.
---
Sizes and Dimensions
Depth
Inches
Centimeters
W x L x D
W x L x D
Twin
9"
39" x 75" x 9"
99 x 191 x 23
Twin Deep
12"
39" x 75" x 12"
99 x 191 x 30.5
Twin XL
9"
39" x 80" x 9"
99 x 203 x 23
Twin XL Deep
12"
39" x 80" x 12"
99 x 203 x 30.5
Full
9"
54" x 75" x 9"
137 x 191 x 23
Full Deep
12"
54" x 75" x 12"
137 x 191 x 30.5
Queen
9"
60" x 80" x 9"
152 x 203 x 23
Queen Deep
12"
60" x 80" x 12"
152 x 203 x 30.5
King
9"
78" x 80" x 9"
198 x 203 x 23
King Deep
12"
78" x 80" x 12"
198 x 203 x 30.5
CA King
9"
72" x 84" x 9"
183 x 214 x 23
CA King Deep
12"
72" x 84" x 12"
183 x 214 x 30.5
---
no more worries

Easy to put on and now I know my mattress is safe and my allergies will not suffer

Exellent choice!

Of all the bedding packages I've bought, this is the best by far! Trying to apply other flimsy covers always left me with torn pieces. Not with Allergy Armor!

Best price for this package!

I looked all over but couldn't find a set with this quality and micron size anywhere! Very pleased with the cost and quality.
---

Allergy Armor Bed Bug Bedding Packages
Bed bugs are an increasingly common problem again, and as people travel, these insects are hitching rides on luggage and clothing and slowly but surely finding their way into homes across the U.S. Once bed bugs invade a room, it can be extremely difficult and very expensive to completely remove them. Aside from paying particular attention while you travel, an easy way to insure that your bedding doesn't become a home for bed bugs is to encase it with an Allergy Armor Bed Bug kit. This bedding package or kit provides you with what you need to protect your bedding, from the box spring to your pillows. Affordable and easy to use, the Bed Bug Bedding Packages are a easy way to protect your mattress, box spring and pillows from bed bugs as well as common allergens like pet dander, dust mites and mold.
What I like about Allergy Armor Bed Bug Bedding:
Allergy Armor Bed Bug has traditionally been sold by itself, just as mattress covers. But the same properties that make this fabric resistant to bed bugs and allergens are the same as some of our other Allergy Armor products. So now with this package you get everything you need to protect all of your bedding. The mattress encasing has a special sewing pattern to prevent any gaps at the end of the zipper chain, and the stretch-knit fabric is soft and flexible.
Bed Bug certified mattress encasing - a common hiding place for bed bugs
Dust Mite proof
Much more affordable when compared to other bed bug bedding kits
Washable in hot water
Only needs to be washed 3-4 times a year
Helps me to wake up with clear sinuses by eliminating dust mite allergen
Encases box spring, mattress, and pillows for maximum protection
Water resistant
Fabric is soft and stretches, easy to install or remove for laundering
What I did not like about Allergy Armor Bed Bug Bedding:
Slightly noisier than the other Allergy Armor fabrics
Due to the membrane inner lining, for hot sleepers these covers may be warm
I wish the pillow covers had the same sew pattern as the mattress encasing
While Allergy Armor Bed Bug Bedding Package is a great way to protect your mattress, pillows and box spring, they won't kill bed bugs. With bed bugs, the best thing to focus on is preventing them from making your bedroom their home, and keeping bed bugs from making your mattress their new residence is a great first step in accomplishing this. The added benefits of this bedding kit is that not only will it keep bed bugs out, but it also forms an effective barrier against dust mites and other common allergens. So for allergy sufferers, you really get the best of both worlds, all in one convenient bedding package.


---
Product Questions
No questions yet. Be the first to ask the question!
---