Allergy Armor Classic Bedding Packages
Ships Monday, November 30th!
Allergy Armor Classic Bedding Packages

We've bundled together the Allergy Armor Classic allergy bedding package to make it easier to purchase complete protection from dust mites and other allergens. Included in the Allergy Armor Classic bedding package are: 1 Allergy Armor Classic mattress cover, 2 standard size Allergy Armor Classic pillow covers, and 1 Allergy Armor Basic box spring cover.
Allergy Armor Classic is extremely effective at blocking out allergens.

Its laminated urethane membrane lining stops even the smallest allergens. While this fabric may not be suited for extremely hot sleepers since the urethane membrane reflects body heat, this waterproof fabric provides an excellent solution for bed-wetting and incontinence.
Please note that King and CA King bedding packages ship with two-piece box spring covers. If you require a one-piece box spring cover, please order the components separately or call for assistance.
---
Features
Your Bedding Package includes:
2 Allergy Armor Classic

standard size

pillow covers
1 Allergy Armor Classic mattress cover
1 Allergy Armor Basic box spring cover
50% Cotton / 50% Polyester Zippered Encasings
Impenetrable Urethane Lining
Breathable Membrane Barrier that is Waterproof
Affordable & Effective Protection against Dust Mites, Pet Dander & Other Allergens
Lasting Allergy Relief with a 3-Year Warranty
Allergy Armor Classic Bedding Packages - A Closer Look
---
Measuring Your Mattress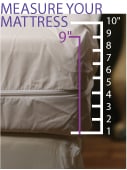 It is important to measure the depth of your mattress before ordering your allergy relief bedding. Most Allergy Armor Ultra mattress covers come in four depths: 9" deep, 12" deep, 15" deep, and 18" deep. For mattresses 9" deep and smaller, order 9" encasings. For mattresses with depths of 10" to 12", order 12" encasings and so on. Extra fabric makes installation easier, and it can be easily tucked between the mattress and box springs.
---
This product works for me. And I like the way that it helped me to clean up my bedroom, by covering bed items which shouldn't be exposed on a constant daily basis. A nice look! Once I got all the items covered in my room, I knew I should have done this years ago. I really appreciate the 15" deep sizes. After a first night of sleep my nose was not stuffed up. To date I breathe easier especially at night and wake up easier too. Thanks for making this product. It's easy to install, durable, affordable, washable, and American Made!
My daughter who has asthma and was just tested for allergies and tested positive to being allergic to everything. She has slept better then ever now that we've protected her bed and pillows! Thanks for provided great quality protection at a great price!!!
my son really feels better now
I love the fact that the bedding does not make that crinkling noise when you lay on it. Went on very east and fit my pillow case mattress with ease. Between the cases, laundry addative and my new comforter I'm sleeping like a baby.
I have suffered from sinus polyps and environmental allergies for many years and my husband has mild asthma. about 15 years ago we purchases a mattress cover and were unable to replace it since it outlived its use. that is until we found the allergy armor cleanair bedding. i had tried several other brands that were either not waterproofed or didn't fit the mattress well. allergy armor is a perfect fit for our 9 inch mattress and in addition it is easy to place on the bed and it is easy to change the sheets. i have slept thru the entire night since getting this product with no stuffy/runny nose or tightness in my throat. my husband has not had to use his inhaler before retiring for the night. i highly recommend this product for not only allergy/respiratory challenged people but for everyone who desires a peaceful, clean breathing environment.
---

Allergy Armor Classic Bedding Package

I have to admit I was very skeptical about the Allergy Armor Classic mattress encasings before I tried them. I always recommended them to customers who were buying them for young children but never recommended them for adults. I have to say my opinion has changed. I actually like the Allergy Armor Classic mattress covers, even for myself. It has a clean crisp feel to it that reminds me of clean sheets. One may think that because of the urethane backing that the encasing would not be breathable, but the Allergy Armor Classic membrane encasing does not make me hot at all.
What I like about Allergy Armor Classic
Washable in hot water
Only needs to be washed 3-4 times a year
Helps me to wake up with clear sinuses
Encases entire mattress for maximum protection
What I did not like about Allergy Armor Classic
Not very easy to put on, fortunately you only have to take off a few times a year
Slightly noisier than the Allergy Armor Cotton fabric
May not be breathable enough for a hot-natured person
In summary, I think that the Allergy Armor Classic fabric is a great solution for allergy sufferers who are not hot-natured and do not sweat a lot in their sleep. Putting the Allergy Armor Classic mattress encasing on is definitely a two person job. It is easiest if one person is holding the mattress up while the other person pulls the encasing on.
---
Product Questions
No questions yet. Be the first to ask the question!
---