Allergy Armor Classic Mattress Covers
$36.95 - $89.99
$25.87 - $62.99
Allergy Armor Classic Mattress Covers

Allergy Armor Classic mattress covers encase your entire mattress and zip up to form a waterproof membrane that is impenetrable to dust mites, dust mite feces, and other allergens. Allergy Armor Classic mattress encasings are easy to care for, breathable, and affordable. It will help you breathe better at night.
Our Classic fabric is extremely effective at blocking out allergens. Its laminated urethane membrane lining stops even the smallest allergens. While Allergy Armor Classic may not be suited for extremely hot sleepers since the urethane membrane reflects body heat, this waterproof fabric provides an excellent solution for bed-wetting and incontinence. These mattress covers are popular among parents who have young children with allergies or asthma.
---
Features
50% Cotton / 50% Polyester Zippered Encasing
Impenetrable Urethane Lining
Breathable Membrane Barrier is Waterproof
Affordable & Effective Protection against Dust Mites, Pet Dander & Other Allergens
Lasting Allergy Relief with a 3 year warranty
---
Allergy Armor Classic Mattress Covers - A Closer Look
Allergy Armor Classic allergy bedding needs to be washed only about three or four times a year. The laminated urethane membrane is breathable and cool, but some extremely hot sleepers find it uncomfortable. Because the Allergy Armor Classic membrane is waterproof and affordable, Allergy Armor Classic mattress covers are often recommended for younger children to protect the mattress from moisture as well as allergens.
---
Measuring Your Mattress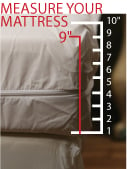 It is important to measure the depth of your mattress before ordering our allergy bedding. Allergy Armor Classic membrane mattress covers come in two depths: 9" deep and 15" deep. For mattresses 9" deep and smaller, order 9" encasings. For mattresses with depths of 10" to 15", order 15" covers. Extra fabric makes installation easier, and it can be easily tucked between the mattress and box spring.
---
Allergy Armor Classic Mattress Cover Specifications
Depth
Inches

Centimeters

W x L x D
W x L x D
Twin
9"
39" x 75" x 9"
99 x 191 x 23
Twin Deep
15"
39" x 75" x 15"
99 x 191 x 38
Twin Long
9"
39" x 80" x 9"
99 x 203 x 23
Twin Long Deep
15"
39" x 80" x 15"
99 x 203 x 38
Full
9"
54" x 75" x 9"
137 x 191 x 23
Full Deep
15"
54" x 75" x 15"
137 x 191 x 38
Queen
9"
60" x 80" x 9"
152 x 203 x 23
Queen Deep
15"
60" x 80" x 15"
152 x 203 x 38
King
9"
78" x 80" x 9"
198 x 203 x 23
King Deep
15"
78" x 80" x 15"
198 x 203 x 38
CA King
9"
72" x 84" x 9"
183 x 214 x 23
CA King Deep
15"
72" x 84" x 15"
183 x 214 x 38
Crib
6"
28" X 52" X 6"
71 x 132 x 15
---
picky1

Nice material, soft and quiet. Very easy to put on with 2 people. Also seems very well made, and sturdy.

slides on easily

We have a very thick pillow top mattress so I was worried the cover would not fit. It slid right on and zips shut tight. A good feeling knowing we are now protected. Great product.

Great Product!

Quality fabric, easy to put on bed and no uncomfortable crunchy feeling.

Love these

This was ordered for a daybed it slipped on very easily. I love the fact that it's also water resistant.

Excellent

Fit the mattress great - didn't have that crunchy feeling, is working out great! Would recommend and buy again.

Great Product!

We have been using AchooAllergy products for 8 years now. The mattress covers are of high quality and are amazing soft. I have purchased less expensive ones several years ago, and I felt like I was sleeping on a potato chip bag! I will always come back to AchooAllergy.

Perfect fit for crib mattress

I bought this mattress cover for my son's crib mattress and it fits perfectly. Love it!

getting allergies under control

I just put the new mattress encasing on today and have yet to sleep on it. It looks and feels wonderful. It's soft and didn't seem to be noisy at all considering it has a layer for being waterproof. It was easy to put on too considering it was for a king mattress. I can't wait to have my allergies under control with this new encasing! Thank you!

Puts our minds at ease.

I can't say that I've noticed a big difference for my daughter...she is only 17 months old and really can't tell me these things. The cover fit a little large- it wrinkles under the fitted sheet. But I like that it is supposed to repel water and other fluids.

Crib Cover

easy to care for, and comfortable to sleep on. I bought this item for my sons crib. It is much softer than a vinyl cover which causes sweating. It was easy to put on, and take off. Since it's for a baby, I have to wash it on a fairly regular basis.
---



Allergy Armor Classic Mattress Covers
There's a reason why we call these cover Classic. As one of the first mattress covers we ever sold, the Allergy Armor Classic mattress cover is affordable, easy to use, and offers lasting relief from night time coughing/wheezing or morning congestion and sneezing associated with dust mite allergies or asthma. Not only does it offer superior protection against allergens like dust mites, pollen, and dander, but it's the most affordable cover in the Allergy Armor line. So what makes this mainstay in the Allergy Armor dust mite cover line of bedding popular after all of these years?

What I like about Allergy Armor Mattress Covers

Breathable urethane lining effectively blocks 100% of all particles allergens but still allow warmth to pass through
Machine wash and dry
Stretch knit poly is soft and stretches, making it easier to install or remove for washing
Inexpensive
Water resistant
Provides relief for this with dust mite allergies or asthma aggravated by dust mites
What I did not like about the Allergy Armor Classic Mattress Covers
These covers have a lining, so they don't allow heat to dissipate as well as other fabrics
Overall, the Allergy Armor Classic fabric is a great solution for allergy sufferers who are not hot-natured and do not sweat a lot in their sleep. They provide an effective barrier against all allergens and cost less than other Allergy Armor covers. While they aren't as cheap as covers you'll find in big box stores, they are made in the USA and typically last well beyond their warranty.
---
Product Questions
What is the lifetime of the Classic covers?
---