Allergy Armor Classic Pillow Covers
$8.99 - $11.99
$6.29 - $8.39
Allergy Armor Classic Pillow Covers

Allergy Armor Classic allergy relief pillow covers encase your entire pillow and zip up to form a waterproof membrane that is impenetrable to dust mites, dust mite feces, and other allergens. The Allergy Armor Classic pillow encasing is easy to care for, breathable, and affordable, and it will help you breathe easier at night.
Allergy Armor Classic is extremely effective at blocking out allergens. The laminated urethane membrane lining stops even the smallest allergens. While the membrane fabric may not be suited for extremely hot sleepers because the urethane membrane reflects body heat, this waterproof fabric provides an excellent solution for bed-wetting and incontinence. Allergy Armor Classic is very popular among parents who have young children with allergies or asthma.
---
Features
50% Cotton / 50% Polyester Zippered Encasing
Impenetrable Urethane Lining
Breathable Membrane Barrier is Water Resistant
Affordable & Effective Protection against Dust Mites, Pet Dander & Other Allergens
Lasting allergy relief with a 3 year warranty
---
Allergy Armor Classic Pillow Covers - A Closer Look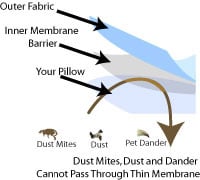 Allergy Armor Classic membrane allergy relief bedding needs to be washed only about three or four times a year. The laminated urethane membrane is breathable and cool, but some extremely hot sleepers find it uncomfortable. Because the Allergy Armor Classic membrane is waterproof and affordable, these mattress covers are often recommended for younger children to protect the mattress from moisture as well as allergens.
---
fits well

With pillows being so many different sizes, I was concerned the cover would not fit. It fits fine and has helped alleviate nighttime sniffles already.

allergy armor classic pillow cover

very high quality fabric feels great!

useful product

These covers are exactly what I expected and wanted.

Sleeping better already!

These pillow covers are wonderful. I washed and dried old pillows, then put the Allergy Armor cases on and I'm sleeping better already.

No longer throwing out pillows

Just want to say thanks! Our 4 year old has allergies accompanied with many nose bleeds. We haven't thrown out any more pillows since putting the allergy armor pillow case. we have also noticed a huge cut in the number of nose bleeds. So thanks again,

good night rest

I had a very good nights sleep using the pillow covers. I had 2 before and when I bought another pillow, I ordered another cover.

Pillow Cover Great for Wheelchairs!

We have gotten the Allergy Armor Classic Pillow Cover for several years now. My husband uses it as a cushion cover for his wheelchair pad. The cover is waterproof and zippered, but still comfortable, and it has saved us several accidents. It does not retain smells and is washable. A good product.

GREAT

I think these are great and they aren't noisy at all. My husband has no issues with them and he's a hot sleeper. All pillows on our bed have covers to help with dust mites and it's working.

Great Quality & Price

My daughter was recently diagnosed with severe allergies. We purchased this product, in addition to others, and we're all ready noticing a positive difference. Price is right & it exceeded my expectations. Soft comfortable feel makes it a great value for the price. My daughter is all ready breathing easier. Great product.

sleept better with pillow protectors!

Who doesn't want to be protected from the stuff that is inside their pillows?! These will do the trick and are affordable.
---



Allergy Armor Classic Pillow Covers
I have to admit I was very skeptical about the Allergy Armor Classic pillow covers before I tried them. I always recommended them to customers who were buying them for young children but never recommended them for adults. I have to say my opinion has changed. I actually like the Allergy Armor Classic pillow covers. They have a clean crisp feel to them that reminds me of clean sheets. One may think that because of the urethane plastic backing that the pillow cover would not be breathable, but I have found otherwise.

What I like about Allergy Armor Classic pillow covers

Washable in hot water
Stretch knit poly is soft
Inexpensive
Water resistant
Helps me to wake up with clear sinuses
What I did not like about the Allergy Armor Classic pillow covers
Slightly noisier than the Allergy Armor Cotton fabric
May not be breathable enough for a person who sleeps hot
In summary, the Allergy Armor Classic fabric is a great solution for allergy sufferers who are not hot-natured and do not sweat a lot in their sleep. The Allergy Armor Classic pillow covers are simple to put on and should be washed once every two weeks.
---
Product Questions
I have down pillows throughout my home and my son has allergies to the down feathers. I don&#39t want to get rid of all my pillows. Does your product help contain the allergens in the down pillows?
---