Allergy Armor Cotton Bedding Packages
Allergy Armor Cotton Bedding Packages

Allergy Armor Cotton blend mattress and pillow covers encase your entire bed and zip up tightly to protect you from dust mites, dust mite feces, and other allergens. Allergy Armor Cotton blend allergy relief bedding features a tight weave fabric construction and an average pore size of 3.9 microns. Since dust mite allergen averages around 10 microns, you can rest easier and breathe better knowing that you're completely protected.



Please note that King and CA King bedding packages ship with two-piece box spring covers. If you require a one-piece box spring cover, please order the components separately or call for assistance. p>
---
Features
Your Bedding Package includes:
2 Allergy Armor Cotton

standard size

pillow covers
1 Allergy Armor Cotton mattress cover
1 Allergy Armor Basic box spring cover

Breathable

, Membrane-Free Fabric

Luxurious

246 Thread-Count

Zippered

Covers
Average Pore Size of 3.9 microns

Effective Protection

against Dust Mites, Dust Mite Feces & Other Allergens
Machine Wash and Dry
American Made (AchooAllergy.com Exclusive)
Lasting Allergy Relief with

5-Year Warranty
---
Allergy Armor Cotton Bedding Packages - A Closer Look
Allergy Armor Cotton blend allergy relief bedding is made of a revolutionary fabric that is 40% cotton and 60% polyester. This light, membrane-free fabric has been independently tested and proven to be an extremely effective allergen barrier. Allergy Armor Cotton blend allergy relief bedding is made with double-needle stitching for lasting quality. With a 246 thread count, the Allergy Armor Cotton blend fabric is soft, luxurious, and breathable so you don't have to worry about feeling hot and clammy while trying to sleep. The fabric can withstand high washing and drying temperatures and it comes with a 5-year warranty. You will barely even notice the Allergy Armor Cotton blend bedding beneath your sheets and pillow cases!
---
---
Measuring Your Mattress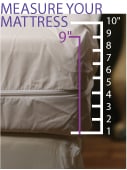 It is important to measure the depth of your mattress before ordering your allergy relief bedding. Most Allergy Armor Ultra mattress covers come in four depths: 9" deep, 12" deep, 15" deep, and 18" deep. For mattresses 9" deep and smaller, order 9" encasings. For mattresses with depths of 10" to 12", order 12" encasings and so on. Extra fabric makes installation easier, and it can be easily tucked between the mattress and box springs.
---
i purchased my pillow, mattress and box spring covers since I have an allergy to dust mites. It has worked well as far as I can tell. It is nice to know that I am now protected. I had a friend help me put them on the box spring and mattress, otherwise I think it would have been difficult to do it by myself.
The material is good quality, very easy to put on mattress. Had thought about getting covers for several years but never had till now. was not as expensive as I thought they would be.
For years I've had issues with asthma and coughing that kept me up all night. When I had allergy testing done, the number one culprit was dust mites. My allergist recommended bedding covers and gave me an Achoo Allergy flyer. I reviewed other brands as well and found Achoo Allergy to be the most affordable and had the best reviews. Within a few days I noticed a difference. The mattress and pillow covers are soft and breatheable. I can breathe and sleep soundly throughout the night!
I have spent a small fortune on doctors and products to help my son with his allergies. His allergy specialist recommended mattress and pillow encasements. I searched and found several companies and all types of products. I decided on achoo! Allergy and purchased the Allergy Armor Cotton products. I could not have made a better decision! I love the allergy armor line and I am about to order more so that every bed and pillow in my house is completely covered! Thank you so much!
After just a few days of using this product my asthma symptoms have dramatically decreased. The bedding is quiet and cool - such an improvement over the things I've used in the past! Highly recommended.
I am new to all allergy prevention products. I was concerned about making a poor choice. Having allergies is expensive. These casings are easy to put on and you do not know they are there.
I am very happy with the sheets I got from Achoo Allergy. I heard allergy covers were uncomfortable and made a lot of noice, but these are great. They are soft and think, I love the high quality of them. The customer sevice is wonderful as well.
I love this product. My son has such terrible allergies that he doesn't like to leave the house. His skin is red, flaky and wrinkled. He's allergic to everything! We bought the mattress covers for the box spring, mattress and pillows and he's actually clearing up! I'm so grateful to have found something that helps my sons allergies clear up.
We have an older box spring and mattress. We conducted an extreme clean of our bedroom and all items. These provide an excellent barrier. They fit bed and pillows well.
My son was recently allergy tested and Dust Mites was his biggest problem. As soon as the mattress, box springs and pillow cases were covered with Allergy Armor, he instantly slept better and has not needed to take any allery antihistamines. He is feeling great and does not wake up stuffy or sneezing. THANK YOU!!!!!
I am very happy with my purchase
I was very pleased with the Cotton Bedding package. My allergies have cleared up almost entirely. I was scratching and uncomfortable until I replaced my old bedding with Allergy Armor's covers. The difference is clear because I now sleep so much better. Thanks for a great product!
I purchased the Allergy Armor Cotton bedding package and love it! Excellent quality, love the pillowcases too, much better than the previous ones I had. Like a regular pillowcase, but great protection, I have pretty bad dust mite allergies and with this set I sleep much better already Excellent customer service too, I have a question and called on a Saturday morning, was pretty sure the company wouldn't be open but thought I would try. They picked up on second ring and helped me right away. SUPERB CUSTOMER SERVICE, I'll be back when I need more allergy products, I've found the company I love!
Being a skeptic at most things claiming "wonders" I was hesitant to spend so much money on bedding. However, after watching my daughter suffer so much for months and months, naturally I was ready to try. I tell you the truth, within two days she was sleeping peacefully again and is still doing so. I am extremely relieved...and no longer a skeptic. The product itself feels like regular sheets and the vinyl for the box springs cover is of a very heavy grade. We are quite happy with our purchase.
I am amazed at this product and so happy with the result. Even with medications, an air purifier & allergy shots, I was miserable because of how severe my allergies were. My allergist had told me about allergy bedding, but I had put it off because of the price tag that came with it. I finally gave in and now I only wish I had done it sooner. This product is amazing. It was hard to get on our bed, but we do not notice that it's there now. It was noisy the first day or two, but now it's quiet and light-weight. Great product. I can't thank Achoo Allergy enough for making this product and I can't recommend it enough. Don't hesitate to buy this - it's amazing!!!
When I measured my mattress it was exactly 9". I was worried that if I bought a 9" matteress cover it would be too snug, but I bought that size anyway knowing I could get another. I didn't want to risk it being too big and the sheets not fitting. The 9" mattress cover fit my 9" mattress snuggly but not too much. I can still slide it on and off easily and it is snug enough to where the sheets still fit firmly.
I purchased this package due to my allergy problem. I'm hoping that this will help my allergies to dust mites. The mattress cover has a nice fit and so do the pillow cases. The standard cases fit pillows up to 28" long, I purchased the 15" Deep mattress case and it fits a little big my mattress is deeper than standard size. Over all I am happy with it, though the vinyl box spring cover has a strong scent to it, hopefully it will fade after a while.
This package made it easy since I wanted to buy everything in the set. This website had the best information about protection against dust mites and bed bugs. The package is great. It had everything I needed. For the time being, I am going to stay with standard pillows with my king bed. However, I do think that it should be an option on the site for those who purchase king sets to choose one with standard pillowcases or one with king pillowcases. That would make it better for those of who have king beds.
Our 3-year old was recently ranked as severely allergic to dust mites. Naturally, we sought medical help and we were shocked to see our son prescribed seven 7 different medications as well as a looming threat of allergy shots on his first visit. We thought that there must be a better way to mitigate some of his allergic reactions. We bought his entire bedding on Achooo Allergy, including this Allergy Armor bedding, as well as mattress cover, and allergen wash. We even invested in Blueair 450E filter. Two weeks later, our son's lungs are clear, he is no longer wheezing at night and we only give him Zyrtec every now and then. Who wouldn't want to trade seven medications and threat of shots for this?! These products are great!
I purchased the Allersoft Bedding Package based on my Dr's suggestion to alleviate my nighttime sneezing and nose blowing. The added bonus is that my husband has become a believer and it has been helping him as well. Upon zipping up the covers, my husband said to the dust mites: "Hasta la vista babies!"
I recently purchased this set for my son. He is 3 and having terrible allergy/sinus problems that will not go away. Since our pediatrician told us to cover the mattress. We bought this. The room not only smells fresher and not stagnant, but he is sleeping much better and not nearly having the problems breathing that he did. I looked up a lot of different sites and products and this was the best deal by far. Will purchase another set for my 18 month old.
The covers fit very well. I like that there is some cotton content, because I don't like synthetic fibers. So far, the fabric is a little stiffer than I expected, but I haven't washed them yet. Supposed to get softer with washing.
I shopped for dust mite barrier bedcovers extensively before settling on this product. I liked the extra small pore size, the breathable fabric that is available and the variety of sizes to choose from, as well as the offering of this package that eliminates your entire bedding area as a source of dust mite allergens. Many websites with this kind of product do not even disclose the pore size of the barrier or specify exactly how deep of a mattress it is designed to fit. Many of them do not have size options or a full protection package available either. Neither did any I looked at disclose the fact that a product with a plastic membrane for a barrier will increase the heat of your mattress. So, my experience at achoo allergy was very informative, and I was able to purchase with confidence that the product would do what it was supposed to, fit my bedding, and not cause any additional problems!! This has all turned out to be true, to my great happiness. It is no exaggeration to say that I felt instantly better after the covers were on, just knowing that I would not be sleeping in a pile of allergen particles. I was very pleased that I was able to put them on my mattress and boxspring without having to tug them or squeeze anything in. The covers are designed to fit your size mattress, not "stretch to fit" all sizes, like some other options I saw online. I have had my products for about a month, and after the first night I was no longer waking up coughing or choking on mucus. I have much less congestion at all times and my airways are clear and clean. I am so pleased with these products I actually did a happy dance upon reflecting how grateful I am for the difference they have made in my well being and comfort. It's the little things, you know? Ahhh, being able to breathe. It's worth celebrating. Thanks for making such a great product!!
Recently received my Bedding Package; so far, so good. I felt less bothered by my common allergy symptoms.
I still have some reactions during the night, but over all my sleep is MUCH better.
The allersofoft pillow and mattress encasings are so comfortable and really helped me with my allergies. I would recommend this to anyone with allergies. I can now sleep perfectly through the night and I wake up feeling refreshed with a full nights sleep
After sleeping with my bedding package, I no longer wake up congested. There is nothing like waking up from a good night sleep and not feeling congested.
I purchased this bedding package and am very pleased. I began noticing a change immediately. I feel better and was pleasantly surprised at the look and feel of the fabric. This is a high quality purchase. Thanks so much!
She says she is feeling much better.
These covers & encasements are really really comfortable...they breathe well...don't get all hot...& don't make that annoying CRINKLE sound like some other similar products....
Everything went on fine and feels good. Great quality at a great price.
The mattress cover is very hot for my husband. He says that it makes him sweat at night.
Excellent
I purchased the mattress case set for my daughter who has been sneezing due to allergies. I was pleasantly surprised. The set comes with zipper cases for the mattress and box spring as well as two zipper pillow covers. They are soft and lightweight yet durable. So far they have worked out great and she has not sneezed since. Would recommend this product for allergy sufferers and to keep dust mites away.
I bought these items for my daughters and already I can tell a difference. They seem to be breathing alot better at night.
after hours of internet research achoo allergy has the best prices for these barriers. I like how they offer packages. The website is user friendly and very informative.
to get the most bang for your buck, the package is the only way to go. Additionally, when you buy a package bundle, Achoo throws in an extra standard pillow case encasing of the same brand. The allersoft is perfect for our son's bed and doesn't compromise on softness. 5 stars for this package deal.
For the past few years each time I would get into bed, I would have coughing fits. My allergist suggested I get a dust mite proof mattress encasement and gave me the Achoo Allergy brochure. Thank goodness he did! Not only did it ease my coughing at night but it is so comfortable. I expected it to be noisy and possible make it too warm to sleep. But I was pleasantly surpised to find it is very quiet and keeps you comfortable cool. Definately a great investment for my health and my husbands sanity!
A good horror movie would be about mutant dust mites that became the size of ants--they are everywhere!!! Once you start thinking about it, you want to get rid of every piece of carpet and fabric in your house! Since that wasn't practical, we opted for the Allersoft Bedding package for our bed and are very pleased with the result.
Very good product, good price and very fast delivery and I am going to buy a comforter cover too.
No dust mites, just that thought helps me sleep. My allergies are better now. I have been using your products for years.
I found out i was allergic to dust mites, when i was tested by my doctor.I am a firm believer in trying to do things natural opposed to medicine. I ordered the bed covers and they are great, I was worried about getting them on, but had no problems the vinyl box cover slid on with ease, and it was delivered exactly on time. thanks to the bed covers I can get a good nights sleep again, without waking up congested and with blood shot eyes. I can wear my contacts again. I highly recommend this product. thanks again.
While researching mattress encasings for allergens, I found that the Allersoft Bedding Package was the the best value, up to 4 microns of protection and definitely the best price. However, since these encasings have to be washed at least 2 times a year, I traded up for a much more expensive encasing that was 2 microns and didn't require as many washings. I didn't feel like struggling with my king sized mattress that many times. Furthermore, the 2 micron encasing is much smoother and softer. I could hear the crinkling of the allersoft one in the pillow while a slept. In terms of whether they make you breathe better, I have no idea.
I wasn't sure what to expect when our doctor suggested we purchase covers for all our beds; I was really surprised by what a difference the covers have made for everyone in our house. We purchased the Allersoft coverings for all mattresses, the vinyl box spring coverings and the Allersoft covers for all the pillows. I am so happy we did this! It has significantly reduced our allergy symptoms (stuffy nose, sniffling, sore and swollen throat). I wish I had purchased these products years ago. I recommend them for anyone with sinus allergies especially if your doctor or allergist has confirmed you are allergic to dust and dust mites, as we are.
We purchased recently full size Allersoft Beding Package that included encasing for Mattress, and two pillow covers. Allersoft covers are excellent and I believe these products make your bed free from dust mites.
My son's doctor recommend that we buy allergen free bedding to help with his severe allergies. We were given one of your catalogs by the nurse, and we immediately ordered several products. We are pleased with our purchase of the Allersoft bedding. It fit the mattress and boxspring well, and it is soft and comfortable. My son told me that he loves his cozy bed. His allergies have shown great improvement as well. We are thrilled with the results.
Since we have put the covers on the box springs, mattress and pillows, we are not waking up sneezing in the middle of the night.
The quality of this cover looks excellent and the price was reasonable. Looks like it will hold up with multiple washings
Product great---order received very promptly.
This bedding is very soft and comfortable. I had no problems putting the bedding on with a little assistance.
Since receiveing and utilizing my bedding package I am now able to breathe and sleep all night long.
Easy to put on mattress and springs; tough materials that should last. Helped my coughing right away.
It was nice to have everything we needed packaged together. All but the boxspring encasings were good quality. After reading previous reviews about the vinyl covers tearing while putting them on, my husand and I were extremely careful. First one did fine. Second one split down the entire side seem even though we couldn't figure out how it got bound in a place to do this. No ripping noise, etc.--just split. Oh well. Hope it will still be effective since it's at the bottom.
This product is very well made. Seems to be helping with morning stuffiness.
Great value! We have a very deep pillowtop mattress and the mattress cover was very easy to put on. I was a little worried about the quality of the box spring covers because they are vinyl, but when they arrived they were a very heavy gauge vinyl and very easy to put on. They are very durable. This package is a great value and includes the pillow covers. Highly recommended for allergy sufferers.
seems to be helping with the morning stuffiness.
My son was recently diagnosed with asthma that normal occured at night. He has no more problems at night thanks to the dust mite bedding.He gets a full nights rest
The Allersoft Dust Mite Bedding Package is great. I compared bedding sets at different website and this set provide you with the best value for the money. You get a low pore size to block the dust mites. It is easy to put on your bed and it doesn't make your bed hot or noisy.
WOW! TOP NOTCH in ALL areas Quility,fit, feel, fast shipping SOOOOO Pleased. So glad I bought from you. I will buy again.GREAT product,value and service.Sleeping GREAT! Nice to see a company that does it ALL RIGHT!
Very soft cover. Whisper quiet! Love them!
We bought the 15" cover because we have a king-size pillow-top mattress (new in the last 2 years.) The 12" probably would have been too tight, but the 15" is too large. If we had an option of 13-14" it would fit much better. Possibly the 12" would have fit. The cover is "baggy" and we tried using mattress clips and straps to no avail. We ended up putting our mattress pad cover on top of the allergy cover to make a better fit. Not ideal for allergies, but better than loose fitting bottom sheets.
I had been sick for years and after one week can already tell a difference. The top cover is great, soft, and easy to put on. The bottom cover is THIN vinyl and you have to be extremely cautious when putting on the bed--ours ripped easily on our first attempt. But the price can't be beat so this still gets a "5."
They seem to be thicker and sturdier than most products I've used in the past. There was enough leeway to put the covers on the bed, whick is not an easy task. The price was excellent for the package deal than the last company I used.
This mattress cover works well and has a generous zipper for easy application. Best of all, it really works!
After only a few days of using the cover, I already feel better! I will order them for all of the beds in my house.
Great products. Arrived quickly and I was able to put everything on with no help. Son has been sneeze free for months!
the product is so great! i feel more rested in the morning and i don't have watery eyes or a stuffy nose. i even feel the difference with my allergies and wheezing from my asthma. highly recommended!
I have already noticed a tremendous change in my asthma since getting this.
I no longer itch due to dust mites. Thank you allersoft!
Dramatic allergy improvement. My symptoms have steadily been reduced over the 2 weeks I've had the bedding. Awesome in that respect. My only complaint is not quite a complaint, just wish the fabric was a bit softer, not so sheeny (if that's a word). Perhaps with washing...
I am very pleased with the King Size Allersoft dust mite bedding package. Although, the mattress cover was a challenge to put on without help, it is very comfortable to sleep on. I would have prefered that King size pillow casings were included in the package instead of standard size.
It endured well the hot water and the dryer. It also is deep enough for the mattress.
I've been a bit skeptical in the past of all the rave reviews about these products. All my friends were right--it has made a world of difference. The biggest change is that I actually SLEEP through the night. No more waking up with a stuffy nose, or waking up coughing. Its amazing, really amazing.
Altho I am still taking a number of allergy meds, I am now able to sleep the whole night without waking.
My daughter has less caughing and wakes up in a better mood. Just knowing that she is not being totoally taken over by dust mites every night puts me a in a better mood too.
I like very much the feel of the bedding and noticed a marked difference on the very first night. However, the size measurements are a little off or my mattress is enormous because the mattress cover doesn't quite fit right. Overall, the pillow cases in conjunction with the mattress cover worked like a dream!
I found a very noticable difference in my son's allergies. I would highly recommend this product. It's his first good nights sleep in a long time.
I have slept so much better since getting the dust mite coverings for my bed, pillows, and comforter. There is a noticable difference in how I feel when I wake in the morning and my level of congestion. Wish I had discovered them long ago. Also, I shop around A LOT, and this was the best bargain on the internet.
This package is a great value. When my allergist said it was time to get shots again, I couldn't afford top-of-the-line dust-mite covers. But after using these, I'm not sure the expensive ones are necessary. These do a fine job and the mattress cover is quite comfortable. I was surprised at first that the box spring cover is vinyl, but I've learned that it doesn't matter as long as it works. And these covers have enabled me to breathe again at night.
Order came quickly. Quality is excellent.
this is a nice package deal however we were unable to use the box spring covers because we have low profile box springs.
I wake up feeling clearer and happier. This is the way to a good nights rest.
The bedding encasements are very nice - soft and comfortable. The vinyl box springs encasement is too big for my box springs so hangs very loose underneath my bed. I guess that's not too important. So far the items seem to be helpful in lowering my allergy symptoms
I noticed immediately after using this product that I slept better and woke up refreshed. You don't even notice that they are there.
Was very easy to put on and I could notice a difference immediately! The fabric is breathable and quiet and feels/looks just like fine linen. I would highly recommend this package.
I ordered the dust mite package on Sunday it arrived on my door step Tuesday; I felt such relief after I put it on my bed and felt how comfortable and quiet it was! I highly recommend this product to anyone suffering from allergies.
I'd been told that encasings could make a big difference in my allergy symptoms, but I had my doubts. Well, all doubts flew out the window after a few nights of sleeping with these encasings! I've experienced noticeable relief in my symptoms, and am now recommending these encasings to all my family and friends.
Not only were they easy to slip on my Queen size mattress and box spring, but they are making a difference.
I have to say that I was very surprised at how FAST the shipping was. Also, the bedding is so very soft and my son is very happy with it. I will tell everyone we know with allergies that they should buy from Achoo !! :)
I tried the Cleansing Wipes on a lark. My two bichons are allergic to everything here in Arkansas. Allergy pills don't help for long. They bite and lick and scratch. I used the wipes and not only did it really work as a mini-bath (and a good one), but it honestly did give them a measure of relief. My hands were as soft as silk, too. I also purchased the shampoo and can't wait to use it. The vet said to bathe them twice a week to help them. The shampoo is said to be ph balanced, mild, and will aloe. I believe they will feel better.
I recently purchased 2 sets of the Dust Mite bedding and I was very impressed with the quality of the items. In addition to them cutting back on the dust mites in the bedroom, they are quiet, and launder very well. I have even noticed in the short time we have used them that my son doesn't seem to have that nagging allergy cough when he is in his room.
The bedding is very comfortable; soft and silky. I have never slept so well!
If you buy the Grossan, also buy this. It works much better than using water alone. This product along with the Grossan Hydropulse helped clear up my sinus problems.
great fit, just as its described in catalog, not hot or noisy, very happy with purchase, a bit pricey though.
We recently moved and needed a mattress cover for our sons new bed. His dust allergy was really acting up and I was so relieved to put the new cover on his bed and find him sleeping well through the night again without congestion and triggering his asthma. We have had this product on all of the beds in our home for the last year (minus the time we waited for his new one)... and have been thrilled with the results!
When I purchased a pillowtop mattress I did not realize the allergy mattress cover would not fit. I searched for a very deep pocket cover and did not find one. Well, after five years without a cover my allergies started causing serious health problems. Again, I searched for a mattress cover. I almost gave up but then I found achoo allergy. They had a very deep pocket mattress cover. After I covered the mattress with the new cover, my allergies and health have improved. Thank you achoo allergy.
i felt a huge difference the first night i slept on my new sheets. thank you. now even my husband is feeling better.
When my toddler was diagnosed as being allergic to dust mites, we were encouraged to encase his mattress, box spring, and pillow cases with allergen barriers. I shopped around and achoo allergy had the best prices for the best product! After one night of sleeping in his allergen-free bed, my son breathed so much better and didn't cough! Thank you, Achoo!
This fabric has been working well so far. It doesn't make any unusual noises or cause any discomfort and the weave has effectively addressed the dander and dust mite issues.
Hello, my "name" is Ladee, and I am a bedding snob! When my doctor told me I had to have encasings for my mattress, box spring, and all 12 of my pillows of varying sizes, I was devastated! This product is strong and doesn't rip like inferior products, it doesn't make a "rustling sound" and it isn't "crunchy". It is perfect, and the prices are amazing!
My 6 year old son was recently just diagnosed with year round allergies, including dust mites, molds, pollens, trees, grasses, weeds (no cats or dogs though!) His allergist gave me a flyer for achoo allergy products but told me to shop around first before making a purchase. Well, honestly, the price for the twin bedding package was a great deal! I checked all my local stores and bedding stores for better prices and the prices just did not even come close to the prices offered here. We received our order in a few days, encased his entire bed and I could not believe the differnces we've seen in his symptoms just by making this one change. We had not even started his allergy immunotherapy or started using the air purifier and we saw a difference. If anyone is questioning the need to take the step to encase bedding, be assured it is well worth the expense! It is a definite must do!
So far so good. No problems.
---

Allergy Armor Cotton Bedding Packages
Anymore, there are a lot of different types of allergy bedding available, and with all these choices, it can be hard to figure out which is best for you. However, with Allergy Armor Cotton Bedding Packages, the decision is easy and real choice you need to make is which size you want! Let's take a look at what makes Allergy Armor Cotton and these dust mite bedding packages a great choice for those dealing with allergies or asthma.
What I like about the Allergy Armor Cotton Bedding Packages:
It is a kit, complete protection for your bedding. With the Allergy Armor Cotton bedding package, your pillows, mattress and box spring are covered. This takes care of most of your most troublesome bedding all in one step!
Material is very comfortable, breathable and durable. There is no membrane as with cheaper bedding products, and this means less noise without sacrificing performance. The blend of cotton and polyester makes the components of the Cotton Bedding Packages more durable than if they were a cotton-only product. And while the warranty period is only five years, you will usually get 10-15 years of use from this product.
The more you wash it the softer it gets. Initially, the covers can feel somewhat rigid, and much like a pair of tennis shoes, it is mainly because the fabric is new, crisp and unused. Regularly washing, not only remove any allergens that can settle on the covers, but it also softens the fabric and will actually tighten the pore size of the covers.
It doesn't make any noise when you sleep on it. Nestled snuggly beneath your fitted and flat sheet, the mattress cover does not make noise and is not crinkly like older style or less expensive covers. The pillow covers may add a little noise, but not much more than a new set of sheets, and this diminishes with washing.
Doesn't retain heat at all, you cant even tell that it is on your bed. Due to the lack of a membrane, these Allergy Armor Cotton dust mite covers will not retain heat. This makes them a great fit for hot sleepers.
Encases entire mattress. Theses encasings cover completely. There are no holes, and unlike covers that mimic fitted sheets, these completely cover the mattress in a layer of allergen resistant fabric.
More hygienic than other fabrics. Unlike cheap terry cloths that have been sprayed with a urethane lining, the tight weave of Allergy Armor Cotton won't hold debris and allergens. And, though it is not waterproof, the tight weave pattern allow water to temporarily bead up, giving you time to clean up spills before it can soak through and stain your mattress.
Easy to care for: hot water washed and dried. Machine wash, machine dry. There are no special cleaners or tricks needed for these. Simply launder as you would your regular bedding.
YKK zippers. This may not seem like much, but with such a basic product, zippers can be and are often the part that fails, but we use YKK brand zippers in each of our Allergy Armor dust mite bedding products.
Made in the USA. We cut, sew and pack each bedding package right here in Atlanta, GA, just for you!
5 year warranty
What I did not like about the Allergy Armor Cotton Bedding Packages:
Can be a bit of a pain to put on, but you only have to take it off and wash it three to four times a year.
The warranty could be longer.
The Cotton Bedding Packages offer complete protection against dust mites and other allergens for your mattress, box spring and pillows - the most common places where dust mites flourish. Economically priced, the pore size provides protection against things like dust mites, dust, pollen and dog dander, the most common particle allergens in the home. Durable and easy to care for, the cotton package blocks allergens and can help to keep you breathing better and waking up without the sneezing, coughing, itching and other symptoms that people with allergies or asthma experience after a night of inhaling the dust mite allergen. As a final note, some of these dust mite packages now come in 12" mattress cover depths, giving you more choice and a more custom fit.


---
Product Questions
Will they shrink because they are made with cotton?
---