Allergy Armor Ultra Mattress Covers
Allergy Armor Ultra Mattress Covers

Luxurious and breathable, Allergy Armor Ultra is our highest quality allergy relief bedding for those who demand the ultimate in comfort and protection from dust mites, mold, pet dander, and other allergens.

A unique finishing process shrinks the fabric's pores to the smallest size in the industry, effectively blocking out even the tiniest allergens like cat dander without compromising comfort. With a wide selection of sizes and all crafted right here in the USA, Allergy Armor Ultra dust mite mattress covers provides lasting allergy relief and come with a lifetime warranty.
---
Features
Highest Quality

Allergy Relief Bedding
Smooth, Soft &

Luxurious Microfiber

Breathable

Membrane-Free Fabric

2.8 micron Average Pore Size

100% Polyester

Zippered

Encasing
Available in

more than 20 sizes to fit nearly any mattress

Ultra Protection

against Dust Mites, Pet Dander, Mold & Other Allergens

Antimicrobial Finish

Guards against Stains, Bacteria & Mold
Durable & Long-Lasting Allergy Relief with a

Lifetime Warranty

Machine Wash and Dry
Made in the USA
---
Allergy Armor Ultra Mattress Covers - A Closer Look
Allergy Armor Ultra mattress and pillow encasings have the smallest average pore size in the industry at 2.8 microns. The ultra-fine 100% polyester fabric goes through an extra finishing process known as calendaring, in which extreme heat and pressure shrinks the pores (the gaps between the threads). These microscopic pores allow the fabric to breathe while blocking out allergens. The dust mite allergen averages around 10 microns, but pet dander and mold particles may be as small as 3 microns. Allergy Armor Ultra offers the comfort of luxurious microfiber bedding while keeping you safe from even the smallest allergens. A permanent, protective antimicrobial finish provides long-term protection against mold, mildew, soiling agents, stains, and deterioration.
Unlike fitted sheets, Ultra dust mite mattress covers completely encase the mattress, offering total protection. When installing them, stand the mattress up and slowly but evenly pull the cover down over the mattress.
---
Measuring Your Mattress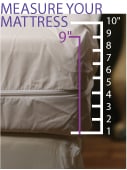 It is important to measure the depth of your mattress before ordering your allergy relief bedding. This can ensure proper fit and make it easier to remove and reinstall for washing. Twin, Twin Long (XL), and Full Ultra mattress covers are available in 9, 12, and 15" depths. Queen, King and CA King size mattress covers are available in 9, 12, 15, and 18" depths. When measuring, keep in mind that extra fabric makes installation easier, and it can be easily tucked between the mattress and box springs. For mattress 9" deep or less, opt for a 9" cover; 12" or less the 12" cover, and so on.
---
Ultra Mattress Covers - Sizes and Dimensions
Weight
Inches
Centimeters
(Lbs.)
W x L x D
W x L x D
Crib
2
28" x 52" x 6"
71 x 132 x 15
Twin
3 -3.40
39" x 75" x 9" (12", 15")
99 x 191 x 23 (30, 38)
Twin Long
3.2 - 3.45
39" x 80" x 9" (12", 15")
99 x 203 x 23 (30, 38)
Full
3.55 - 4.15
54" x 75" x 9" (12", 15")
137 x 191 x 23 (30, 38)
Queen
4 - 4.7
60" x 80" x 9" (12", 15", 18")
152 x 203 x 23 (30, 38, 46)
King
4.8 - 5.40
78" x 80" x 9" (12", 15", 18")
198 x 203 x 23 (30, 38, 46)
CA King
4.8 - 5.40
72" x 84" x 9" (12", 15", 18")
183 x 214 x 23 (30, 38, 46)
---
This is my second purchase from Achoo Allergy. My son and I are both allergic to dust. The Allergy Armor Ultra covers are a lifesaver. Easy to put on and work really well. My son's nose is measurably clearer. They aren't noisy or stiff. And they wash up really well.
Mattress cover fit perfect and not noisy. Used for kids room.
Mattress cover fit easy. Not noisy. Used for kids bed.
I ordered this for my mattress, but my son got diagnosed with asthma, and he has a Love Sac in his room. His doctor told us to get rid of all stuffed animals and things that collect dust. I used this as a cover for the Love Sac, and it works just fine. Little extra room around the edges, but better than having to get rid of it. It's soft, doesn't rattle we When we sit on it. Have a blanket over the top. Very pleased. Am going to order another for the bed.
This product is fantastic! I never realized how much dust mites and pet dander affected me... the first night I slept with my allergy pillows, mattress and box spring covers was great - no more itching! Love these products!!
The mattress cover fits nicely and is of good quality. I was concerned at first about a vinyl feeling, but with a regular mattress pad over it, it's fine.
Fits great on our mattress with the featherbed under it as well. Feels a little "vinyl-like" but not nearly as bad as the cheap version we used to have. Doesn't make crunchy noises when we move in our sleep.
I ordered this product - actually All of the products for mattress, pillows,and duvet. Putting this mattress cover on, under your sheets turns any pillow top or foam mattress you have into a stiff, plastic feel type sleeping surface. My tempurpetic mattress now feels more stiff than a hospital bed...really. I guess if it helps minimize dust allergies it's worth it, but it's definitely a trade-off. [Editor's Note: When using a mattress cover, select a depth that will give you some extra room. The more taunt the cover is stretched over the mattress, the stiffer it will make the mattress feel.]
I am allergic to everything except foods. However, I cannot live without my cats. I have not used this duvet cover to cover a duvet. I'm hot most of the night, so I have used the duvet cover without anything in it. It goes on top of my sheets, so when my cats jump on the bed, I am protected from their dander and fur. The duvet cover is excellent quality for allergy people. I was worried before I received it, that it would feel like some kind of pastic and either make me feel hotter, or uncomfortable. Just the opposite is true. It feels very soft and has not made me uncomfortable in any way. And I'm not even using it like a regular duvet cover, but as a "protective covering" by itself. I would highly recommend this Ultra Duvet Cover if you have allergies, can't live without a pet, and want it as light-weight or as an actual duvet cover. It's very efficient and very soft. Perfect!
I have every boxspring, mattress, and pillow covered in your products. They keep them looking and smelling like new. The best protection out there for the money.
I hear no crinkle cracking as I climb into bed, I find no tears in the fabric... could this be love? I have struggled with the loathing feeling I get when I think of allergy covers, and yet they are essential to my allergy relief. I stumbled upon this wonderful company, and I am definitely 100% satisfied with my purchase.
I bought a new mattress from a name brand store and noticed I was waking up with swollen eyes. This cover has helped very much and it was easy for me to put on.
This products material is very flexible, soft and goes on easily on your mattresses. It is made with extra care and strength and should last for years. We are completely satisfied.
The covers are good and fit the Bed real well and feel realy sturdy. I would recomend them for the dust mite allergy sufferers!!!
This Allergy Armour Mattress Cover is so cool and comfortable under my sheets, and it is so effective at keeping dust mites at bay I don't know what I would do without it. I can tell from the quality of the fabric that it will hold up for many years - and the zipper is strong, too. Great product.
Durable and easy to put on and even fit a 4 inch memory foam mattress topper with the mattress as well. Highly recommend this product!
These mattress covers fit great, feel great, and most importantly they make a huge impact in the quality of my sleep...I no longer wake up itchy from dust mites!
The mattress covers are well worth the money you send. I have tried several others from department stores, only to replace every couple of months.
I first purchased Allergy Armor for my daughter who has severe allergies and since then began having allergy problems myself. Now, every bed in the house is covered and we are all waking up able to breath better. This product is made well and washes like armor...standing up to it's name!
I do not have bad allergies thanks to shots as a teen. However, I tend to be a bit a stuffy in the morning. In the past I never considered covers because they feel like sleeping on plastic. However, I thought I'd give these a try because they looked soft. Well, they are soft! I do not notice them at all. Ever since I started using covers my breathing has been perfect. I actually sleep with my mouth closed now... I think.
This is sooo comfortable and has really helped with my allergies as far as I can tell!!
The mattress cover was very easy to get on, and we can't even feel it beneath our sheets. I used to be so tired upon waking that I'd sometimes have to skip work to sleep all day, and I'd still wake up groggy. Now I wake up fine!
Bought this mattress cover for my new mattress. My husband and I have been having trouble sleeping due to lack of circulation in the bedroom and dust mites, mold spores and pet dander. We finally decided to start out fresh with Ultra mattress cover, Ultra pillow covers and added a new purifier, all purchased from this site. We are now sleeping a lot better! No more waking up with stuffy nose. My mattress is 12 inch but I decided to buy the 15 inch, I figured it's better to have it sized bigger so it's easier to put on.
After I was diagnosed as having a severe dust mite allergy, I went to Achoo Allergy and purchased everything I could get my hands on to help. The Allergy Armor "Ultra" mattress cover is wonderful! No more mites in my bed! The fabric is soft, not plastic. It was relatively easy to put on, and it fits very well. I originally purchased the entire bedding set mattress & box spring covers, as well as pillow covers. When we bought a new, deeper mattress, I came back here and ordered another cover. The first mattress cover is now on our guest bed. Allergy Armor "Ultra" is worth every penny and has definitely improved my sleep! No more waking up coughing and sneezing for me. :
I bought one of the Allergy Armor Ultra mattress cover and pillow case sets for my 5 year old son with dust mite allergies and saw an immediate improvement. These are so much nicer than anything else you will find in a local store they are soft, breathable, and the seams and zippers are clearly made to withstand lots of use. I later ordered two more sets for the rest of the house, especially since my husband is asthmatic too and I suspect he has the same sensitivity. I think he snores less since we've been using them, so I'm getting better sleep too! Everything at Achoo Allergy is top quality and the customer service is excellent. Order with confidence!
The quality is unbeatable!
My 1-year old puppy would stay up at night scratching all night and yawn during her play-time activities. Turns out she is sensitive to dust mites. I purchased the bed cover and the pillow covers and my puppy and I sleep through the entire night. No more itchy puppy! Happy Paws!
I've been allergy proofing all the beds and pillows in the house--including the guest bed. I am very happy with the Allergy Armor Ultra Mattress Cover. It's very well made and quite comfortable. There was even one that fit our California King bed. I am very glad I spent the money for proper protection.
Easy to put on, and it seems to help my allergies.
I have moderately severe allergies to dust mites and whenever I go to bed I itch throughout the night unless I take an antihistamine prior to sleeping. When we bought a new mattress I immediately ordered the Allergy Armour Ultra Mattress cover so when the bed arrived the first thing we did was cover the bed and the new pillows. Now, I am basically itch free when I sleep and I can sleep through the night.
The dust mite crib mattress cover is outstanding. It fits well and is very easy to put on and take off. It is very soft and doesn't make my 3 year-old hot and sweaty like is old pillow cover did. This material is very nice.
After having researched all the different mattress covers available after having found out that one of my children is HIGHLY allergic to dust mites and indoor molds, I selected Allergy Armor Ultra. While we still need to address the humidity situation in the childrens' bedroom, just by virtue of encasing their mattresses and box springs, my one child's allergies have virtually disappeared. Amazing. Thank you!
My boyfriend and I have been having terrible allergies. I have a cat who occasionally jumps on the bed and sleeps there while we're at work. I religiously wash the sheets in HOT water weekly, but never realized the problem was that so many dust mites and dander particles were getting into the mattress! The cover went on easily I put it on a California King bed by myself. It's very comfy and doesn't have that 'plastic' feel. Awesome!
This is an excellent product. I've been sleeping much better than before -- never wake up with a stuffy nose or sore throat. What a difference! It was easier to put on our 18 inch deep California King mattress than I would have expected.
I won't ever have a bed without one of these! Symptoms were gone the very next morning, I could breathe and sleep better.
I purchased the pillow covers awhile ago because I wasn't sure I would need a mattress cover or not. My allergies recently have gotten worse and I decided to get it. I have noticed a difference in the quality of sleep I am getting and I don't wake up stuffed up anymore. I know I will never be free of my allergies - but this is one step in the direction of fewer symptoms. I would highly recommend this product.
After having allergy testing done and finding out that it was the dust mites I was allergic to I wasted no time in doing my research to find a quality product that was affordable for us. These covers work great! They were easy to put onto the mattress and box spring and they have made my nights a whole lot better. I don't wake up stuff and red eyed in the morning. Thanks for a great product!
I have been planning on getting a mattress cover for my wife for some time however when my son (16 months old) starting having severe congestion and coughing during the night, I decided to act. After extensive internet searching, I decided on the Achoo Allergy products because of perceived quality of product and professionalism of the website. The mattress covers arrived a few days later and the results were significant for both my wife and son. They of course still have their allergies, but neither of them are getting up in the middle of the night with coughing or sneezing attacks. As a side note, I found the mattress covers went on sale a day after my purchase. I contacted Achoo Allergy and they refunded the difference to me without blinking. This to me is a sign of a good, quality company.
I chose the Allergy Armor Ultra because my 4 yr old suffers severly from dust mites and animal dander. The cover was easy to put on. In the past everynight my son would wake coughing so hard sometimes he would get sick on himself. The first night he slept with his new covers he didn't cough at all. I was amazed at the differnce the cover made. I also bought the covers for his pillow as well. Thank you so much.
This mattress cover is soft, sturdy and effective. I've definitely noticed a change in my breathing since I've started using it. It's easy to wash and easy to put back on. It doesn't have that plastic-crinkling noise like a lot of other similar products. I love it.
My sons was sneezing ALL day long. After we got the mattress cover he no longer sneezes or takes any allergy meds. As a mother, that makes me feel great!
This is great buy, especially if you have a used matress. Unlike most matress covers that only cover the top of the matress, this cover completely covers your whole matress and zippers shut. I love it!!
I did not expect to sleep so comfortably the 1st night I slept on my bed with the mattress cover in place. It is not warmer than my mattress was when it was uncovered. It is not noisy. And, I don't wake with a stuffy nose!
My son is 4 years old and was diagnosed with allergies/asthma earlier this year. He was hospitalized for an asthma attack in July, and I knew life had to change. I removed the allergens I could (he is allergic to house dust mites, cat & dog dander). But, still had to give him inhalers and antihistamines. After a few nights use of the mattress covers/pillow covers I have seen a difference. No more rescue inhaler use, less use of antihistamine, and a generally healthier/happier child...because he can breathe!
Mattress cover is well made and doesn't make any noise when you lie on it - I thought it might be plastic sounding, but it wasn't. My only problem was putting it on - it did take two people and was pretty awkward. However I really like the quality of the produce. It does seem to help with my allergies.
After much research I found that Allergy Armor provides the best quality and protection for allergy sufferers with options that do not include plastic linings. Achoo allergy has by far the best website I have found. It provides great information and is easily navigated. My order was quickly processed and shipped on time.
This was my first experience with buying and using a mattress encasing. I was interested in finding a material that was a membrane-free, breathable fabric. I ordered the "Ultra" Allergy Armor because it was described as being very soft and not noticeable under sheets in other reviews. When I received the package, I noticed how heavy it was. I opened the bag and the microfiber was much tougher and stiffer than I had expected. Upon washing and drying the product, it became slightly softer. I put on the encasing, with a help of another person, and then made my bed as usual. I use a matress pad under sheets, so I have that between the Armor and the sheets. When I first slept on the bed, I did notice that the encasing was there because the mattress was a little less flexible. However I quickly grew used to it and now I don't notice it. I do not have any issues with excess heat or sweating from the encasing, so the breathable part is accurate. My nighttime congestion is less since beginning with the encasings this month, and I look forward to years of relief from the product.
Is not hot or noisy to sleep on. Seems to do the job.
We feel so much better having this on our son's crib mattress. It fits great and he doesn't even know it's on there protecting him from dust mites. His allergies have been much better at night.
We feel so much better when going to sleep with this cover on our mattress protecting us from the dust mites. It was a breeze to put on our mattress. We measured first and it fits true to form.
I love the website and the products from achoo allergy! They have great information available. I ordered the Allergy Armor Ultra mattress cover and enjoy it very much. The microfiber feels great and doesn''t bother at all under the bed sheet. Feels cool and breathable and makes only very little noise. Fits nicely over bed mattress.
The product is so soft and breathable. It fits the mattress perfect even a little extra room. I can feel confident that my little girl is being protected against dust mites with her new diagnosis of asthma. Thank you!!!!
---

Allergy Armor Ultra Mattress Covers

I couldn't wait to try out Allergy Armor Ultra. I had the perfect test location: my girlfriend's apartment. I normally don't have any allergy problems at my own apartment (I try to keep the place clean and allergy-proof), but my girlfriend is not such a clean-freak and has two long-haired cats. To make matters worse, she lets her cats sleep in the bedroom, and so there's cat hair (and cat dander) everywhere. Needless to say, whenever I stay at her place, I wake up with a stuffy nose, itchy eyes, and several sneezes.

Before we put the Allergy Armor Ultra cover on the mattress, we vacuumed it off with a HEPA vacuum cleaner. It wasn't too difficult for the two of us to get the mattress cover onto her queen size mattress, but I can imagine how it might be more difficult with a king size mattress. Then we put fresh sheets on the bed so we could try out the new Allergy Armor Ultra that night.

I haven't woken up sneezing since!

Allergy Armor Ultra is perfect for pet owners (and the allergic significant others of pet owners) because of the ultra-small pore size. The fabric goes through a special finishing process that shrinks all the fabric's pores to the smallest average pore size available - 2.8 microns. This means that even microscopic cat dander, the smallest common household allergen, cannot fit through the gaps in the fabric. Any allergenic particles buried within the mattress or pillows will stay encased within the Allergy Armor Ultra covers, and all the dust mites living within the mattress and pillows, as well as the allergens they produce.

What I like about Allergy Armor Ultra mattress covers


They only need to be removed and washed three to four times a year. Even if you wash them more, they won't fall apart or fray like cheaper mattress covers. They even hold up just find in hot water and dried on high heat.
They effectively block out dust mite allergen as well as the smallest allergens like cat dander. By completely encasing the mattress, the Ultra covers block all common allergens, allowing you to sleep through the night, without the night time cough or morning congestion, sneezing, and watery eyes.
I couldn't even notice that they were on the bed; they didn't make any noise or retain heat. Cheaper and lower quality mattress covers often rely on membranes or inner linings to block allergens, but these add additional heat and can make sleep more uncomfortable for hot sleepers. This lining or membrane often deteriorates with frequent washing, particular with hot water. You can avoid both of these with Allergy Armor Ultra.
I don't wake up sneezing anymore! It's a basic principle. Block the dust mite allergen that is in your mattress and pillows and sleep/feel better. Each night when you lie down to sleep you lay on bedding this is crawling with dust mites. It is their microscopic feces and decomposing body parts that become airborne and ultimately are inhaled by you, causing and allergic or asthmatic reaction. The Ultra dust mite mattress covers prevent this by trapping the allergen and keep it out of the air you breathe at night.
From the production of the fabric to the packing of the mattress cover that will be shipped to you, Allergy Armor Ultra bedding is made right here in the USA.
Ultra mattress covers are a quality product, built to last. Why else would there be a lifetime warranty? That provides peace of mind that comparable mattress covers simply cannot match.
What I do not like about Allergy Armor Ultra mattress covers
As with most mattress covers, the larger the cover, the more difficult it can be to put on. Twin and even full size covers are small enough for one person. A queen size would be quite a struggle, alone. King and CA King mattress covers are most certainly a two person job.
The cost of Allergy Armor Ultra may seem high to some, but considering the best level of protection available, almost not noise produced, no additional heat, easy machine washing and drying as well as a lifetime warranty all make these covers superior to less expensive ones you will need to replace after a few months or years.
Mattress covers are a great first step in reducing allergens in your home. High quality ones like Allergy Armor Ultra covers can protect without adding noise or heat while providing years upon years of use. Soft and smooth to the touch and easy to care for, Ultra mattress covers provide you with the best pore size and longest warranty all in one affordable, American-made product. If you've had past problems with poor quality of other mattress covers or simply want to treat yourself to the best, consider an Allergy Armor Ultra Mattress Cover.
---
Product Questions
I have a queen size sleep number bed. Will the ultra cover fit my bed? Thanks.
I have a bubble foam matters pad. Bought an allergen complete cover. Can the complete cover be put over mattress pad.
is this a plastic material. is this like sheets how is the feel.id like to know if you are going to sweat when you lay on it. is it a pastic feel?
---