Dear Fellow Allergy Sufferer,

Welcome to another issue of Allergy Consumer Report, your source for allergy relief news, tips, product reviews, and discounts.

The last quarter of 2007 will be a very exciting time here at achoo! ALLERGY. We'll be giving away $22,000+ in prizes for our 2007 Allergy Relief Holiday Giveaway. Sign up today, and forward this newsletter to all your friends and family members so they'll have a chance to win, too. This year, we have 15 different prize packages!

October is National Breast Cancer Awareness Month, and we're proud to report that $5.00 from each Blueair AirPod Pink air purifier sale goes to the Breast Cancer Research Foundation.

We'd like to thank Dr. Fernando Holguin, director of Emory University's Translational Asthma Research program, for participating in this month's Expert Interview.

The allergy epidemic remains on the rise worldwide, but we can overcome this disease through awareness, education, environmental control, and allergen avoidance.


Volume Four :: Issue Ten :: October 2007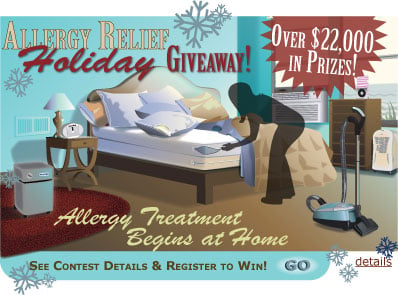 Feature Articles
Expert Interview
Reader Spotlight
What's New at achoo!
Headlines from the Allergy Relief Blog
Discounts & Featured Products
Allergy Consumer Report Quick Facts
Free Shipping
Fast, free shipping on orders over $150.

Order 24 / 7 via phone or online
We are available 24 hours a day on the telephone and on the web to take your order. Call us at 1-800-339-7123 or shop online at achooallergy.com.

Forward Allergy Consumer Report to a friend
It's easy to share Allergy Consumer Report with friends!

Looking for a past issue of Allergy Consumer Report?
We archive all of our newsletters. Visit the Allergy Consumer Report Archive to see past issues. Thank you for your interest.

Want to have your allergy questions answered by the experts?
Send your question to questions@achooallergy.com for a chance to see it featured in next month's newsletter and win a free achoo! ALLERGY t-shirt.

You may also contact us offline at:
achoo! ALLERGY & AIR Products, Inc.
Customer Service
3411 Pierce Drive, Suite 100
Atlanta, GA 30341
1-800-339-7123

Privacy Policy
For details on our e-mail practices, please visit the achooallergy.com privacy policy. We will never rent, sell, or share your email address.
Copyright © 2007. achoo! ALLERGY & AIR Products. All Rights Reserved.