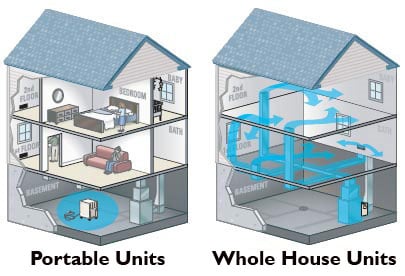 Aprilaire dehumidifiers are available in two distinct styles. The first is a portable unit, the Aprilaire 1710A.

Though a stand alone unit, this dehumidifier is unlike others on the market. Not only is the water removal capacity higher, but the 1710A is constructed of steel and built to offer years of service. The Aprilaire 1710A is an ideal choice for basements or crawlspaces.

When your excess humidity problem is not confined to the crawlspace or basement, you'll want a dehumidifier can effectively remove moisture throughout the home. Air conditioning alone is rarely enough to keep relative humidity in check inside your home. Your air conditioning system is designed to control temperature, not humidity, but with an Aprilaire dehumidifier, you can use that HVAC existing system to keep moisture levels under control throughout your home.

For most homes, the Aprilaire 1750 will be enough to keep your rH in the optimal range of 30%-50%. Easily tied into an existing HVAC, the 1750A can remove up to 90 pints per day at AHAM and exceed that under more extreme conditions.

For more severe humidity conditions, the best Aprilaire dehumidifier is the 1770A. This model is identical to the 1750 with one notable exception. The Aprilaire 1770A dehumidifier can remove up to 150 pints per day (AHAM).

Regardless of which whole-home Aprilaire dehumidifier you choose, both are quiet, ductable and can be controlled via a wall-wired control (placed elsewhere in the house). All three Aprilaire models we offer come with auto defrost and auto restart features as well as replaceable air filters.

Aprilaire Advantages:



Aprilaire whole house products can treat every room of your home.
Aprilaire home dehumidifiers are easy and economical to maintain. Simply replace the on-board air filter once every 12 months. There are no reservoirs or condensate buckets to ever empty.
Installed directly to your heating and cooling system, whole-house dehumidifiers are installed out-of-sight and away from living spaces. They work silently and automatically.
Every Aprilaire central indoor air quality solution is designed for maximum energy efficiency.
By using an Aprilaire dehumidifier to control your indoor rH you are not only making your home feel more comfortable but you're also taking away one of the key factors in mold and dust mite growth - excess humidity. No matter the space, there is an Aprilaire dehumidifier to meet your moisture control needs.