Asthma Treatment
For asthma sufferers, sometimes reducing the allergens in the environment is just not enough. Our asthma control products have been carefully chosen for both children and adults. A peak flow meter can help you monitor how well your lungs are functioning from day to day. For immediate asthma treatment, you need a nebulizer and holding chamber which are easy to use, compact and convenient to take with you.


Nebulizers, Holding Chambers, and Accessories
Asthma Medicine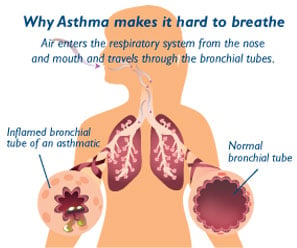 Controlling asthma is a two-step process: treatment and prevention. AchooAllergy.com offers products to help you with both. Since the majority of asthma sufferers have allergic asthma, reducing your exposure to allergens can help reduce your asthma symptoms and prevent asthma attacks. For more information, please see our helpful tips to avoid allergens at home. We offer a variety of air purifiers and other products to keep your home clean and free of lung irritants, so that everyone in your family can breathe better.
Asthma medicine goes a long way in helping people who suffer from asthma cope with their condition. There are two basic types of asthma medications - long-term medication that helps prevent asthma attacks, and quick-relief asthma medicine, which avert acute asthma attacks. There are several devices that aid in the administration of asthma medicine. Holding chambers, for instance, are used with medicine that comes in an inhaler, and helps ensure maximum delivery of medicine to the lungs, while nebulizers turn the medicine into an aerosol form that can be easily inhaled.


Valved Holding Chambers & Nebulizer Equipment
Valved holding chambers, like the Optichamber and the PARI Vortex, ensure the most effective delivery of medication to the lungs. In addition, nebulizers that deliver asthma medicine in aerosol form are an important part of an asthma treatment regimen. These nebulizers are used both with quick relief and long-term medications.
The PARI Vios Nebulizer lasts up to 500 hours, with a treatment time of around 5 minutes. While, the PARI Trek S features treatment time as low as 7 minutes. It is a also a good option for travel with its three power source options. The PARI LC Plus Nebulizer Kit is for use with any compressor and includes valves, tubing, an adapter, and usage instructions.


Treating Asthma in Children
As can be imagined, administering asthma medication to young children can be challenging. We carry several products especially for treating little ones who suffer from asthma. Children's masks for PARI Vortex make asthma treatment more manageable.


Non-Medicinal Asthma Treatment Equipment
In order to monitor asthma, a Personal Best Peak Flow meter measures how quickly a patient can expel air from the lungs. This helps both physicians and patients manage their asthma.
Another part of dealing with asthma is minimizing conditions that exacerbate it. Cold weather often leads to increased mucus production, which can trigger an asthma attack. When you are outside in cold weather, asthma relief masks help keep the air you breathe warm. A mask is essential equipment to use when exercising in cold weather or when spending a prolonged period of time outside during the winter months. The Cold Weather Mask, a simple but durable polar fleece face mask manufactured by I Can Breathe, is perfect for asthma sufferers who are out in the cold even for short lengths of time.


Discontinued Products
Aeroneb Go Nebulizer
MedQuip Pediatric Nebulizer
PARI Bubbles Mask
PARI Proneb Ultra Nebulizer
AeroChamber Plus with Flow-Vu