Winter cedar allergies or mold spores from fallen leaves getting you down? One of our most recommended masks, the Respro Allergy mask, has recently been recognized as an "Allergy Friendly Product" by the British Allergy Foundation and Allergy UK. And with N95 equivalent particle filtration, the Allergy Mask is an ideal way to block fall and winter allergies!
The
Allergy Mask by Respro
takes a lightweight polyester shell, then inserts two exhale valves and a layer of particle filter media to trap 95% of particles 0.3 microns or larger. This means the Allergy Mask is ideal for allergy and asthma sufferers alike.
With the a washable shell and replaceable filters, this mask is built to provide you years of reliable service. And if chemicals, smoke or odors are a concern, there are Chemical/Particle filters available. These still filter particles at the same N95 rate but have activated charcoal/carbon through the filter media to adsorb smoke and odors. Though conditions and pollution levels will vary, under most conditions the Allergy Mask filters last about 60 hours before needing to be replaced.
In recognizing the Respro Allergy Mask, the British Allergy Foundation and Allergy UK are highlighting that for allergy sufferers this Respro mask may benefit allergy, asthma, and MCS sufferers as well as those who want to reduce their chemical/allergen load. All product bearing the "Allergy Friendly" label have been evaluated by a panel of advisors and corresponding allergy experts as well as used and tested by allergy and asthma sufferers.
Other products that have received this seal include
3M air purifiers
,
Honeywell HEPA air purifiers
, Dyson vacuums, and
SEBO Automatic X, Felix and Airbelt K vacuum cleaners
.
Author:
Kevin Gilmore
When it comes to the products we offer, the most common questions we receive are comparison questions. Why is this better than that? How does this compare to that? In the vacuum cleaner category we often get questions about how Miele fares against other brands, and in many areas, the advantage is clear. However, there is likely no clearer area of difference than when it comes to filtration.
Allergens and micro-particles can be a source of constant irritation at best and make some people absolutely miserable at worst. Most vacuum cleaners allow these particles to simply pass through the vacuum. This is probably the worst thing a vacuum can do for allergy and asthma sufferers - take allergens that have actually settled to the floor and redistribute them back into the air you breathe.
Most vacuums tout a HEPA filter, and while you can find a HEPA filter in just about any inexpensive vacuum, the quality is often poor at best. Even with more expensive brands and models that have a filter and sealed system, testing actually shows they fall far short of
Miele's
filtration standards.
Independent tests like the one above show that even some of the most expensive and well known HEPA vacuums can still come up short in terms of filtration. Though the Dyson model tested (DC25) did come the closest, each model failed to meet Miele's overall filtration standards and many actually delivered less than the HEPA standard of filtration for the most penetrating particle size (0.3 microns). The Riccar, Simplicity, and SEBO models that were tested, fared much worse, and with top models putting in this type of performance, can you imagine the air quality when using a less expensive import (think Shark, Eureka or Hoover)?
So in terms of filtering the air in your home while you vacuum, there really is no comparison. Miele delivers the best filtration of particles, from carbon dust and dirt to pollen and pet dander and everything in between. The self-sealing dustbag and HEPA filter make sure that these particles are trapped and removed from the air while making disposal easy and hygienic. For allergy and asthma sufferers or anyone concerned with improving indoor air quality, the right choice in a vacuum cleaner can make all the difference.
For full test results, visit
Miele USA
.
Author:
Kevin Gilmore
With the introduction of the new Miele S8 line of vacuum cleaners, there are some models that are brand new while others are direct replacement of S5 models. The Miele Calima is the latter - a direct replacement for the Miele Pisces. Though it replaces the Pisces there are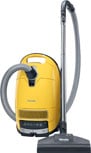 some notable differences between these two vacuum cleaners.
Both the Calima and Pisces are straight suction models, meaning there is no electrically driven powerhead. Included is the STB 205-3, an air-driven carpet cleaning tool that is ideal for low pile carpet and rugs. Also included is the Parquet Floor Tool, Miele's signature smooth floor tool. Other similarities include the complete Miele AirClean systems (sealed system, HEPA filter), self-sealing G/N dust bags, 1200W motor, and fully integrated mini-accessories.
What sets the Calima apart are a few key things.
Encased Motor

- While both have silence insulation, the encased motor reduces noise even further, so while you vacuum, you can easily carry on a conversation or hear the phone, doorbell or possibly your child telling you from another room that he has just fed the DVD player oatmeal.

+/- Suction Controls

- The Pisces uses a rotary dial to control suction. Now instead of having to bend down to adjust, you can now simply use your foot to increase or decrease suction with two foot pedals (buttons).

One-touch cord rewind

- Instead of holding the foot pedal in, you simply tap it once and the cord fully retracts.

Raised Bumper

- Though the S5 models do have a rubber bumper, it is flush with the body of the vacuum. The Calima features a raised bumper that acts more like a true bumper to protect your furniture and your vacuum from the inevitable cleaning collision.

Price

- Despite these upgrades, the S8 Calima is actually priced lower than the Pisces.
So is the Calima right for you? Generally, the
S8390 Calima
will be a good fit for homes with a lot of smooth floors or a mix of low pile carpet and smooth floors. With the sealed system, HEPA filter and filtration of 99.99% of particles 0.3 microns or larger, it is also an excellent fit for allergy or asthma sufferers looking to reduce pet dander, dust, dust mite, pollen and other allergens in the home. So if you are looking for a vacuum similar to the
Pisces
, the Calima is certainly worth a look, and though you cannot purchase the Calima online, if you have any questions drop us a line!
To
Compare all Miele S8 Vacuums
.
Author:
K. Gilmore