In the last two years, there has been an incredible amount of research into what is called the human microbiome - the wide variety of microorganisms that live on and in us. It is still a difficult concept for many of us to wrap our heads around, but research has shown that the cells of all the microbes on and inside of us actually outnumber the total cells that make up the human body and by a pretty wide margin. Only recently have we started to consider the larger roles these tiny cohabitants play in our lives and in our health. Last year I wrote a piece about
fungi in the lungs
and how the types and numbers of them found in those with asthma vs. control patients varied. More recently, a research piece published in the
Proceedings of the National Academy of Sciences of the United States of America
(PNAS) highlights the link between bacteria in the gut and food allergies.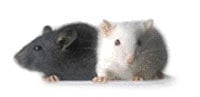 Researchers started by examining the role gut bacteria play in food sensitivities and food allergies in two groups of mice. Playing on the "hygiene hypothesis" researchers put together one group of mice that were raised in a sterile environment. In the other group, the mice were given a large dose of antibiotics at just two weeks of age. After being given peanut extract, both groups were observed, and from here researchers began introduction specific groups of bacteria to see if they had any effect on the allergic response. Specifically, Bacteroides and Clostridia bacteria groups were the focus, two types that are commonly found in wild mice.
The results were very interesting. First, mice that were given antibiotics showed a high sensitivity to the peanut extract. Antibiotics given early in life have recently been shown to be linked to a myriad
of problems later on, including things like the development of allergies and asthma. Of the second group, the reaction to the peanut allergen was even more severe with some showing signs of anaphylaxis. While the introducing Bacteroides into the gut of mice had little effect, Clostridia was another story.
In both groups of mice, the introduction of Clostridia bacteria into the mice resulted in reduced allergic responses to the peanut allergen. This is extremely important for two reasons. First, it shows a link between specific gut bacteria and the development of allergies, again highlighting the link between the microbiome and the health of the animal. Second, these results point toward the potential of treating food allergies with the use of probiotics.
This study also refines the "hygiene theory" somewhat. While traditionally, it was suggested that a lack of exposure to germs and microbes early on could lead to the immune system overreacting to innocuous substances like dust mites, peanuts, or pollen, these results would suggest that a more sterile environment or perhaps even an overuse of antibiotics could lead to less diverse and less numerous gut bacteria, which would in turn be setting the stage for allergen sensitivity.
While the notion of treating allergies or food sensitivities with probiotics are still many years away, this latest research solidifies the link between gut bacteria and allergies. More importantly, it opens the door for potentially novel, new treatments of allergies, asthma and possibly other allergic diseases.
To read the
abstract of this study
.
Author:
KevvyG