Allergy Bedding
These days it seems like everyone is on the attack against the investment banking industry. It looks like bedbugs have joined the fray and possibly have invaded the Goldman Sachs building. With bedbugs, you always can count on two things. These critters do not discriminate, and it is very costly to exterminate them.
Last week on the
Top Stocks blog
at
MSN Money
, writer Elizabeth Strott posted about a report that Goldman Sachs brought in bedbug-sniffing dogs and exterminators for their 42-story office building. According to Strott, bedbugs have become a big problem in New York City. Bedbugs are tiny, reddish-brown insects that attack at night and feed on the blood of humans. Clean up costs for an infestation can reach $5,000 for a single family home.
In our blog and at our company, we have been talking about the rising bed bug problem in the U.S. for several years. One of our former employees had a nasty encounter with bedbugs in Las Vegas. In response, we have developed our
Allergy Armor Bed Bug
bedding to help combat the menace. These mattress covers are designed to trap the bedbugs in the mattress.
Check out the entire
bedbug blog
on
Top Stocks
.
No one can argue that a good night's sleep is paramount to good health and feeling good. As any allergy sufferer knows, nights plagued by sneezing, itchy eyes, and a stuffy nose are anything but restful.
While
allergy relief bedding
goes a long way in helping to alleviate the disturbed sleep caused by allergies, what many don't know is that what's beneath the bedding could be causing problems as well.
Mattresses actually may contain components that make it hard for some people to get a good night's sleep - and may even be making some people sick. Allergy sufferers are often sensitive to chemicals, and some may experience a condition known as
Multiple Chemical Sensitivity
(which can affect non-allergic individuals as well). Typical mattresses contain many synthetic materials and chemicals, such as fire retardants, that are toxic.
Enter
Royal-Pedic Mattresses
, custom-made the old fashioned way out of the finest natural ingredients, including natural latex and lamb's wool, which act as dust mite repellants. Not only are Royal-Pedic mattresses hypoallergenic, but they also offer superior orthopedic support.
Organic Mattresses
are also an excellent choice for those with allergies or Multiple Chemical Sensitivities - or anyone who desires a safe, non-toxic bed. Free of chemicals, synthetic fabrics, and other potentially harmful materials present in mainstream mattresses, our NAOMI (National Association of Organic Mattress Industry)-compliant organic mattresses are sure to give you countless nights of healthy, comfortable sleep.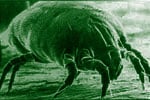 The Handyman Glenn Haege writes in
The Detroit News
that a 1,500 square foot home generates 40 pounds of dust in a year, and bigger homes generate even more dust.
Haege highlights several interesting facts about dust mites:
Each of us sheds about one-fifth of an ounce of dead skin a week.


Human and pet skin flakes are the prime food of dust mites.


Ten percent of the weight of the average 2-year-old pillow is dead dust mites and their droppings.


Dust mites and their droppings are not harmless. According to an article at NewScientist.com by John Pickrell, their fecal matter contains enzymes that break down human skin.


Every time you move or the furnace goes on, dust mites and broken bits of their bodies and their droppings are whooshed into the air. You breathe them into your lungs and eat them day and night.


Our indoor atmosphere is often two to five times more polluted than outdoor air.


Humidity control, air exchange, filtration and cleaning are primary defenses against indoor air pollution.
When it comes to your mattress and pillows, there's no better protection against dust mites than Allergy Armor allergy relief bedding
.