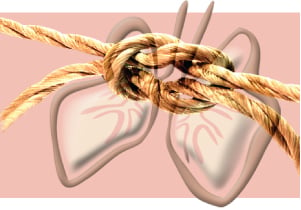 HealthCentral.com points out that children and adults across the U.S. can get checked for asthma free of charge during the 11th annual Nationawide Asthma Screening Program, sponsored by the American College of Allergy, Asthma & Immunology (ACAAI).
The free screenings will be conducted at 300 locations throughout the country in May as part of National Asthma and Allergy Awareness Month. The screenings will consist of a meeting with an allergist, a 20-question survey, plus a lung function test that involves blowing into a tube.
'A cough that bothers you at night, shortness of breath when going up stairs, colds that go right to your chest – these are all symptoms of asthma, but few people recognize them,' says Dr. John Winder, chairman of the Nationwide Asthma Screening Program. 'Instead, people often make unnecessary lifestyle compromises to live with their condition, and there's no reason to do that. People with breathing problems, or who think their asthma could be better managed, should attend a free asthma screening.'
See Screening Locations for locations and dates of the free ACAAI asthma screenings.