General Health
May is finally here, and for many of us, it means a relative slowdown in the tree pollen that's been plaguing our nose, throats, and airways for the last two months. Personally, I'm just happy that here in Georgia, the wettest stretch of our spring landed right at the same time as pine pollen started dumping yellow-green dust all over everything. In addition to this welcomed news, May also kicks off Asthma Awareness Month.
Globally, it is estimated that as many as 300 million people suffer from and cope with asthma every day. While in the U.S. asthma affects about 8% of the population, asthma is a larger issue that recognizes no boundaries. (You can at least give credit to asthma for being and equal opportunity offender... thanks asthma.)
While the exact cause of asthma is still unknown and a cure seems to be some time away, asthma is a condition that can be successfully managed. Severity ranges from mild forms with occasional flare ups and specific circumstance asthma (like exercise or cold induced asthma) to more severe forms that pose potentially life threatening problems for those affected.
Management can also vary with severity, but one of the most effective treatment for long term asthma are
inhaled corticosteroids
. This type of medication suppresses inflammation by desensitizing the airways and suppressing the immune system's overreaction to often times harmless substances.
Beyond medication, avoiding triggers (tobacco smoke, pollen, mold, etc.), keeping track of unseen dangers like ground level ozone, learning to recognize the symptoms of an asthma attack or properly use a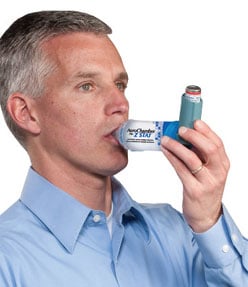 spacers or nebulizers
, and having a plan in place for coping with them are all pieces to this puzzle. Air quality is of key concern, as both poor indoor or outdoor air quality are often prime causes of asthma attacks.
Particularly for children but even for adults, the inability to breathe from an asthma attack can be a terrifying experience. Education and planning are key to avoiding and effectively dealing with asthma. So, whether it's and asthma run/walk, reading new literature, attending a conference/symposium, training for educators, or even the opening of a new asthma clinic, there are a variety of events scheduled to help raise awareness of asthma this month. From here in the U.S. to Peru, France to India, and Croatia to Egypt, around the globe events are scheduled to better connect people with the resources they need to better reduce the impact of asthma and breathe a little easier.
As a side note, while reading up on this, I found some disparity between May 5th and May 6th. Here in the U.S. the National Institute of Health is calling May 6th Asthma Awareness day, while globally, it is more commonly recognized as May 5th. Regardless, many clinics, organizations, and advocacy groups have events planned all month long, and organizations like the CDC, NIH, and others have information available online, whenever you need it.
Author:
K. Gilmore
World Asthma Day is an annual awareness-raising event organized and sponsored by the Global Initiative for Asthma (GINA). For more information please visit http://www.ginasthma.org/World-Asthma-Day