As the season of family get togethers and office parties draws nearer, now is a great time to go over a few things regarding foods allergies and two things that commonly appear at these types of gatherings – alcohol and nuts. For people with food allergies, gatherings and meals can often be a hassle, and the frequency of holiday gatherings can greatly increase this. Nut allergies tend to be some of the most problematic, and with nuts in everything from Thanksgiving stuffing and pies to cookies and alcohol, some anxiety isn't without merit. Even though bowls of nuts sitting on a bar are largely a thing of the past, they can still make appearances at dinner parties. For adults though, what alcohols pose the most problems and which are safe?
_This question can be a very difficult one to answer. Alcohol, though consumed like juice, food, or soda (though your liver hopes not with the same frequency!), isn't governed by the same regulations or even the same agency as these others. While foods and most beverages fall under the domain of the Food and Drug Administration (FDA), alcohol falls under the guidance and regulations of the Alcohol and Tobacco Tax and Trade Bureau, a subdivision of the Department of Treasury. This INCLUDES labeling rules and regulations.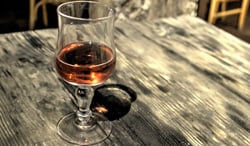 So while your mega-jumbo-can-o-caffeinated-monkey-juice will most certainly have a label listing the nutritional value and all the ingredients, alcohol is almost always devoid of the former (and often the latter as well). Though it is often easier to determine how many calories are in your alcoholic beverage of choice, finding the actual ingredients that make up that drink is another story entirely.
_Many producers do list ingredients on their website or have at least become savvy enough to list some of the common allergens that are NOT in their products, particularly nuts or nut derivatives. Beyond visiting websites and doing your own investigative research, many people are left with only anecdotal evidence as to whether a type of drink can cause a reaction or not.
_Distilled spirits (think whiskey, rum, etc.) have a list of standard requirements when it comes to labeling. These include
_
Name
Alcohol Content
Address of Distiller

Country of Origin

Net Contents (a metric measurement of volume)
Coloring Agents (colored with caramel, annatto, etc.)
Wood Treatment ('beechwood aged' ring a bell?)
Other Ingredients like Dyes, (Yellow #5), Saccharin, or Sulfites
Specific Type of Commodity (redistilled, blended, compounded, etc.)
Statement of Age
Distillation/Production Location
A Health Warning
Seems like a lot, right? Notice what's missing? Nutrition information and ingredients.
_
As of right now, major food allergens can voluntarily be listed for wines, distilled spirits, and malt beverages, but again, this is only voluntary. There has been a proposal to make this mandatory, and since 2006, nothing has been finalized… eight years later.
_And, even if you do find a list of ingredients, this still may not cover a statement regarding the processing. Though some can tell you that there are no nuts in their products, many can't ensure their products were produced in a facility that is also nut-free. This touches on another problem, cross-contamination.
_
Bartenders and those mixing drinks work in fast paced environments and worrying about cross contaminating a drink is likely not high on the priority list when there are half a dozen orders rolling in at a time. A good general tip is to skip the garnish. One garnish in particular that can be troublesome for those with nut allergies is maraschino cherries. These are often processed or flavored with almond extract. If you know a favorite mix or type of drink that is safe for you and you order it with no garnish, you can dramatically reduce any risk. At that point ingredients should be coming straight from the bottle to your glass.
For reference purposes, here's a quick list of some common alcoholic beverages that contain nuts or nut extracts. Keep in mind, things can and do change, so contacting the producer is still your best bet.
_
Amaretto

_

Creme de noyaux

_

Creme de noix

_

Frangelico

_

Galliano

_

Kahana Royale

_

Nocello
_
_
Beefeater

_

Bombay Sapphire

_

Harp Lager

_

Phillips Dirty Squirrel

_

Southern Comfort

_

Eblana

_

Nocino

_
_
This list is by no means comprehensive, and there are MANY varieties of wines, beers, champagnes and other types of alcohol I excluded because they to be rather obvious choices to avoid (many had things like 'Nut', 'Cashew', or 'Almond' in the actual name).
_
In general, I advise people to stick with what they know. For people with severe nut allergies being adventurous around the holidays can likely lead to some not-so-festive memories. Check producers websites whenever possible, and if you don't see the information you need listed, call or email them. Most producers would much prefer you contact them and err on the side of safety when consuming their products. Lastly, make sure you keep your auto injector (and a backup!) handy at all times.
_Unfortunately, all we've covered today is nuts. If you are one of the rare people who has a wheat or gluten allergy, that's a whole other ball of wax. Be safe and enjoy the holidays responsibly!
Author: K. Gilmore