Summer time is one of the best times of the year (along with spring, fall and winter)! It's the time when we often take trips to the lake, the pool, and anywhere where the sun is warm and worries are few. In many places, the warmth also brings pop up thunderstorms, heavy rain, and high humidity. And no matter if you have a home at the beach, in the woods, or on the lake these things can create problems for your summer stay. Don't worry though, because I listed a few products that are going to be great for your boat, cabin, lake/summer house, or wherever you may be spending time this summer.
_When out on a friend's boat the other day, I noticed that the bottoms of a few seats were starting to freckle with mold. Right away I thought 'they need some Vital Oxide spray'. This mold remover and disinfectant spray will not only kill the mold with plant-based ingredients, but it will keep the sprayed surface mold free for several months. In this case it should at least get through the summer, but beyond seat cushions, Vital Oxide disinfectant has a wide variety of uses in and around the house. For those backpackers and hikers, this stuff is also safe for hiking boots, sleeping bags, packs, hammocks and tents.
_While Vital Oxide takes care of mold once it's already there, a better idea is to try to prevent it before it happens. Your best option for this is a heavy duty dehumidifier. Depending on the local climate, a more permanent installation, like a dehumidifier that ties into the HVAC or a large crawlspace/basement dehumidifier may be your best option, but if you find yourself mainly dealing with excess humidity during the summer months, a room dehumidifier might be a better option.
_I have three good options for you. All are effective, but each has something that makes it stand out.
_
A winner for the 2013 Red Dot Design Award, the Stadler Form Albert dehumidifier places a great deal of emphasis on not looking like your average dehumidifier. From a sleek look and modern design, to a variety of little features and added touches, the Albert is extremely quiet. Noise is often a big problem with many dehumidifiers, but part of fitting in well in any room, the Albert doesn't look or sound like your typical dehumidifier. An LED screen gives you accurate humidity readings in the room, allows you to set a timer, adjust the desired humidity, set your fan speed, and even dim the display at night, while fold-flat, oscillating louvers keep air circulating around the room more efficiently. Expect the Albert to remove about 40-45 pints of moisture per day, depending on conditions. If I had to give star ratings for style and substance on the Albert,
_Style –

_Substance –
_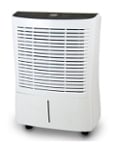 If the performance of the Albert is a little less than what you were looking for, take a look at the Soleus 95 dehumidifier. With the most powerful fan of any residential dehumidifier we carry, it's suitable for drying spaces as large as 1500 sq. ft., and can remove up to 95 pints a day. With a coverage area this large, you could use it in a large, open floor plan cabin or basement. Complete with digital controls to adjust to your unique HomeComfort settings and an automatic shut off with a 'Bucket Full' indicator, the Soleus is a lot of power and convenience in one appliance.
_Style –

_Substance –
_
So we've covered quiet & stylish as well as large & powerful, and what we have left fits right in between the other two. Danby Premiere dehumidifiers are some of the most dependable and popular home dehumidifiers available. They're basically the dehumidifier equivalent of Baby Bear – just right. The Danby 70 pint has been a huge help in my parent's home, where it is prone to mold in the summers. It's a very low maintenance machine, easy to move around the house, and has auto restart and auto de-icing features. It is also Energy Star rated, and offers coverage good enough for even very large rooms.
_Style –

_Substance –
_These products will give you complete coverage of your home, boat or camping gear, making sure you enjoy your summer, inside or out. Now you can focus more on tan lines and your grilling skills and less on worrying about mold.
_Author: R. Power