Introducing the New Miele Cat & Dog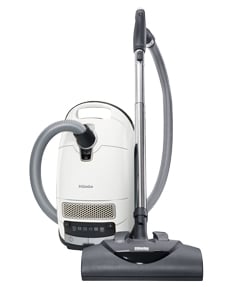 As the last in the new S8 line of Miele vacuum cleaners, the S8380 Cat & Dog is the perfect addition to any pet owner's home. While many of the features make this vacuum a great fit in any home, a few things make this vacuum particularly well-suited to tackle the things that most pet owners deal with - pet dander, hair and odors.
Pet Hair
- Nothing screams "I have dogs" like pet hair on every article of clothing you own. Pets shed, and whether you have a pet that only sheds a little or one that could win a Hair Club for Dogs award, keeping pet hair at a minimum can be a real challenge. To help with this, the Cat & Dog has several features, starting with the carpet attachment. The included SEB 228 is powered by an independently driven motor and works well in removing entangled pet hair from any style or thickness of carpet. In addition to this, the S8380 comes standard with the STB 101. This handheld turbobrush is great for removing pet hair from upholstered furniture, carpeted steps or any other area where your pet's hair is finding its way onto and into fabric.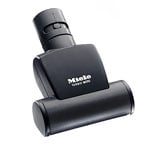 Pet Dander
- Just because you have a pet doesn't mean you never want friends or family, who are allergic to said pet, to never visit. The Miele Cat and Dog uses a sealed system and multiple stages of filtration to not only pick up and remove pet hair and dirt but also microscopic particles of dander. While the filter traps 99.95% of particle 0.5 microns or smaller, the reason why you give up a little bit, compared to traditional HEPA filtration, is explained next.
Pet Odors
- I'm one of those pet owners who doesn't like pet hair or pet odors. Truthfully, I was the guy who said, "I'm NEVER have a dog in my house," and like most of the time when someone proclaims 'never' this or 'never' that, it didn't stick. With regular cleaning, you can avoid having visitors come to your house and be smacked in the face with dog funk as soon as they open your front door. The Miele Cat and Dog does its part by removing the pet hair and dander but by also adsorbing odors. The Active AirClean filter uses more activated charcoal than the standard Miele HEPA filter. This helps to remove pet odors as you clean.
The Miele Cat & Dog is Good Housekeeping approved and comes with the same standard features that other Miele S8's offer like, one-touch cord rewind, suction control foot buttons, a raised bumper strip, 3 integrated mini accessories, and one of the longest warranties available today. You can pre-order or for more information about the
Miele Cat and Dog canister vacuum
. Stay tuned for our video and new photo galleries.
Author:
Kevin Gilmore