Granted, at times, many of my friends and family say I talk like I grew up 50 or 60 years ago. And while I will admit, my childhood has some close similarities to that of someone twice my age, it provides a unique perspective.
I can remember growing up with things around the house that seemed to last. We had an old Westinghouse refrigerator that was around decades before I was born but didn't kick the bucket until I was a teenager. Since, we've never had a refrigerator last half as long.
_Anymore, not many home appliances offer that kind of durability or longevity, but one notable exception to that is Miele. In many circles Miele is synonymous with 'luxury home appliance,' and if read through publications like The Robb Report or search online for websites devoted to these types of products, you will find the Miele name time and time again. But just because an appliance is tested to last 20 years, does that make it 'luxury'? Or is it just one of the few quality appliances left that can actually be a staple in your home, all through a childhood, much like that old Westinghouse was for me?
_We have been providing Miele vacuums and service for only a few years, but what gives us the belief that these products can be like that old Westinghouse was for me is not only that they are durable and built to last, but that they provide something that other vacuums don't – quality value with top-notch cleaning ability and superior air filtration.
_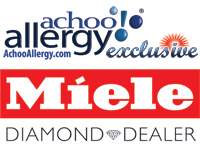 This past week Achoo was recognized by Miele for our service and support and earned their Diamond Dealer designation. What that means for you is two basic things. First, we are now offering a couple models are exclusive to Diamond Dealers, the Miele Leo canister and the S7 Swing upright. Second, this means that whether your purchase from us or just live locally and want your Miele serviced, we offer unmatched customer support.
_For the next two weeks, Miele owners can take advantage of discounts on Miele HEPA filters, Home Cleaning Kits, and select vacuum attachments. And if you don't own a Miele, call one of our reps, and they can help you find the model that best fits your needs.
_While I still see Westinghouse products, they're nothing like what I remember as a child, and while Miele has been around for nearly as long as Westinghouse, unlike their counterpart, Miele products have only gotten better. A quality home appliance isn't something everyone should want. Much like the ubiquitous 1950's-era Westinghouse fridges, it's something everyone can have.