With the introduction of the new Miele S8 line of vacuum cleaners, there are some models that are brand new while others are direct replacement of S5 models. The Miele Calima is the latter - a direct replacement for the Miele Pisces. Though it replaces the Pisces there are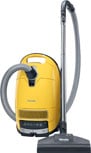 some notable differences between these two vacuum cleaners.
Both the Calima and Pisces are straight suction models, meaning there is no electrically driven powerhead. Included is the STB 205-3, an air-driven carpet cleaning tool that is ideal for low pile carpet and rugs. Also included is the Parquet Floor Tool, Miele's signature smooth floor tool. Other similarities include the complete Miele AirClean systems (sealed system, HEPA filter), self-sealing G/N dust bags, 1200W motor, and fully integrated mini-accessories.
What sets the Calima apart are a few key things.
Encased Motor

- While both have silence insulation, the encased motor reduces noise even further, so while you vacuum, you can easily carry on a conversation or hear the phone, doorbell or possibly your child telling you from another room that he has just fed the DVD player oatmeal.

+/- Suction Controls

- The Pisces uses a rotary dial to control suction. Now instead of having to bend down to adjust, you can now simply use your foot to increase or decrease suction with two foot pedals (buttons).

One-touch cord rewind

- Instead of holding the foot pedal in, you simply tap it once and the cord fully retracts.

Raised Bumper

- Though the S5 models do have a rubber bumper, it is flush with the body of the vacuum. The Calima features a raised bumper that acts more like a true bumper to protect your furniture and your vacuum from the inevitable cleaning collision.

Price

- Despite these upgrades, the S8 Calima is actually priced lower than the Pisces.
So is the Calima right for you? Generally, the
S8390 Calima
will be a good fit for homes with a lot of smooth floors or a mix of low pile carpet and smooth floors. With the sealed system, HEPA filter and filtration of 99.99% of particles 0.3 microns or larger, it is also an excellent fit for allergy or asthma sufferers looking to reduce pet dander, dust, dust mite, pollen and other allergens in the home. So if you are looking for a vacuum similar to the
Pisces
, the Calima is certainly worth a look, and though you cannot purchase the Calima online, if you have any questions drop us a line!
To
Compare all Miele S8 Vacuums
.
Author:
K. Gilmore