Stay Sanitized Through the Summer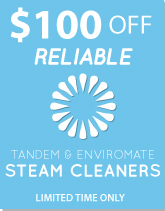 A Reliable steam cleaner is safe and effective way to deep clean and sanitize your floors, kitchen and bathroom surfaces without using harsh chemicals like ammonia and bleach. As a healthier way to clean, steam cleaners can kill bacteria and germs while unlocking trapped odors in even the hardest of surfaces, and now for a limited time, Reliable is offering $100 off three of their best vapor steam cleaners!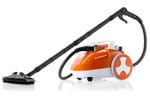 If you're looking for a consistent way to sanitize, then the Reliable E20 GO steam cleaner might be the right fit. This canister-style steam cleaner heats ordinary tap water to over 320° to produce low moisture steam, ideal for deep cleaning without leaving behind a lot of moisture residue. An array of included accessories gives you the tools to clean surfaces like your countertops, appliances, stove, and floors with ease and efficiency.
For those looking to step up from E20 and wanting continuous steam, a faster heat up time, and longer run time, the E40 VIVA premium steam cleaner might be the model for you. With dual tanks, this steamer features Reliable's Continuous Steam System that cuts down on cleaning and extends run times by using two internal water tanks. One holds a cold water reserve while the other is the boiler that generates continuous, sanitizing steam vapor. This allows you to refill without having to wait for the boiler to reheat the steam. Dual heating coils decrease heat up time, and an additional 7 piece accessory kit complements the included cleaning attachments and broadens your ability to clean throughout the home.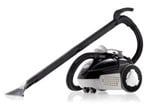 Sitting at the top of the Reliable premium steam cleaner series in the EV1 Tandem. What makes this steam cleaner so special? I'm glad you asked! It's not only a steam cleaner but also a HEPA vacuum cleaner, all in one convenient package. So not only can you sanitize your floors and surfaces, but cleaning your carpet has never been easier. Unlike hot water extractors (or as they're commonly known, carpet cleaners), the Reliable Tandem won't flood your carpet with water and leave behind excess amounts of water that will invariably collect dirt and provide the perfect breeding ground for dust mites and mold. Instead, the low moisture steam will kill dust mites while the HEPA vacuum feature removes loosened soil and allergens. Best of all it leaves behind no excess moisture and dries in minutes instead of days or hours. The Tandem HEPA steam cleaner is packed with accessories to give you the most options and widest cleaning ability of any premium steam cleaner.

A couple final points to remember. Unlike cheap steam cleaners, these three Reliable premium steam cleaners are made in Italy, the birthplace of steam cleaning. These models also each carry a lifetime warranty on the boiler and, unlike steam mops, are designed for use on nearly any surface in your home.
Have questions about steam cleaning? Visit our
Steam Cleaners FAQ
page. Of if you're unsure of how a steam cleaner can help you, check out our
Top Five Reasons to Buy a Steam Cleaner
.
Author:
KevvyG