With the Ides of March nearly upon us and Daylight Savings Time due in less than a week, it seems that spring is racing toward us! For many of us, this means spring allergy season putting a whooping on our immune system. It also means spring rains, wet basements & crawlspaces and humidity levels starting their annual climb to August. Just in time for all this wet weather, I'd like to take a minute to introduce the new Stadler Form Albert dehumidifier.
_Like the Danby and other models we offer, the Albert is a room dehumidifier, but unlike other models, Albert has actually been a 'Belle of the Ball.' What I mean is, the Albert is one of very few dehumidifiers that has won a Red Dot Design Award. Each year thousands of home appliances and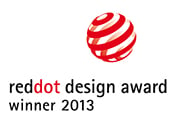 products are submitted to an international design contest that includes entries from over 50 countries, worldwide. In 2013, when the Albert was first released in the European market, it won. Stadler Form home appliances have a reputation of blending modern form and aesthetic appeal with function, and in this regard, the Albert dehumidifier is no different.
_That's not to say Albert is all style and no substance. Far from it, this home dehumidifier is loaded with convenient features to complement its style and design points. Hidden casters, a smooth rolling water bucket with splashguard and collapsible handle, seven feet of drain hose (to port the dehumidifier and eliminate the need of emptying the water bucket), oscillating louvers, and integrated handholds are all substantive but practical features. And that's not to mention the LED display. With the display you can quickly see and set your fan speed (3), the desired humidity, the current humidity level, and even a 24 hour timer. Indicator lights let you know if the unit is defrosting or if the tank is full. For more severe humidity problems, you can set the Albert to run continuously, regardless of the humidity level in the space. The entire display adds a sophisticated look without complicated controls.
_
For light sleepers or those who have had problems with loud dehumidifiers, rejoice! The Albert is likely the quietest refrigerant-style dehumidifier on the market. Starting around 33 decibels, this model is whisper quiet on its lowest fan speed, and even on its highest setting it is quieter than most comparable models on their lowest fan setting! Dim the LED display with the 'Sleep' feature and you're all set for a peaceful night's sleep.
_Albert will remove about 43 pints of water per day, making it the perfect complement to your HVAC system when it is not keeping up with humidity and excess moisture removal. Lastly, when you compare it to other 45 pint humidifier models, you'll see that it uses 1/3 less power! So, if you're looking for a home dehumidifier that offers the performance you need with the style you want, the Stadler Form Albert is the perfect choice!
_Author: K. Gilmore