Achoo Promotion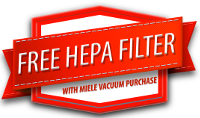 To usher in September, we have a couple deals to help you save money on some of our most popular home cleaning appliances. From now until September 30th, purchase any Miele vacuum cleaner and get a FREE HEPA filter!
Miele vacuum cleaners have long been the standard of excellence when it comes to cleaning your floors while keeping the air in your home free of allergens and irritating particles that traditional vacuums spew out as they "clean". Conforming to strict H13 HEPA standards, the new Miele HEPA filter traps 99.95% of particles as small as 0.1 microns. This includes all of the common allergens like dust mites, pet dander, pollen, and mold spores. Most Miele vacuums feature a sealed system in addition to the 9-ply filterbag, and it all three of these components that make a Miele the best allergy vacuum available.
For this limited time each Miele vacuum you purchase will include a free HEPA filter. If the Miele you choose already has one, then the addition of this free filter means you have all the HEPA filters you need for the next two years of use. And, if the model you select doesn't come with a HEPA filter standard, then you've received a free HEPA filter upgrade! Either way, you get a free filter, valued at $49.95. So whether you're looking for a top-of-the-line,
premium Miele canister vacuum
, a
powerful Miele upright
or something in between, shop now and save.
We also have good news for those of you looking for a steam cleaner. Reliable has extended their $100 savings on their premium home steam cleaners. In addition to free shipping, you can now take $100 off the
top three Reliable steam cleaners
. This includes the dual use Tandem EV1, a canister-style steam cleaner and HEPA vacuum cleaner, all-in-one, as well as the versatile E40 VIVA, and the durable E20 GO. Deep clean and sanitize throughout your home with any of these three models. Each offers a wide variety of accessories and attachments specifically suited to kills germs, remove stuck-on grime, and give you a healthier home, all without the harsh chemicals and fragrances that accompany other home cleaning products. Italian-made, these steam cleaners have a lifetime warranty on the boiler and durable ABS shell for years of consistent cleaning inside and outside your home.
For either of these great deals,
there's no need for a coupon code
. Simply drop them in your cart and your free filter or $100 discount
will automatically be included
. Take advantage of either or both of these deals before they expire, and if you have any questions or need some expert advice on which Miele or steam cleaner would best meet your needs, call, email, chat or submit an FAQ to us anytime.
Author:
Kevin Gilmore