Achoo Promotion
Just a quick reminder, for the month of June all orders are entered into a drawing for a $500 VISA gift card. This promotion ends Sunday, so you only have a few days left to order and be entered.
On a side note, I would really like to have a $500 VISA gift card. It would go great with my trip back to Ohio to visit family or for my summer vacation trip to NYC. Sadly, no matter how many bottles of pet shampoo I purchase, I am not eligible. So while I can keep Cotton free of ticks and fleas while he bounces around our farm next week, no blinged out dog collar for him!
So whether you're stocking up on
sunscreen
for the your trip to the beach, choosing a HEPA air purifier to keep down indoor allergens, or looking for an
efficient dehumidifier
to remove some of the 93% humidity from the air in your crawlspace, (true story, 93% humidity yesterday morning in Atlanta) purchase before Sunday and you can have a chance to win a $500 gift card.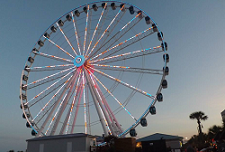 That'll buy a lot of rides on a giant ferris wheel!
Now here's a picture of the giant ferris wheel. ---------------->
Author:
K. Gilmore