Allergy Armor

Every day we field questions about where a product is made, and to help make things easier we've been slowly including the icon on the left to quickly let people know which products are made here in the States. To help your search easier, here is a quick list of most of our American made products.
First, I want to start with the bedding. Our Allergy Armor dust mite covers are now almost entirely made here in the U.S. In fact, most of these covers are cut, sewn, and packed right here at our Atlanta location. In addition to covers, things like blankets, pillows, and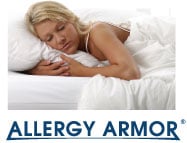 comforters are also made right here. These include,
Other Allergy Armor products are in the process of transitioning to being produced here, so some of the bedding is made here as sizes run out of stock, and we pick up production here. Other products are partially made here or certain components are fabricated here, like the free allergy cover that comes with your Memory Foam pillow or the stretch-zip cover that is included with your Memory Foam Mattress Topper.
Aside from the products we make ourselves, many of our vendors manufacture right here in the United States, and a few products are made by local companies for our brand.
Lastly, some products are more broadly made in North America or have either assembly done here or raw material for the products done here. These would include Primaloft, Ogallala, & Snoozer bedding, Honeywell (Mexico), AllerAir, and Amairicare air purifiers as well as 3M furnace filters.
As you can see, a wide variety of the products you'll find on our site and in our catalog are sourced right here in the United States. This is important to us for a few reasons. First, it
helps to keep American manufacturing alive. American manufacturing was the backbone of a growing middle class during the middle of the 20th century. However, as manufacturing traditionally follows cheap labor markets, we've seen a steady outflow of these jobs and industries overseas. Secondly, we want to manufacture here in the U.S. as it gives us better control over the product and allows us to make custom products for those who request it. Quality control of imported products can be nightmare. Why do you think so many brick and mortar retailers have opened the proverbial flood gates when it comes to returns? Aside from being competitive, when quality is hit or miss a generous return policy is key to not alienating people who are getting "duds" or "lemons". Many times, if something goes out of stock, we will specially make your bedding that day and avoid the delay of waiting until our next scheduled production run of your items. Finally, this is also a response to you - our reader, our customer. Demand for U.S. made products has increased, and we try our best to source American to meet your needs.
This doesn't mean that American manufacturing "is back" or that this isn't done without challenges. It has been difficult to find some of the materials we need. With the ability to produce raw textiles nearly completely gutted from the States, it has been a challenge to find a U.S. source for some of the materials we need in the specific raw sizes. Fortunately, there are a few producers still based here in the States who are not only hanging on but seeing a bit of a resurgence.
In addition to the flag, you can also check in the Product Features or the Customer Questions sections. I'm pretty sure that even from this list, I've missed at least a handful. If you don't see the country of origin listed on the page, submit a question, and I, or one of our staffers, generally answer within 12-24 hours. Happy Hunting!
Author:
Kevin Gilmore