Allergy Relief
If you've been meaning to try some of the best allergy bedding available, now is the time to save. For a limited time, all Allergy Armor pillow covers, mattress covers and duvet covers are 20% off.
As seen in Women's Health magazine, Allergy Armor Ultra features the smallest average pore size in the industry, 2.8 microns. This makes our allergy bedding covers one of the most effective ways to block the dust mite allergy and relieve night time coughing as well as morning time congestion and sneezing.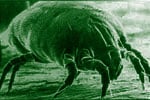 For most people, dust mites are the common household allergen that can keep you from getting a good night's sleep. Found in everyone's pillow and mattress, dust mites are microscopic mites that are part of the reason why a mattress can double in weight after 8-10 years. Dust mite feces and their microscopic dead and decaying body parts are inhaled while you sleep. For asthmatics this often means a cough that starts soon after laying down for bed, while for those with allergies it often means morning time congestion, runny nose, watery eyes, sneezing or sinus pressure. Allergy Armor can help relieve these symptoms.
By blocking the allergen and keeping it trapped, Ultra mattress, pillow and comforter covers can help to keep this allergen out of the air you breathe at night. They go over your mattress or pillow and zip closed. Once installed, you put your regular sheets or pillow cases back on. Though you won't see them, you will likely notice a difference in how you sleep at night and how you feel in the morning. And unlike other bedding covers, Ultra is made right here in the USA. We cut, sew and package every piece of Allergy Armor Ultra right in our Atlanta location. And, once you buy, you're all set! A lifetime guarantee, means years of relieve and peace of mind.
There are sizes available to fit all mattress and pillow sizes. Invest in a better night's sleep and try Allergy Armor Ultra!
View Allergy Armor Ultra Pillow Covers
View Allergy Armor Ultra Mattress Covers
or
View Allergy Armor Ultra Bedding
Author:
K. Gilmore