Asthma Drug
Back in 2012, I highlighted a study that was presented at the European Respiratory Society conference that focused on
the link between the use of common asthma treatments and a child's height
. In this study, researchers examined the use of budesonide, a corticosteroid that is the active ingredient in Pulmicort, a commonly prescribed asthma medication. This morning, two new studies were released that further the correlation between lower growth velocity and the use of corticosteroids.
Corticosteroids are commonly prescribed for persistent, moderate to severe asthma. Often inhaled, this type of drug is used to prevent asthma attacks. While the previous study focused on one particular corticosteroid, these latest studies expanded that to include six and five, respectively, different types of inhaled corticosteroid (ICS) drugs.
In the first study, six ICS and 25 trials involving nearly 8500 children were reviewed. Over the course of a year, there was about a .5 cm difference in growth between children who used ICS and those who used placebos or non-steroidal drugs. This review suggests much the same as the one mentioned in 2012, that though small, there is some reduction in growth velocity and overall height associated with the use of ICS. And again now, as then, the lead author of this most recent review suggests that the benefits of using ICS to control moderate to severe asthma outweighs this minimal, but significant, reduction in growth velocity.
In the second study, 22 trials were reviewed, with the main focus being the effect of low to medium doses on ICS on growth velocity. While the information collected was incomplete in the majority of the trails examined, a correlation between growth velocity and the amount of ICS administered was observed. Simply put, those with low dose ICS treatments experienced a smaller reduction in growth velocity than those who were treated with larger doses of ICS.
Overall, both studies highlight two points and further refine previous research. First, inhaled corticosteroids do have an impact on height/growth velocity. This is not limited to a particular type of corticosteroid and appears with many of the most common ones. Second, higher doses of ICS correlate with less growth. The smaller the dose, the less the effect on a child's height. Again though, it's worth repeating that they're not talking a major reduction in height, fractions of a centimeter annually. Most professionals who have either conducted these studies or have read them still agree that the benefits of ICS in controlling moderate to severe asthma outweigh this small reduction in height.
Studies like these are important for a few reasons. They highlight a potential side effect that has been previously not known or often discussed. It is also good to remember that these studies show results that effect more than just those who are coping with asthma. Some of the drugs used in the studies were beclomethasone dipropionate, budesonide, ciclesonide, flunisolide, fluticasone propionate and mometasone fumarate. These are the active ingredients used in common asthma
AND
allergy medications like
Symbicort
Pulmicort
Elocon
Flonase
Veramyst
Alvesco
Omnaris
Omnair
They also highlight the importance of what we do here at AchooAllergy. If
blocking dust mites in your bedding
or replacing carpet with hard flooring or using a
high quality, HEPA air purifier
reduces irritants in the home, the net benefit may likely be less reliance on medication and a lower risk of having to deal with the side effects. If your child has been diagnosed with moderate to severe asthma and inhaled corticosteroids are recommended, you should have a discussion with your doctor, and as is often the case with medication, the lowest dose that provides relief is the best dose.
To read more about the larger
study of ICS on growth rates
or the
study of ICS doses and growth rates
.
Author:
Kevin Gilmore
Yesterday, a US Food and Drug Administration advisory panel voted not to recommend
Primatene HFA
for over-the-counter sale. This is the latest in the attempt to bring a bronchodilator back to the over-the-counter market. There were two additional votes on the drug, and the mixed results could be reason for hope in seeing a new bronchodilator on the market in the future.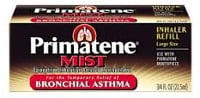 Many of you may recall seeing
Primatene Mist
on drugstore and market shelves when you were younger. For me, it was a common occurrence as my cousin, who suffers from severe asthma, would often have this inhaler with him. After spending time in the backyard with my cousins and brothers playing football, he would pull out his inhaler, flip the top and use it if his asthma flared up.
In 2011
Primatene Mist
was phased out and removed from store shelves. These pocket-sized inhalers used chlorofluorocarbons (CFCs) to propel the epinephrine out and into the lungs of the asthma sufferer. As part of an overall move away from CFC-based propellants, the axe finally fell on
Primatene Mist
in December of that year. Since then, the manufacturer, Armstrong Pharmaceuticals, has been attempting to gain OTC status for a replacement inhaler, the short-acting beta2-agonist (SABA) bronchodilator,
Primatene HFA
. Currently, the only forms of this type of drug available are prescribed. If you have asthma, you might be familiar with their names, albuterol and levalbuterol. However, there is some need for an OTC alternative, particularly in case of emergencies or when people run out of their prescription at inopportune times.
In addition to ultimately voting no to OTC use, the 25 member advisory panel also voted on the efficacy and safety of the new inhaler. While there is still another ongoing clinical trial, the panel discussed the results of two other clinical trials that showed significant results. On a vote over the efficacy, 14 yes votes won out.
Lastly, the panel discussed and voted on the safety of the proposed drug. Like most drugs,
Primatene HFA
did show some side effects, though even with the most severe side effect being tremors, all cases were mild. Other side effects were infrequent. A larger safety issue was likely found in the correct use of the inhaler. While the new inhaler uses an ozone-friendly propellant, the new formula is a suspension that can settle. Consequently, the inhaler must be primed four times before the first use and twice after two weeks of nonuse. It must also be washed and dried each day, and both of these present significant hurdles when it comes to ease-of-use and proper use. With regard to labeling, some members felt that patients may be led to believe that it is for daily use when only actually intended for intermittent use. All of these things resulted in 17 panel members voting no, in terms of safety.
The end result, for now, is that the new
Primatene HFA
will not be in pharmacy and store shelves any time soon, but the drug does show promise. It does work, and there is a need for it. Undoubtedly, Armstrong will revisit the inhaler and attempt to address issues of misuse or mishandling.
Author:
K. Gilmore
In a recent study presented at the European Respiratory Society conference in Vienna, researchers defined the link between the use of a common asthma treatment drug and a child's height. For years it has been believed that budesonide, the primary active drug in Pulmicort, temporarily slowed the growth of children but that as the children grew into adults, their height eventually "caught up." This most recent study finds that the long term effects on adult height, though minimal, are permanent.
When accounting for all factors across multiple age groups, researchers found that prepubescent children who took a twice daily dose of the inhaled glucocorticoid were an average of 1.2 cm (just under half an inch) shorter than those in the placebo group. As the children grew to be adults, the slowing in growth was not cumulative nor was it progressive.
Overall, this is likely a case of not wanting to throw the baby out with the bathwater. While height is minimally effected, particularly with higher doses and with younger children, the overall effect of fewer asthma attacks ultimately outweighs this potential side effect.
For doctors and parents, this study should prompt a discussion about the use budesonide and finding the minimal dose required to control asthma while limiting any potential growth issues.
To read the original articles published in the
New England Journal of Medicine
.
Author:
Kevin Gilmore
Keep an eye out the next three days as this week is VIRUS WEEK!