Dehumidifiers
Every year it seems that summertime brings some very contrasting sets of weather to different parts of the country. This time last year the Midwest was in the midst of a severe drought, and while that continues in some areas, in other areas it is rain, rain and more rain. Here in just a couple days I will be headed back north to spend time with the family for the 4th of July, and while I expected part of my time up there to be spent in the hayfield, I will likely be repairing fence lines that were washed away by flooding last week.
Fence lines, though tedious, are a relatively easy fix. Dig a hole, set a post, restring barb. Cleaning up your home after a flood, though, is a bit trickier. Drying out is the first step, and depending on the severity of your water problem, you have a few options.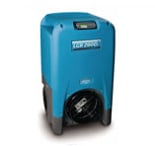 For flood waters that were relatively mild, meaning they didn't soak your walls or drown your washing machine, a smaller,
room dehumidifier
can be effective. Most have the ability to be ported with a garden hose to eliminate the need to empty a condensate reservoir. Set the dehumidifier up, attach the line, then set it and let it run.
For more severe flooding, like something that has soaked, the floors, walls, appliances, your task is a bit more difficult since it likely means replacing drywall or paneling. For this type of flooding, parts of your home and basement that are not visible have often been saturated. After the waters begin to recede (or you have pumped them out), a larger,
home restoration dehumidifier
is likely your best bet. These larger models have a higher drying capacity and can remove more moisture per day. All can be ported and many have internal pumps that can actually push the water away from the drying area. Fans can help by keeping the air circulating while a restoration dehumidifier works. Once the space is dry again, then the work of replacing, repairing and restoring begins.
Cleaning up after a flood can be simple to intensive, depending on your specific situation. Regardless of severity, the sooner you get the space dried, the sooner repair can begin and the less likely you are to be dealing with mold. Mold thrives in a warm moist environment, so your basement after a flood is a veritable paradise to mold. And this, falls into the "Not Good" category, as mold growth can often lead to long term problems throughout your home.
So aside from enjoying the fireworks and grilling out, I will be spending my 4th helping rebuild fence lines. Aren't summers great?
For more information on
Flood Cleanup
or to learn about how
flood water can impact your health
.
Author:
K. Gilmore