Eczema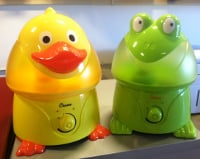 As part of our expansion of our humidifier offering, we've now added select cool mist humidifiers by Crane. Crane is known for the animal/character themed design as well as their ease of use. So whether dry indoor air is making your child feel a little less than "froggy" or a night time cough is driving you "quackers," Crane has an inexpensive and simple solution!
Both Daphnie the Duck and Freddy the Frog are cool mist humidifiers that use ultrasonic technology to quickly and effectively disburse moisture back into indoor air. Compact and lightweight, these models are perfect for a child's bedroom. Holding about a gallon of water each, both can help relieve symptoms of eczema (like itchy skin), asthma (like a dry night time cough), or just general symptoms of dry indoor air, like chapped lips, dry or painful nasal passages.
You simply remove the tank, fill, then set your humidity level and let it run! If you have hard water, you can pick up an optional demineralization cartridge/filter to remove mineral content. No hard water or you use distilled water? Then it's ready to go right out of the box.
As a couple other notes about these humidifiers, there are no BPAs or phthalates in the plastic used, and since both are cool mist humidifiers, there are no heating elements or boiling water to worry about if it gets knocked over or spills. And, both the
Crane Duck humidifier
and
Crane Frog humidifier
will automatically shut off once the tank is empty.
Each of these are in stock and ready to ship today or can be picked up from our showroom. I like them for a few reasons - cost, simplicity, and they're much easier on the eyes (especially in a kid's room) than most other models. Granted they lack some of the snazzy features and length of warranty of models that cost two to three times as much, but as basic way to restore humidity back into your indoor air, this duck (and frog), might fit the "bill."
And the last reason why I like these humidifiers? Bad puns galore! Just as a side note... is the "Crane Duck" anything like a "Lion Tiger"?
Author:
KevvyG