HEPA Filter
AirPura is one of the newest companies in the air filtration business, but don't let that fool you into thinking that this means they lack for experience. AirPura was founded nearly a decade ago by veterans in the air purifier industry. One look at the style and design on
AirPura HEPA air purifiers
may give you some idea as to where they draw their experience from. Taking this experience and know-how, they took existing standard in air filtration and improved them. As a result, AirPura has a line of air purifiers that exceeds even industry leaders in some very noticeable ways. So what did they improve and what does that mean for those dealing with allergies or asthma?
There are three areas where AirPura has made changes to provide a better product.
Filtration

- From tried and true to cutting edge, AirPura offers a range of filtration styles to remove particle allergens like pollen, dander, and dust mites as well as odors, smoke and chemical vapors. A HEPA filter is standard in most models, as is a carbon filter and large particle prefilter. Some models integrate UV light while others integrate AirPura's TitanClean technology for some of the most comprehensive filtration available. Regardless of which AirPura you choose, each filter type can be independently changed. So unlike some combination filters that result in one of the combined filter medias wearing out before the other, each type of filter in the AirPura can be changed exactly when it needs to be.

Components

- For some of the most sensitive individuals, the solution to air quality problems can actually create more problems. From plastics that off-gas and UV bulbs that emit ozone to compounds in the carbon and rubber/foam/plastics found throughout the machine, many modern air purifiers can emit harmful byproducts that can aggravate conditions for those coping with chemical sensitivities or severe respiratory problems. AirPura takes a different approach by greatly limiting the use of adhesives, rubber, foam and plastics. This is why you will notice felt gaskets around the filter assembly, a steel shell with powder coat finish, a coconut shell based activated carbon (one of the most MCS friendly carbon bases available), UV bulbs that are CARB compliant (meeting California's stringent UV standards and exceed EPA standards), and electrical components that rest outside of the flow of cleaned air through the machine. Particularly for anyone who has dealt with problems caused by cheap air purifiers, these small details add up to a big difference.

Air Flow

- Air and water share some similar characteristics, and in this case, kinks or bends in the flow can dramatically reduce coverage. The more sharp bends air has to negotiate inside the air purifier, the less efficiently it flows through the machine and the more energy it uses. Things like 90° angles inside the machine can dramatically reduce not only airflow but also coverage. AirPura air purifiers have a very streamlined internal flow with no sharp bends. This is why it has the highest CFM of any residential air purifier, 560. This is also why an AirPura can cover up to 700 sq. ft. at a rate of 6 full air exchanges per hour. Thanks to the internal design and a powerful motor, you get more coverage for your buck with an AirPura.

Noise

- On the lowest fan speed, each AirPura air purifier registers about 28 decibels at six feet away. This makes them some of the quietest air purifiers on the market. This also means you can simply turn the fan down at night and make the bedroom more accommodating for light sleepers.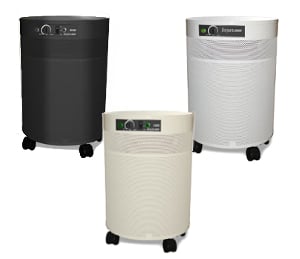 There are some similarities with other well known brands. A steel shell for durability and powder coat finish that eliminates off-gassing, casters, no frills design, an easy to use control panel, and 360° air intake are all features that are shared by AirPura and some of the leaders in the industry.
Currently, the three models we offer are the base model, the
AirPura HEPA R600
, which provides excellent three stage filtration suitable for most people dealing with allergies, asthma or COPD; the
carbon-rich AirPura C600
, which employs a thick, 26 lb carbon filter ideal for chemical abatement, removing high levels of smoke, odors, vapors; and, the most comprehensive, the
AirPura HEPA P600
, which uses five-stage filtration to tackle the widest range of allergens, pollutants, pathogens, and irritants of all AirPura models. Each model offers a unique solution for general or specific air quality problems.
If you want to learn more about what AirPura has to offer you, visit our
AirPura page
or view our entire line of
high quality HEPA air purifiers
.
Author:
KevvyG