Masks
If you spend any amount of time outdoors, particularly during the winter when the temperatures and dip to around or below freezing, you may notice your nose changes. Normally our noses range in function (or dysfunction!) from an odd looking feature that sits squarely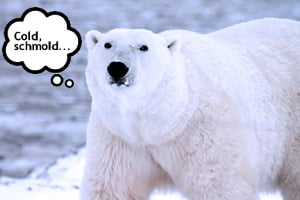 in the middle of our face, doing little beyond taking up space or generally getting in the way to smelling all manners of things, acting as the doorway to our respiratory system, filtering air, and holding up our glasses. During the winter, you may notice two changes that your nose undergoes. Let's take a closer look at why your nose get red in cold weather, and why your nose turns into a faucet of clear mucus.
First, let's take a look at why your nose is so festive when it's cold out. We all can't be body doubles for Rudolph the Red Nose Reindeer, but if you're standing at the bus stop on a cold day, it may appear that we're all headed to the same audition. As the temperature dips, the body's natural response is to warm things back up. The initial response from your body is to send extra blood to the extremities that are cold. This extra blood fills the tiny blood vessels in your nose and gives it that red hue. The same is true for your hands, at least initially.
If the internal temperature in your hands and feet dips too much, the body literally goes into survival mode and begins to cut its losses. Retaining its core temperature becomes priority number one and the process of vasoconstriction begins.
Vasoconstriction is when the body begins to decrease blood flow to the extremities in an effort to reduce heat loss at the extremities and retain heat in the core. Before we get too far off track, lets circle back again to the nose.
The other common change your nose undergoes in cold weather is that it may begin to mimic a leaky faucet. Like the steady drip of poor plumbing, your nose will start dripping clear fluid. Yes Virginia, it's mucus. Normally, mucus serves two purposes. First, it humidifies the air you breathe, adding much needed moisture to air before it reaches the lungs. Second, it filters the air. In moderate temperatures mucus is constantly being produced and constantly moving, but when the mercury falls, it thickens and moves very slowly or ceases movement at all. While your river of mucus may have stopped moving, the body keeps producing it, and with nowhere to go, it begins to drip out of your nose.
You can take some solace with both of these things. First, you hardly notice a red nose. If you're outside in the cold with others, you'll all be freezing your noses off, and there's nothing like sharing when it comes to misery! As far as your runny nose goes, many times you don't notice this either, as the cold numbs the nose, deadening out the ability for you to even feel that inevitable drip, drip, drip.
So, you've decided a red nose or dripping nose isn't for you, eh?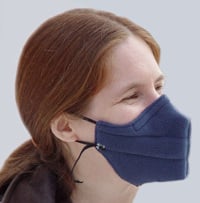 Last time I checked, I'm not a polar bear, and while some of us may have issues with excessive body hair, we simply can't compete with cold weather. There are a couple things you can do to help with this, and the easiest is to get out of the cold. If you have to be outside, get a mask. A
cold weather mask
can be a great way to trap moisture and warmth around your face and nose, not only reducing the potential of cold weather induced asthma but making the frigid air you're breathing much more manageable. Frequent breaks and warm liquids are also good ideas.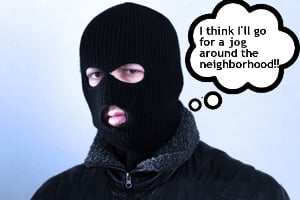 At this point, I would suggest a ski mask, but there might be at least one drawback to this. Unless you're on the slopes, you may give your neighbors the wrong impression. With daylight savings time pushing sunset back earlier and earlier, nothing says "Hello, neighbor!" like jogging around the neighborhood, at night in a nice, warm ski mask! (
To Mr. Phelps and his Yorkie - I'm sorry!!
) For people who regularly work out in cold temperatures, there is an upside. After repeated exposure to colder temperatures, the body will acclimate through the process of habituation (though don't think that drippy and red nose is going anywhere).
In conclusion, it is likely time we accept that we're not penguins with hands or woolly mammoths sans trunks and tusks. No, we're humans, who get cold, red, runny noses. Go inside, have some hot coco and read another one of my blog posts! Or look at cat pictures... because at this point, I'm too cold to care.
Author:
K. Gilmore