Peanut Allergy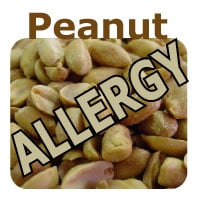 Mothers with children who have peanut allergies can find hope for relief in recent allergy studies. In a study recently published in the
Lancet
, Dr. Andrew Clark and his team conducted clinical trials testing immunotherapy treatments for children with peanut allergies. A treatment group of children with this allergy were fed small yet increasing amounts of peanut flour for a 6 month period. After the treatment, over 80% of the children were able to safely eat the equivalent of 5 peanuts a day, which is at least 25 times the quantity of peanut protein they could tolerate before the experiment. "As kids take an increasing amount, their immune systems start to change," said Dr. Clark. "They can tolerate peanuts more robustly."
Immunotherapy has been a successful form of allergy relief for wasp-sting allergies and grass pollen. At its core, immunotherapy is a long, slow process of reintroducing tiny amounts of a particular allergen to patients. Over time, the amounts of the substance patients ingest or are exposed to increases with that hope of leading to a higher, long term tolerance of the allergen. With regard to peanut allergies, this has been the most successful study so far, and gives hope to parents who are constantly on the lookout for even trace amounts of peanuts that can send the severely allergic into anaphylactic shock. In the future this type of treatment could relieve much of the worry associated with trace amounts of allergens causing severe reactions and help lift many of the precautionary diet restrictions those with food allergies often have to impose.
While we wait for more research, long term test results, and potential FDA approval for this treatment, avoidance remains one of the best options for those dealing with food allergies. Though peanut butter might not be one the menu just yet, here are some Peanut/ nut substitute suggestions without the risk of allergic reactions.
Sunflower seed butter
Soy nut butter
Hummus
All of these substitutes are easily found in local grocery stores, generally near the peanut butters. If any of you readers have suggestions on sunflower seed butter or soy nut butter brands, let me know, I'd love to try!
Author: R. Power
For all you peanut allergic individuals, have you ever wondered about eating at restaurants that use peanut oil for cooking. Five Guys and Chick-fil-A are probably the two most well known examples. They use peanut oil in their fryers.
Cooking oils used by most restaurants, especially the big commercial franchises that use peanut oil, use a highly processed, refined peanut oil. Why is this important? The refining process involves high heat, deodorization, bleaching, purification, and other methods of processing to strip away the peanut proteins that are responsible for the allergic reaction to peanuts and leaves a purified, refined oil.
The peanut oils to avoid are often the gourmet peanut oils. These types of oils may have things like "cold-pressed," "natural," "unrefined," "gourmet" or "aromatic"
on the labeling of the bottle. Found in the cooking oil aisles at supermarkets or specialty stores, these oils often forego the refining process and retain allergic proteins.
There are research studies that back up these findings, and the FDA makes specific note of oils in Food Allergen Labeling and Consumer Protection Act of 2004 (FALCPA) [Paragraph 1-201.10(B)]. So, if you are craving those fries cooked in the peanut oil, chances are you can probably feel safe eating them. Now, the only reasons to avoid Five Guys might be the actual peanuts in their restaurants or your expanding waistline.
Always inquire about the oil before ordering, and discuss with your allergist if you have any questions or reservations.
For
more information on FDA guidelines concerning food allergens
or for a convenient way to let restaurant staff know about your food allergies, try our
convenient food allergy cards
.
I've been waiting to see something along these lines for quite some time now. In the midst of this feisty election year, PeanutAllergy.com partnered with OpposingViews.com to run a poll. Should peanuts be banned from schools? While the breadth of the number of people polled is a relatively small sample, the results might be surprising to some.
With the "No" vote totaling 76.6%, most of those who responded are opposed to banning peanuts in school. This is interesting for a few reasons. First, food allergies in general but nut allergies in particular, have been trending sharply upward in recent years. In part because of better awareness surrounding food allergies, the number of cases of peanut allergies has been on the rise. Secondly, as more school districts and states across the nation are developing plans to keep Epi-Pens on hand, there has been a response to the growing number of severe allergic reaction cases by administrators, parents and legislators.
This is a sticky situation (sorry for the poor peanut butter pun) for several reasons. Peanuts have been a staple in the American diet for a very long time. On average, a typical American consumes over 3 lbs. of peanuts every year. Now this doesn't mean we're all sitting around at the ballpark, the local Five Guys, your nearest steakhouse or on airplanes just munching away. Peanut oil and the ever-favorite peanut butter is consumed and used in a variety of foods and for food preparation across the nation. Peanuts have traditionally been a low cost source of nutrients and protein, far cheaper than meat.
On the other side are the health risks for those who are allergic. Part of what makes the increase in food allergies so alarming is how severe they can be. Why have schools and state legislatures been pushing to enact laws that require schools to carry auto-injectors? Fatalities. Though the number of food allergy related deaths each year is small, typically a couple hundred, they are alarming, in large part because they are so preventable. And, for parents of children with severe food allergies, this no small matter, so much so that some parents have turned to home schooling or specially trained dogs to help their child avoid food they're allergic to.
There are also other issues in play with this debate, cost, effectiveness, and even concerns regarding civil liberties. The issue is a difficult one, but one where opinions can be very sharp and not in short supply. So where do you stand? Should they be banned in schools for allergy reasons? If not, what should schools and others do to help prevent these preventable deaths?
Author:
Kevin Gilmore