Santa Fe Dehumidifiers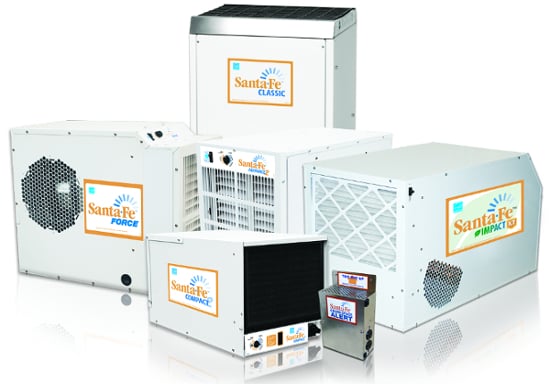 We are very proud to offer a new brand to our line of home dehumidifiers - Santa Fe. We are one of only three online retail sites authorized to carry these exceptional machines.
Some of you might recognize that name, while for others it might be completely new, but when it comes to drying your home and keeping your basement or crawlspace free of mold, mildew and insects, Santa Fe is one of the most trusted solutions to these problems. So what makes Santa Fe dehumidifiers a solid choice for controlling indoor humidity and excess moisture?
There are a several reasons why Santa Fe is the
preferred choice
for homeowners.
Performance

- With several models to choose from, the entire line offers you a range of models that vary by coverage and moisture removed, among other things. From 70 pints per day all the way up to a whopping 155 pints per day, Santa Fe dehumidifiers get the job done when it comes to keep your basement or crawlspace dry!

Ease of Use - Once you've placed your Santa Fe dehumidifier and leveled it, run your drain line and power, and you're all but ready to go! Simply adjust the dial to choose your desired humidity level, and you're all set. A couple times each year you will want to check on your dehumidifier and clean the air filter, but other than this, it is very easy to use and nearly maintenance-free!

Efficiency - There is simply no other brand of dehumidifiers available that perform as efficiently as Santa Fe. Each model meets or exceeds Energy Star guidelines with the most efficient model surpassing the minimum Energy Star requirements by 50%. For a machine that will likely give you 10+ years of performance, the annual savings on your power bill can more than pay for any Santa Fe dehumidifier in just a couple years.

Rugged Build - Each Santa Fe dehumidifier is constructed of steel to withstand the rigors of use in crawlspaces or basements. Unlike plastic, steel will not warp, fade or break, and while it does add to the weight of each of these dehumidifiers it adds far more in terms of durability.

Range of Options - Each Santa Fe dehumidifier is a little different, in terms of coverage, efficiency, and performance. Some, like the Compact2, Classic and Rx dehumidifiers are built for specific settings, like a tight crawlspace, basement or any room actually in your home or office, respectively. Regardless of the space in your home that you're trying to dry, you can be sure that you have options when it comes to selecting the one right for you. In addition to the dehumidifiers themselves, each has an array of optional accessories. From condensate pump kits and casters to ducting kits, Santa Fe dehumidifier are versatile and highly customizable for your specific needs.
In addition to these features, each Santa Fe dehumidifier is actually made right here in the US. Based in Wisconsin, Santa Fe's parent company, ThermaStor, has been designing and manufacturing quality environmental control products for nearly four decades.
Author:
K. Gilmore