Smog
It is definitely that time of year again. You know, the time of year when getting into your car feels like you've just stepped into a blast furnace; the time of year when, you know it's at least 105% relative humidity out because of the deep regret you have for not putting deodorant on every inch of your body; the time of year when sunscreen just seems to melt, along with all motivation to do anything outdoors. Though it is somewhat early, it certainly feels like THAT time of year again.
So as the mercury does less creeping and more racing to the top of the thermometer, this is also a good time to point out something else that has been popping up in recent days - air quality warnings. Summer has just officially arrived, and it seemed to coincide neatly with consecutive 90° days here in Atlanta as well as code orange Air Quality Index readings.
While much of the country has shrugged off the spring allergy season, it is now officially time to start keeping an eye on air quality. During the summer months, there is one key driver of poor air quality - ground level ozone. But what does ground level ozone do, who does it affect, and why do we only see much of it during the summer?
As temperatures rise, heat combines with pollutants from emissions like nitrogen dioxide and VOCs (generally from vehicles, power plants, industrial pollutants and others) to create a powerful lung irritant, ground level ozone. For those with respiratory conditions, ozone can cause a range of reactions from shortness of breath and coughing, to wheezing and general discomfort. Those who are affected most by ozone are those with respiratory conditions, like severe asthma, COPD or lung disease, but children and the elderly often feels the effects more pointedly too. Even for those who are healthy, higher levels of ozone can cause problems, particularly when working or exercising outdoors. Decreased lung function and inflammation of the airways are two of the first symptoms that may be noticeable even in healthy adults.
Last year, many parts of the country were fortunate, with regard to ground level ozone. While heat is critical in the formation of ozone, wet conditions subdued the production of ozone. Precipitation and wind can lower levels by stunting the formation of ozone or dispersing and lowering concentrations, respectively. As also a bit of good news, the trend over the last three decades has been a slow but steady decline in ozone. This decline is welcomed but in coming years could be offset some by rising overall temperatures.
Your local weather station (particularly if you live in an urban area) will often mention air quality warnings on bad days. Masks to help filter some of the pollutants, and a dual media (carbon & particle filter) mask, when properly fitted, can reduce exposure. The best advice is to try to accomplish your outdoor activities in the morning or evening, when temperatures have cooled and air quality has improved.
Perhaps it's just Atlanta that is sweltering? I suppose it got the nickname, "Hotlanta" for a reason, right? With consecutive days in the 90's on what were the final days of "spring," it's hard not to think the rest of the country is dealing with the same sauna-like conditions that we affectionately call "weather." Unfortunately, a quick look at the national weather reveals that this isn't exactly the case, but to those of you who are still avoiding the Duo of Doom (heat and ground level ozone) I can definitively say, "It's coming..."
Maybe.
For more information on
the effects of ground level ozone
or to check the Air Quality Index for you location, visit
AirNow.gov
.
For a better
explanation of the Air Quality Index Chart
.
Author:
K. Gilmore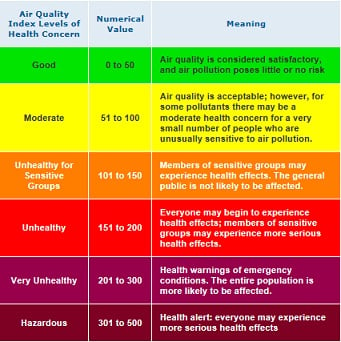 Starting in spring each year, you might notice a mention of the "air quality index" on the local news. Typically during the spring months, this index is influenced by the level of pollen in the air, but as spring dials up the heat into summer, the index tends to focus on ground level ozone. For people dealing with allergies, asthma or more severe respiratory conditions, the air quality index (AQI) can be a quick and useful way to help manage your outdoor activities for the day. But what does the index measure and how does it actually help?
The AQI is a chart, ranging from 0-500 that measures major pollutants and particles in the air, including ground-level ozone, particle pollution (also known as particulate matter), carbon monoxide, sulfur dioxide, and nitrogen dioxide. Measured and reported by the EPA, the AQI provides a guide that can help those with respiratory problems better manage their daily outdoor activities. With six categories, the scale ranges from Good to Hazardous. The first two categories, Good and Moderate,
do not cause problems for most people, but for sensitive groups, like those with asthma, COPD, emphysema, heart or lung disease, the next two categories can begin to cause problems. If the air quality falls into the last two categories, Very Unhealthy and Hazardous, you should consider staying indoors as much as possible or consulting a local real estate agent.
While the AQI can give you clues as to when it will be best to be outdoors, this measure will vary greatly depending on your location. And though it is often the case that poor air quality tends to center around metro areas (since there is typically more industry, more cars, and higher levels of pollution in general), things like topography and geography can play major roles in how and where air pollution concentrates. Mountain ranges, hills, and valleys can act as walls and funnels for air pollution, allowing it to move, collect and settle in places that you would expect to have much better air quality. Geographical features like these can also effect the duration of poor air quality, causing it to stick around and not allowing it to dissipate as quickly. This is one reason why air quality is so poor in Beijing. Images from this city sometimes show a literal fog of pollution hanging over the city, and while air quality there is generally worse than any location in the U.S., the same types of geographic features that trap air pollution around Beijing can also be found throughout the U.S.
During the warmer months, air quality tends to worsen. Heat changes simple air pollution, so while the same levels of exhaust and carbon dioxide during the winter months may register as Moderate, during the summer they may appear as Unhealthy on the AQI. Add summer heat to industrial and exhaust and you have the recipe for ground level ozone - a powerful lung irritant that can aggravate asthma, COPD and other respiratory conditions.
So what does this all mean? Poor summer air quality isn't going anywhere anytime soon, so the AQI can be a handy tool to help you schedule your daily tasks with as little impact as possible. Morning tends to be the best time to get your outdoor tasks finished, and some things should simply be put off until rain, wind or decreasing temperatures improve the AQI score.
Masks with activated carbon
can also be helpful if you must spend time outdoors when the air quality if poor. This type of mixed filtration media mask not only targets particulate but also help to traps chemical pollutants like smoke and chemical pollutants from vehicles. Remember your meds. For a variety of reasons, people will often short dose themselves or simply skip medications that can help. Avoid this on days where the air quality is bad and you have to spend time outside. If you must spend time outdoors, take frequent breaks and get inside to cooler temperatures. Finally, drink plenty of water. Heat exacerbates many conditions, and during the summer, heat exhaustion and dehydration unnecessarily cause and worsen problems for many.
Indoors, you can keep help to improve air quality by using a
HEPA air purifier
which can remove not only particulate but chemicals, odors and help to keep dust levels down. Replacing your HVAC filter regularly is always a good idea. This filter is often your first line of defense in removing air pollutants in your home. Lastly, when the air quality is poor outside, keep the doors and windows closed (though most do anyway when using AC).
For more information on the
EPA's Air Quality Index
or to
check the air quality near you
.
Author:
Kevin Gilmore
For some an allergy mask is a year round accessory while for others the need typically arises during the spring and fall. Though the spike in pollen during these two seasons often means asthma and allergy sufferers use a mask, the summers can present some unique situations where masks would be helpful.
Pollen

- While the pollen types and volumes are generally less than during the springs months, plants like sumac and thistle produce pollen throughout the summer. For many allergy and asthma sufferers, fresh cut grass can be a continuing source of irritation during this time. And because people typically spend more of the summer outdoors than any other season, exposure to pollen can be greater than during peak pollen months.



Emissions Pollution

- Traffic in many areas of the country can increase or decrease seasonally, but no matter where you are the warmer temperatures mean that any pollution in the air more readily forms ground level ozone. So whether it is vehicle exhaust or emissions from factories, the formation of the lung irritant ozone is much more common during the summer than in any other season. Ground level ozone is the primary reason why you see so many air quality warnings throughout the summer. Additionally, though these conditions usually affect urban centers, some of the highest levels of ground level ozone are recorded in rural areas. As the air and air pollution moves, geography like mountains and valley create natural collection points where pollution from urban areas can settle and build. Much like water, air has a natural flow that allows for it to pool and form pockets far from the original source.



Wildfires

- Every year wildfires plague sections of the western U.S. The soot, ash, and chemicals carried in wildfire smoke can be particularly troubling for those with asthma and other respiratory conditions like COPD. Drought conditions exacerbate this and can make areas where wildfires are usually not a concern, a serious problem. Even those who aren't directly affected by the fire can be affected by the smoke.



Special Summer Events

- Many people will be attending summer music festivals and concerts across the country. Most outdoor events don't require a mask, but if you do plan on spending time in areas where campfires are going to be abundant, it's never a bad idea to bring a mask along.
Even during summer there are a variety of uses for a
quality allergy mask
, and when selecting, keep in mind what your specific filtration needs are as well as what type of pollutants you are dealing with. No matter your budget or need, there is a mask that is a perfect fit to keep you breathing easier no matter where you are!
Author:
Kevin Gilmore