Tobacco Smoke
The other night at the Buckhead Saloon, I noticed a few glowing lights and thin vapor exhales that had replaced some ash trays and the malodor of tobacco cigarettes. It was a nice relief to see cigarettes being temporarily replaced by electronic cigarettes, which meant more breathing room for me.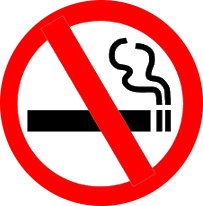 As a non smoker, I'm not a fan of the stench of smoke in my hair and clothes, and it's the number one "no-no" for my teeth and skin health (along with overall health, of course). Moving from a state that had no indoor smoking establishments (except BBQ joints, hardy har-har!) to a state that permits smoking in restaurants and bars that serve to persons over 18, this was just one more thing to adapt to. But it would seem that thanks to electronic cigarettes, we can all have our cake and eat it too.
Electronic cigarettes, aka e-cigarettes, hit the scene around 2007, following the hookah fad which took to trend in 2005. They are becoming mainstream with shops opening up in cities like Atlanta, New York, and Philadelphia, offering a plethora of flavors to "vape" or "smoke". The design is similar
to an actual cigarette (some even look like real cigarettes) but includes a colored LED light which lights up when the nicotine solution is heated in an atomizer, vaporized and ready to inhale.
As these electronic cigarettes become more mainstream, we have to ask if they are a healthier alternative to cigarettes. We can consider that they cut down on second hand smoke, which is harmful to children, asthmatics and those with MCS, and they cut down on waste (cigarette butts take over 12 years to biodegrade).
Western Europe has embraced them. University of Auckland in New Zealand sees them as effective as nicotine patches, and the University of Athens, Greece considers them a healthier alternative to tobacco smoking. Dr. Jacques Le Houezec, a French consultant in public health and tobacco dependence, declares cigarettes to have levels of toxicants that are 9 to 450 higher than in e-cigarettes.
For the most part it seems that they are getting the thumbs up as a healthier alternative to Camel, and Lucky Strike (ever seen the pilot for Mad Men? You must if you haven't!). Research and regulations are only beginning to make progress to ensure that use of e-cigarettes, or vapins, is safer than actual cigarettes, a claim long held by e-cigarette manufacturers and supported by some in the medical community.
Overall, there has been a relative lack of research as to longterm health effects of using e-cigarettes, but initial studies do show an impact on the airways after just a few minutes of use. While they do contain less
of the 400 chemicals (40 of which are carcinogens) found in conventional cigarettes, it is probably too early to deem them "healthy". But perhaps most troubling for many is the proliferation of sweet and candy-like flavors that have cropped up in recent years. Like Cherry, Vanilla, and Berry flavored smokeless tobacco and the old Joe Camel cartoon character before them, sweetly flavored e-cigarettes seem to be geared toward children. Though some flavors contain nicotine while others do not, Bananas Foster, Caramel Apple, Cheesecake, Strawberries & Cream, and Watermelon Bubblegum are all nicotine flavors available for e-cigarettes.
Currently there are no federal age restrictions on the sale or use of e-cigarettes, though some states limit sales to those over the age of 18. Growth in this industry has been tremendous, particularly in the last few years, and this trend doesn't show any signs of slowing down. As things surrounding this topic continue to change, including research as to their health vs. harm, I'll keep you updated.
Author: R. Power
While it may seem to be a common perception at this point, the fact remains that the effects of smoking during pregnancy has far less data to back up a link to asthma development than smoking around children after birth. A recent study conducted by the UCSF Center for Tobacco Research and Education added solid findings to put some empirical data behind this belief.
In an article to be published in the upcoming edition of
The Journal of Allergy and Clinical Immunology
, researchers link smoking during pregnancy, particularly in African American and Latino populations, to an increased risk to the development of acute asthma in children. Even children who are over ten years removed from exposure to tobacco smoke during pregnancy show the effects of smoking and demonstrate the increased risk of acute asthma.
Many mothers-to-be smoke during pregnancy, quit, but the data from the study showed regardless of if they quit during pregnancy there were still far reaching consequences to smoking at all during this time. This study focused on women of color not only because of the increased rates of smoking amongst those populations but also because these groups tended to smoke more often during pregnancy and were often slower to quit
This link between higher rates of smoking by women in these communities are one possible reason why the mortality rate of asthma disproportionately effects African Americans.
Though the exact mechanisms or changes in the DNA that correlate with the development of asthma in children from mothers who smoke is still unknown, this study highlights the need to greater awareness among all mothers-to-be about the risk of smoking while pregnant.
Author:
Kevin Gilmore