Vacuum Cleaners
The other night I decided to toss out my old vacuum (whom I will name, "He-Who-Must-Not-Be-Named" as not to discredit that particular brand) and upgrade to a
Miele Twist upright
. I weighed the pros and cons, and a couple days later I brought home a shiny, new Sprint Blue upright vacuum.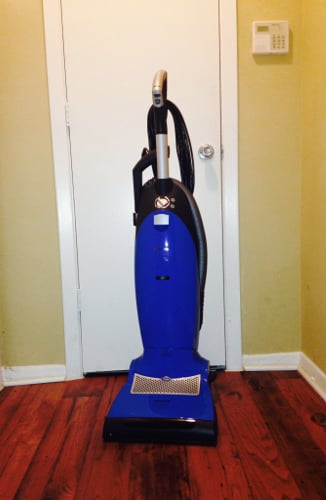 Out of the box there was literally one thing I had to do, attach the handle, and I was ready to go.
I started with my bedroom floor, which much like most of the apartment, is carpeted. Though I'll admit that the Twist is heavier than my old upright, it really scoots across the carpet with little effort. Before I knew it, I was done, but for some reason I didn't stop there. I was using the upholstery tools to clean my mattress, curtains and couch cushions, dusting the ceiling fan (how did I not notice the mountain of filth accumulating up there?), and vacuuming our living room. My curious roommate even gave it a go. She vacuumed her entire room, which really surprised me. She would normally rather have a root canal than clean!
During all this cleaning, a few thoughts occurred to me. "Wow, why am I excited? Having just turned 25(not a mom, homemaker, a homeowner, or even someone who has a strong desire to keep a clean home), why am I cleaning like my life depends on it? Is it because I'm a little nerdy, and the Twist is a bit like a gadget? Do I enjoy quality products?" I had a lot of questions but was short on answers.
This wasn't something I posted on Facebook or Instagram, but I did casually bring it up in conversation with one of my good friends, Ginny. She was surprised to hear me say "Miele" and told me that her mom had a Miele, one that literally mentioned in her mother's will, is to be passed down to Ginny. It was fun and interesting to make that Miele connection.
Soon after, I went to Asheville to visit some friends. To my pleasant surprise, I walked into my friend's house and saw that she had a Miele Plus! I exclaimed "I have a Miele too!" Of course, not everyone knew what I was talking about, but I was still excited to see someone else around my age with a Miele.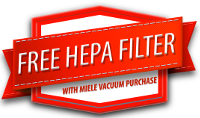 So moral of my story is, you're never too young to have a superior quality home appliance. You aren't simply paying for a name, but for a lifelong (well, at least, twenty year) investment. And, if you got something good, don't keep it a secret! You'll never know who else may have a Miele in their closet.
Author: R. Power
Don't Forget!
This is the last weekend for the FREE Filter w/ Every Miele Vacuum Cleaner promotion. You have less than a week to get a free HEPA filter with any Miele vacuum you buy.
$49.95 value
Shop Miele Vacuum Cleaners