Blueair 250E HEPASilent Air Purifier
Item #: BA2500 STOCK

OUT OF STOCK
Blueair 250E HEPASilent Air Purifier

Blueair is the system for people living with allergies, asthma, or other respiratory conditions, or for anyone who wants cleaner, more breathable air. The Blueair 250E air purifier comes with easy-to-use remote control and digital display system that gives the user instant feedback of particle detection, air purifier speed, and timer operation. Ozone free and Energy Star Qualified, the Blueair 250E HEPA air purifier is exceptionally quiet and one of the easiest air cleaners to use and maintain.
Features
HEPASilent technology, exclusive to Blueair, combines mechanical filtration and electrostatic filtration for highly effective air cleaning that outperforms standard HEPA, capturing 99.97% of the tiniest particles at 0.1 micron.
 
Optional carbon filter reduces odors, smoke, fumes, and gases.
 
HEPASilent technology allows extremely quiet operation. The low-density filters clean large volumes of air more quietly than any other air purifier. On the lowest setting, Blueair air purifiers are about as quiet as the average desktop computer.
 
Exclusive SurroundAir technology draws dirty air in from all sides and gently diffuses air through an area six times greater than the average air cleaner.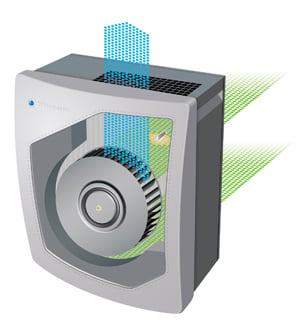 I am a self proclaimed gadget guru. I love things with remotes. I love that I can power it on and off without having to get up. It is a great, quiet unit.
Grate little air purifier, can really tell a difference with my allergies when I wake up in the morning. I have tried several different purifier's but Blueair is so much quieter and cleans the air better than the others I have tried. I love the automatic feature that senses the condition of the air in the room and adjust the fan speed according to the level of pollution in the room. I am very pleased with the 250E and would deffently buy it again.
This is a wonderful Purifier for a bedroom or any small room, the best part about it is it's effectiveness and whisper quiet operation.. Since I installed it in our Bedroom the air smells so much cleaner, our allergies are better, we sleep through the night and wake up felling rested in the morning. I love the automatic sensor function where you set it on Automatic and it senses the odor and the amount of particles in the air and adjusts the fan speed accordingly. I would recommend this to anyone with allergies and would definitely buy it again.
I am an allergy sufferer! I live in Jacksonville, Florida, where the heat and humidity are relentless and allergies are rampant. Luckily I found Achoo! Allergy! They sell excellent products, and the service is outstanding! Free shipping and my air purifier was delivered the next day! Particularly with allergy products, it is imperative to receive products quickly. I will let my allergist know how pleased I am with Achoo! Allergy! Karen Freeman
I have only had this unit for a short while, and have very little experience with air purifiers previous to purchasing it. However, I do have long experience with product design and engineering. This is a very nicely designed unit. Very high quality. It is small. It is extremely quiet. It seems to clean the air in my entire apartment quite efficiently and quickly. Dust is down tremendously.
I received the blueair 250e about 2 weeks ago and have been using it on a daily basis ever since. There were several things I liked: 1 very quiet at the lowest speed setting 2 very light piece of equipment so its easy to move around 3 low energy consumption 1 light bulb 4 most importantly of all, it works. I live in a wooded area so we have a lot of airborne allergens. My allergies are significantly better. They haven't gone away but I am no longer sneezing uncontrollably.
I bought the Blueair 250E because I had both bathroom renovated in the house and the dust looked like fog in the house. I received my unit immediately and within hours the air looked clear and my coughing subsided. I think it's a great product!
---

Blueair 250E:

I wanted an air purifier that would help my wife with her allergies, would look good in our house, and would operate very quietly. After looking at several units from different manufacturers, I purchased a Blueair 250E. The engineers at Blueair must have had Simon and Garfunkel's song "The Sound of Silence" as their target when developing the 250E. Even on its highest setting, it's stealthily quiet. So what's not to like about that? But there's more here to like than what meets the ear (or rather in this case, what doesn't). It's stylish, and even though it has an electronic display, it's refreshingly simple to operate. One push of a button is all it takes to start enjoying clean air. The unit also comes with a convenient remote.
Product Questions
No questions yet. Be the first to ask the question!
Blueair 250E HEPASilent Air Purifier Additional Resources
Blueair 250E User's Manual
,
View the Blueair Product Family
,
---