The Miele Compact C2 vacuum cleaners (formerly S6) usher in a wave of innovations in the area of home cleaning. Compact, durable, lightweight and efficient, Miele C2 models are specifically designed for the small to medium size home, larger apartments or condos. By comparing the Miele C2 canister vacuums, you can begin to see which model is best suited for your specific cleaning needs.
First, each model comes with an ABS shell, which is extremely resistant to scratches and damage. Inside the canister, each Compact C2 model features a sealed system and a 9-ply, self-sealing, FJM filter bag. All Miele C2 vacuums are powered by the Miele Vortex motor that produces optimal suction while creating little noise. Factor in enhanced sound insulation, and there is no comparison between Miele Compact C2 vacuums and non-Miele canister vacs. Though the AirClean filter is standard for each of these vacuums, all can be fitted with a Miele HEPA AirClean filter for the best filtration of any vacuum on the market today.

All canisters in this line are lightweight (less than 10 lbs. canister weight) and free rolling (movement by three independent swivel casters). This lighter weight and more compact design is key when space in the home may be at a premium or when you have a condo or townhouse with multiple floors.
Additionally, each C2 is equipped with a VarioClip and three mini accessories for added cleaning versatility.
Of the three current models, the Miele Topaz displays the most features and broadest cleaning range. The primary benefit with the Topaz is the electrically driven powerbrush. While all Miele C2 vacuums have an electrical connection on the body, the Topaz is the only one that comes with an electrified wand and hose. Add in the SEB 217-3 and you have the perfect medium to low pile carpet (and some higher pile)cleaning tool. The Miele Twister is excellent on smooth floors, and no matter which floor attachment you are using, the Topaz is the only model that comes with the deluxe handle.
Second in the line is the Miele Onyx. Compared to the Miele Topaz, the Onyx also comes standard with two floor tools. The STB 205-3 is an air-driven turbobrush, ideal floor tool for low to medium pile carpeting while the included Twister smooth floor tool works well across all types of smooth flooring.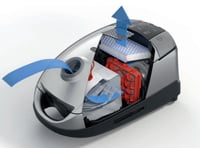 As the most economical model of the line, the Miele Quartz balances affordability with performance. By comparison, this Miele Compact C2 canister vacuum lacks a second floor tool but comes standard with the SBD 285-3 combination tool. This combo floor tool uses retractable bristles to gently loosen and clean smooth flooring while a stainless sole plate glides over low pile carpet and rugs, allowing velvet strips to loosen debris.
While each C2 vacuum cleaner is uniquely suited for different flooring and different cleaning circumstances each can be fitted with a variety of Miele attachments and Miele accessories to broaden your cleaning range and expand you cleaning ability.
Return to view all Miele Vacuum Cleaners