The Miele S8 series vacuum cleaners took many features that were upgrades in the S5 line and made them standard. Gone are the rotary dial controls. Instead, each S8 has +/- buttons on the body or suction control on the handle. Instead of a 33' cleaning radius, each has a full 36' of cleaning reach (due to a longer cord), and all come with the one-touch cord rewind. Like its predecessor series, Miele S8 vacuums come with the AirClean System, which includes a sealed system and 12 stages of filtration with a certified HEPA filter. The only exception to this is the Miele S8 Cat & Dog. This unit comes with the Active AirClean filter which gives up a little in terms of filtration (99.95% of particles .5 microns and larger) in favor of much improved pet odor filtration. Unlike the S5 line, the new S8s come standard with improved silence insulation and encapsulated motors, for reduced noise, as well as a raised 3D bumper strip to protect furniture. Lastly, each has staple characteristics like the skeletal construction design, ergonomically designed carrying handle, and integrated accessories. In all, the Miele took eight premium features and made them standard in this line.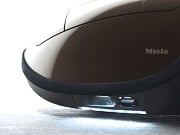 Of the models in the line, five come with two floor tools (UniQ, Marin, Cat & Dog, Kona, and Calima), and four models feature electrically driven powerheads (UniQ, Marin, Cat & Dog, and Kona). Three models also come with the Automatic suction feature - the UniQ, Marin and Alize. The UniQ has the highest price tag but also has the most features including velvet covered bumper strip, park and side LEDs, chrome trim, full vacuum controls on the handle, and a velvet-lined tool compartment. The Alize is a very unique Miele in that it features DynamicDrive casters to smooth movement across hard flooring, a spotlight built into the ergonomic handle, and the AirTeQ combo tool. As the newest addition to the line, the FreshAir canister is a limited edition that also comes with the Spotlight Handle as well as three additional cleaning accessories but is also the only model that comes solely with a combination floor tool. The Cat and Dog sets itself apart by using the AirClean filter and including the STB 101 handheld turbobrush. While the Marin gives you a choice in terms of powerheads. Other Miele S8 vacuum cleaners vary by color, price, included floor tools, and additional features.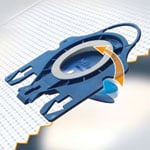 For people suffering from asthma or allergies, the S8 series is the most hygienic line of vacuum cleaners available today. These vacuum cleaners come standard with a HEPA filter and sealed system to create the Miele AirClean system which eliminates 99.95% of particles 0.1 microns and larger. Instead of polluting the air in your home with allergens, a Miele S8 actually filters and retains particles like dust mites, pollen, pet dander, and mold spores. And when you're finished, each Miele G/N back is self-sealing. So, unlike with a bagless vacuum, no dust or allergens escape back into the air when you're done. With a Miele S8 canister, you clean not only for appearances, but for your health.

Other standard Miele features include 360° swiveling casters, durable ABS shell, crush-proof hose, and stainless steel wand. Of the S8 vacuums, all have Miele's standard 7 year warranty on the motor and body with a 1 year warranty for parts and labor. The only exception to this is the Miele UniQ. It has a full 10 year warranty on the motor and shell with 5 years covering parts and labor.

For further comparison of Miele vacuums, try one of the charts listed below or shop all Miele vacuum cleaners.