The ultrasonic humidifiers from Pure Guardian are designed specifically to serve as quiet, efficient room humidifiers. All of these humidifiers use Pure Guardian's patented SilverClean technology that fights mold and bacteria in the water tank without the hassle of replacement filters or pads. As ultrasonic humidifiers, each Pure Guardian is extremely quiet and produces soothing, cool mist almost immediately.

Sizes and styles of Pure Guardian humidifiers vary greatly. Some are small enough to easily pack with you in a suitcase while others are large enough to run continuously for up to 90 hours before needing to refill the water tank. In addition to all being ultrasonic humidifiers with SilverClean technology built in, each Pure Guardian humidifier is lightweight, very easy to operate and has no standard, replaceable parts (like filter pads or wicks). Demineralization cartridges are optional for those with hard water. Lastly, all of them, with the exception of the Table Top model, have a night light that can be turned off if you choose.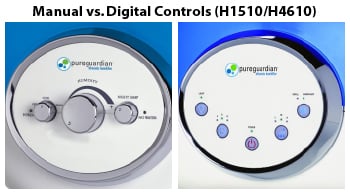 The largest model in our current offering of Pure Guardian humidifiers is the H2000 model. This humidifier features manual controls and is large enough to make most rooms comfortable by lessening the effects of dry indoor air. Midsize models include the H1500 and H1600, with the biggest difference between the two being the controls (H1500 manual vs. H1600 digital).
The last two models include the most advanced and the most basic of all the Pure Guardian humidifiers available. The H1010 offers basic humidification with minimal controls. This compact little machine fits easily even in small rooms and can easily travel with you. The last but most recent addition to the Pure Guardian line is the H7550. This ultrasonic room humidifier features dual mist output, soft touch, digital controls, extension wands and a design unlike any other Pure Guardian model. Regardless of the size of your room, we're sure there is a Pure Guardian humidifier to help keep you feeling better and breathing easier during the dry, winter months.