Its here! This year's gift guide presents the top three gifts that will help make every allergy sufferer's life a little easier in 2010 and beyond. Without further ado, here they are: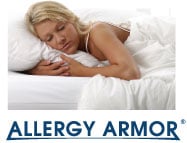 The Allergy Armor Ultra Bedding Package is really the gift of good sleep, uninterrupted by allergic episodes during the night. Allergy bedding is the first step in allergen avoidance and by keeping dust mite allergen away from allergic individuals, it allows them to wake up without sneezing and stuffy noses.

Complement the bedding package with an Allergy Armor Blanket, which gets softer and softer with every wash. Cozy and cashmere-like in its warmth and feel, this hardy blanket stands up to frequent laundering a must for dust mite allergic individuals.

A Miele Vacuum Cleaner is truly a top-of-the-line vacuum. With a Miele, every time you clean, you are reducing the allergens in your home, including its air, and you enjoy the peace of mind knowing that your vacuum cleaner is built to last. From its self-sealing dust bag and HEPA filtration to its German crafted motor and seven-year warranty, Miele is an outstanding purchase and a sound investment. And with the affordable S2 Series including the Miele S2 Olympus, owning a Miele vacuum is within reach for almost every budget.

For more reasons to choose a Miele vacuum cleaner, see Ten Reasons Why a Miele is the Best Canister Vacuum Cleaner for Your Money.

An air purifier makes home or office air pure, allowing allergy sufferers and those who suffer from Multiple Chemical Sensitivity to have a zone of air that doesn't induce symptoms. And what better gift could there be than air that lets your loved ones breathe better?

We offer only the best air purifiers on the market, and we have one to meet specific situations, whether that's filtering smoke from the air like our MCS & VOC Air Purifiers, being ultra-quiet like our Blueair air purifiers, or fitting into a small space like our 3M Filtrete Ultra Quiet Air Purifiers.

Models like our Austin Air Baby's Breath units are also great for parents-to-be or parents of infants or young children. Research keeps showing that polluted air affects our young ones even much more than it affects us. Help parents keep their children safe with this thoughtful gift.
As always, feel free to call 1-800-339-7123 to speak with our friendly and customer service staff, who are available to help you make the best allergy product choices for you, your family and your loved ones.