»

Pillows

»

Pearl White Hypodown Pillows
Pearl White Hypodown Pillows
Pearl White Hypodown Pillows
The Pearl White Hypodown Pillow by Ogallala is a luxurious, high-quality hypoallergenic pillow that is sure to be a favorite. The secret to these pillows is Hypodown, an innovative blend of clean Hungarian goose down and naturally hypoallergenic Syriaca clusters. Hypodown is tested by allergy doctors and guaranteed to be allergy free. The Pearl White Hypodown pillow is encased in a double shell of long staple cotton sateen with 353-outer thread count, and edged with satin piping.


Pearl White Hypodown Pillows Product Features
Cotton double shell with 353-outer and inner thread count
Edged with satin piping
Filled with a hypoallergenic and airy mix of 80% goose down/ 20% Syriaca clusters
Hypodown wicks moisture away from your body 30% faster than down alone, and 70% quicker than synthetics
Available in a variety of fill powers and firmness so you can choose your perfect pillow
A Pearl White Hypodown Pillow is ideal for you if...
You want a hypoallergenic pillow filled with an innovative and superior blend of Hungarian goose down and Syriaca clusters.
You suffer from allergies and want a down pillow that is tested by allergy doctors to be reaction free.
Ogallala Hypodown Features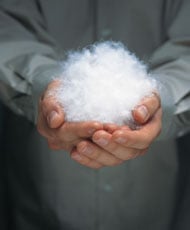 What is Hypodown?
The short answer is that Hypodown is an 80% / 20% mix of fine Hungarian goose down and naturally hypoallergenic Syriaca clusters. The long answer is that the makers of Hypodown search for goose down that is the fluffiest and cleanest in the world. Then, they grow their own Syriaca plants, collect the finest pods, capture large Syriaca clusters, and transfer them to their patented Hypodown blender. It uses burst of air to combine the Syriaca clusters and the goose down into a material so intimate it cannot be separated. An airy cloud-soft combination of two natural fibers to give you a tranquil, restful night's sleep.

Hypodown is hypoallergenic
Goose down can cause allergic reactions for some people. However, it is not the down itself you are allergic to, but remaining particles of dust and dirt that are inside the down. Hypodown offers the cleanest down available, tested by allergy doctors in the Unites States, Hungary, and Germany. Each test concludes that people who are allergic to down can use Hypodown with no allergic reactions.
Innovative and natural Syriaca clusters
Syriaca clusters are what gives Hypodown it's unique properties. The hollow fibers inside the Syriaca clusters aid in moisture transfer, wicking moisture away from your body 30% faster than just down alone. And, Syriaca clusters are durable and warm. They also help to trap and stabilize the components in down which can cause allergic reactions. Syriaca is the only natural material that suppresses down's allergic qualities while simultaneously increasing it's loft and insulation.

Syriaca clusters come from the plant commonly known as milkweed, naturally cultivated on Nebraska farms. You may have seen their fluffy, silky clusters like parachutes through the autumn sky. Light-weight, buoyant, and moisture resistant, Syriaca clusters were also used in life jackets in World War II.


Product Reviews and Questions
Write A Review | Read all 10 reviews.

Pretty Good, But...
Reviewed by: Angie K. from Long Beach, CA


I have been an allergy sufferer for the last 3 years and have had to go through several processes of prevention. This pillow was very promising when I received it - it was fluffy and felt like a real down pillow! I enjoyed it for a few months, even though it had a slight smell from the Hypodown, which did not bother me much. The only real unfortunate thing is that after several months of use, the pillow tends to go real flat during sleep which causes me neckpain. My advice is to go with a heavier filling, even if you are a back sleeper. Otherwise, great pillow and website.

Great Product
Reviewed by: an allergy sufferer from Dayton, Ohio


After years of using a feather pillow, I switched to this pillow for allergy reasons. This pillow is wonderfully soft and a perfect replacement for the pillow that I've loved for years.

Worth Every Penny
Reviewed by: N from New York, NY


This pillow is not cheap, but it's money well spent! The extra firm pillow works well for reading. You might want one of the others for sleeping.

Customer Q & A
Ask a Question
Do you have a question about this product? Ask a Product Expert! The answer will be emailed to you and posted for the benefit of other shoppers.





Pearl White Hypodown Pillow



As an allergy sufferer, I have researched many manufacturers claiming to make hypoallergenic pillows. When I came across Ogallala, the makers of Hypodown Pearl White pillows, I was very skeptical about their claims of "hypoallergenic goose down". My favorite pillow to dream on, a goose down filled pillow, is also my worst nightmare. I wake up with a runny nose and watery eyes every time I sleep on one. I tried the Hypodown Pearl White pillow for three nights. Wow! I can finally have my goose down pillow back.

Now I know that Ogallala's claims are really true. Hypodown is made from the cleanest Hungarian goose down mixed with the fibers of the milk weed plant, also known as Syriaca. The combination of starting with exceptionally clean, premium goose down blended with Syriaca clusters subdues the allergenic properties of down for allergy sufferers.



What I like about the Pearl White Hypodown Pillow
The luxurious softness of down without the allergic reactions.
You have a choice of fill power and firmness, so it's easy to customize a pillow built specifically for your sleeping needs.
The pillow doesn't get too hot, and wicks moisture away from my face as I sleep, leaving me cool and comfortable throughout the night.
The sateen weave pattern of the 353 TC shell displays a superior softness, in line with only the very best pillows available.
What I don't like about Pearl White Hypodown Pillow
They need to be professionally cleaned, but this is true of most down pillows.
As with many custom products, they cannot be returned.
If you love the feel of down and are looking for the finest pillows available, the Ogallala Pearl White pillow is a great addition to any allergy or asthma sufferers bedroom. These pillows are truly some of the best available. Highly customizable, the Pearl White down pillow is the way to pamper and treat yourself.
How to Select A Pillow


1. Size
First, choose a size. Pearl White Hypodown pillows are available in three sizes: Standard, Queen, and King.
2. Fill power
Fill power is the space that one ounce of down occupies in cubic inches. All three fill powers contain the same ratio of goose down to Syriaca cluster, 70% goose down to 30% Syriaca cluster. However, each differs in the quality of the goose down, which directly relates to how much of the down is actually cluster. Down clusters are what provide the cushion, spring, and comfort of down. The higher the amount of clusters in the down, the better quality of down it is.
Hypodown 800 is the most luxurious option, the quality you might find in a fine hotel. The 800 fill power contains the highest quality, premium goose down. The down itself is 85% large clusters, which provides unmatched loft and cushion. These are quite simply some of the highest quality pillows you will find anywhere.
Hypodown 700 is the most popular choice and above the quality found in most department stores. With 80% being large cluster premium white goose down, the 700 fill power is an excellent balance of quality and price.
Hypodown 600 is the entry level hypodown. Higher than the industry standard, this above average fill power has a goose down cluster content of 75%. These are high quality pillows.
3. Firmness
Hypodown pillows are available in four levels of firmness: soft, medium, firm, and extra firm.
A soft pillow is recommended for you if you are petite, sleep primarily on your stomach or back, and like pillows which are conforming and moldable. A soft, plush pillow will prevent your head from being raised too high and promote circulation.
A medium pillow is recommended for you if you sleep primarily on your back or sides and like pillows which are supportive yet still pliable. A medium pillow will offer a little more support, keeping your neck inline with your spine.
A firm pillow is recommended for you if you are a taller or larger person, sleep primarily on your sides, or like pillows which retain their shape through the night. For side sleepers a firm pillow will help provide proper spine alignment.


Additional Resources
Pillow Buying Guide
Compare Allergy Pillows
Allergy Bedding Buying Guide
Compare Allergy Bedding
Allergy Bedding FAQ
Availability