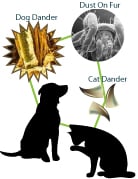 All year long, allergen concentrations in the home are higher than they are outdoors. But during wintertime, when our pets spend an increased amount of time indoors, we see an even higher allergen load in the home. Even if you're following your typical allergen avoidance routine, this combination of more allergens and more time indoors can tip your total allergen load over the edge. Thus, winter often necessitates that you amp up your environmental control measures.

If your family has dogs or cats, one area to focus your energy is dealing with the extra pet hair that accumulates inside during winter. Our furry friends are spending more time indoors when it's cold, and they usually have heavier coats of fur during the winter season. To keep this added fur and its accompanying pet dander under control, take the following steps:

By taking these few extra steps during the colder winter months, you ensure that extra time indoors with your pets doesn't mean a flare up with your allergies.