Respro Allergy Masks
The Respro Allergy Mask, formerly named Aero Mask, is designed for allergy sufferers and individuals sensitive to chemicals and other air particles. Developed with an understanding of the debilitating effects of chemical and particle sensitivity and how submicron particles can be particularly harmful to your health, the Allergy mask protects you from these dangerous chemicals and particulates that circulate throughout the indoor and outdoor air you breathe. With both chemical and particle filters available, the Respro Allergy mask can be equipped to filter irritants like cleaning agents, perfumes, soap, paint, varnish, air fresheners and other common chemicals, as well as, particulates like pollen, plant spores, pet dander, mold, cigarette smoke, house dust and dust mite feces. This face mask is ultra-light weight. The sporty design is comfortable, washable, reusable, and completely latex-free. It is available in four sizes and to colors.
Please note that the Particle filter comes with the mask, while the Chemical filter must be purchased separately.
---
Respro Allergy Masks - A Closer Look
Respro Allergy Mask Sizing Chart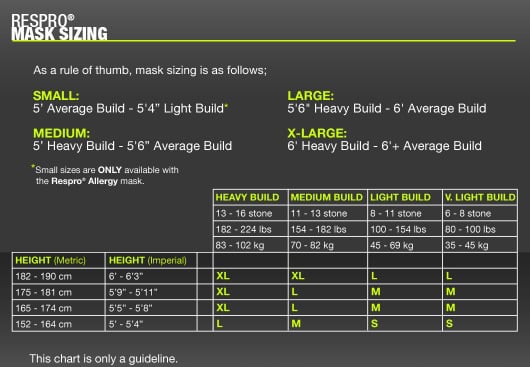 ---
Respro Allergy Mask Filtration & Materials
Both filters types offer EU equivalent of N95 filtration, good for not only allergens but also to help prevent the spread of the flu virus. The chemical/particle filters provide a layer of proprietary activated charcoal to adsorb odors and fumes. Allergy masks are made from inert hypoallergenic materials and are highly unlikely to cause an allergic reaction. The valves are made from polypropylene with medical grade silicon rubber diaphragms.
---
I ordered a large mask. It is way too small. I have a medium sized head compared to the stature of men in general. When I bend my neck the Velcro pops off as it is not long enough to fasten securely. Poor sizing by the manufacturer as there is no sizes larger than their large.
With chemical sensitivity, asthma and chronic bronchitis, going outside my home was a risk to exposure that I could not take. Now that I have the allergy mask with chemical filter, I can go out again. This mas allows me to live again.
When I saw this mask on YouTube, I knew that I wanted it! So many masks are hard to keep on, and they don't fit tight enough to really work well. I LOVE the velcro fitting that secures it in place! I tried it out in the perfume filled restrooms on my trip, and for the first time I felt like I could run into a bathroom without smothering so badly, and my hands were "free". The "fit" definitely helps to keep the perfumes from seeping in the sides and "zapping" you even though you are wearing a mask. If you have MCS, try this out!:
I have been recently been diagnosed with Multiple Chemical Sensitivity. I also have asthma and chronic bronchitis. I have worked in health care for 35 years and have had to medically retire. I have worn every kind of mask in my job. The Respro allergy mask with the charcoal filter has gotten me out of my house. I actually got to fly to wee my children and grandchildren for the holidays this year. The most comfortable mask ever.
I was flying from spain to rotterdam & seated in middle of cabin for a 2 hour flight. It seems everyone wore perfume/cologne or aftershave for this trip & had to use this mask. What a great filter. I refer to this as the heavy duty mask because of how good it is in comparison to my normal mask honeycomb. What a wonderful mask to have in your arsenal defense. I have a size medium & need a large. I am an adult female and wear plus size clothes. TY achoo allergy for having this mask & in sizes :
This is worth the money. Very effective in filtering out pollens--and with the carbon filter sold separately quite good with pollutants. Easy to put on, take off, feels more comfortable against the face than just about any other mask I've worn. Make sure you have extra particle and pollutant filters on hand. Especially pollutant filters--once such a filter wears out, wearing the mask is worse than not wearing it. I rated it at 4, not 5, because the white mask gets dirty easily.
The Respro Allergy Mask are good at least now I can go out of my house. I have MCS so it does help to keep out the orders which then I can breath a little better out side my home
I WORK AROUND CLOTHES WHICH CAUSE A GREAT AMOUNT OF DUST PARTICLES .I ALSO WORK AROUND CHEMICALS SINCE I OWN FIVE DRYLEANERS.I ALWAYS SUFFERED FROM SINUS INFECTIONS AND SORE THROATS AND HEADACHES.IVE BEEN WEARING THE MASK FOR THREE WEEKS AND ALL OF THESE PROBLES HAVE GONE AWAY.I WISH I WOULD HAVE STARTED WEARING THIS MASK THIRTY YEARS AGO. JOSEPH M
I have pollen as well as allergies to grass and cats. This mask is both comfortable and very effective. The design construction is excellent and better than the chinese made RZ mask. It cost a little more but it is better quality by far. I still get some weird stares but it is worth it to get the allergy relief.
After suffering from two emergency room visits from breathing smoke that was coming from a neighbor's burning trash pile, I needed something to protect me when that "smell" would be detected. This mask does the trick!Easy to use and comfortable, I've had no problems since my purchase. The company was very helpful in choosing the right product for my need and I can't recommend them any higher! Thank you!
I think this mask fits me perfectly. I am a female, 5'5", larger face/chin, and I ordered a Large. It does not slide down at all while I'm working. I can tell the air I'm breathing in is cleaner and I haven't had the problems around dust while cleaning as I had without the mask allergy flare up/asthma attacks. So, I KNOW it works! It's a lifesaver so I can get the work done that I need to. I would highly recommend this mask! It does get a little hot with it on because it fits so snug to the face but I can still work in it, and it's way better than any other mask I've tried. My glasses fog up a little bit, but nothing terrible, I just have to still adjust the nose piece perfectly. Worth the money!!
This mask is great! I produce my own handmade aromatic salves and lotions but I get teary eyed and itchy on production days, although I love my craft! This air mask allows me to work with my aromatics! Great way to protect yourself from volatile botanical oils! I got the medium. I a 5'1" woman, average weight. The medium felt tight at first but loosened up a bit for me. I love it, Good purchase!
The Respro Aero Mask filters very well with good airflow. However, for the money the velcro fastening straps are ridiculously short. Had to lengthen mine to get it off my neck and over the ears or head for it to be totally useful. This was the large size. Very well made nose bridge is comfortable, and it has a good sealing fit. 5 stars if they would make the straps longer and add another one for over the head.
The allergy mask allows me to vacuum which I was not able to do because of dust mites. The mask fits my face but the low dip in the back pulls the mask off my face. I run an elastic band under my chin then over the top of my head to keep it in place. Wish this product would stay in place.
Looks good, sounds good but in actuality it's just like all the others. I have seizures triggered by smells. This mask did not perform any better then the medical N95 respirators I usually use. It was totally ineffective with candles and burning air fresheners. I used both particulate and carbon filters with no measurable difference in performance. I won't return it, but I also won't by another one.
Glad I ordered one size up, so thanks for all who have reviewed before me. After 2 hours, this makes me feel claustrophobic, hence the 4 star rating.I have been able to sit in a perfume filled room for 2 hours with this mask, which is a miracle for me prior to this, one whiff and I was sidelined with a migraine and in bed for 2 days. Worth every penny.
As a sufferer of chronic hives due to everything environmental, I decided to give this allergy mask a try to help prevent me from inhaling all the outdoor pollen during this typical high allergy season here in Texas. All I can say is that this mask has been heaven sent! I haven't had one allergic reaction while wearing this mask outdoors! It's been such a success with me that some of my friends have ordered the masks to help fight off their outdoor allergies. I can't tell you how happy I am to have something that gives me some relief during allergy season. I may look a little funny wearing the mask, but I'm okay with that because it truly has allowed me to spend time outdoors while doing things I enjoy doing such as exercising or just sitting and enjoying nature. Thank you for making this mask!
I had tried a lot of masks but they failed to provide relief from the animalrats allergy. This product has been different, it looks very simple but works really good. I am able to breath better while sleeping and I do not have to sneeze after I wake up. Thanks achoo allergy you have really taken care of my morning achoo schedule.
I'm an allergy sufferer of many things and have currently been using it to go to our basement and do the laundry, as there is lots of dust and mold. Also using it when I am dusting in my room. The mask has been very helpful in helping me stay well.
I bought this mask to help with construction dust at work. It worked great and kept my allergy symptoms to a manable level so that I was able to continue working. My only complaint is that it is not that comfortable. The nose piece pinched off my nose too much no matter how much I played with it. I would still buy this because the advantages outweighed the discomfort.
I use this mask with the charcoal filter and I'm able to go places without worrying about encountering perfume or other chemicals I am sensitive to. It is comfortable for me to wear for an hour or two at a time. It takes a bit of experimenting with the straps to get a good snug fit my mask fits best angled up over my ears.
I have had to use a mask for the last 5 years for an allergy to perfumes and other such scents. Never getting complete satisfaction because the other masks let some of the particles in and instant reaction. Now my husband has to tell me if they are there because he reacts to them but with this mask no reaction at all by me. Allergy free so now I can go shopping and maybe to a concert again. I can't tell you how happy I am. Thank you
This mask didn't aggravate my MCS at all which was great but unfortunately there are problems with the fit. Like other people have said, it runs small, but also in my case the design is such that it slides down on my face. I am going to have to sew on a strap that goes over my head to keep it on. Also the replacement filters seem pricey.
The Respro Aero Mask filters very well with good airflow. However,as I was doing some work and bending, the nose bridge would work its way down my nose making it uncomfortable and eventually feeling like it was going to come off of my nose. I like the light weight and air flow making my work in a horse barn easier, but if an additional optional strap for over the head to maintain the mask in the proper position would make this a much better mask for me. The strap could possibly be one with a split band at the top to secure it on the top of the head also. Otherwise this is just a "walk around" mask as I suppose it was originally designed. The design is more acceptable to many people in my horse barn without causing alarm of having large canisters hanging off the side.
I find that this mask does not stay on my face very well. I have tried adjusting multiple ways the way it attaches in the back of my head and tried adjusting the clip on top of the nose looser to tighter... and regardless, I find it hard to breath through my nose due to compression over the bridge of my nose. it filters just fine but instead of getting out of breath because of congestion from allergies, I'm out of breath because of mecchanical obstruction by the mask. I suggest trying a different model.
Good, comfortable mask to keep all those pesky allergens out. One thing that needs attention by the company...make the strap on the medium longer. Too short for comfort and I needed to put my own expander on it. Otherwise, great mask.
After searching for an allergy mask, I thought I had found the answer with Respro Aero Mask. I took into account the user reviews regarding size. But I have not been able to make the mask fit, even with the extender. The angle is too low to cover my face properly. I had thought of attaching some other elastic straps to be able to hold the mask from over my head. And even when I held it in place with my hands, i could still smell the chemical I was trying to avoid. So I am sorry to say that this mask has not been helpful for me.
I ordered medium rather than large as I have a somewhat small face. Good size for an older child or small adult who might be swallowed by the large. Nice snug fit, and with the standard filter I've safely navigated cigarette smoke, cleaning product odors, diesel fumes and tree and grass pollen. Only reason for not giving 5 stars is there is still room for improvement on the strap design - should be longer for medium mask, but the extender works reasonably well.
This mask is fantastic!! It is so comfortable and I wear it while housecleaning and horseback riding. After riding, it is black with dust from the arena - dust that's not getting into my lungs! That brings me to the second point this washes up like a dream! It's very easy to breath in and out and so soft. It's are a bit on the small size though. I ordered the large and need to use the extender, but it still works fine. Excellent product.
The Respro Aero mask does a great job of filtering out the allergens that seem to activate all my symptoms. The only problem is that the size large is a bit of a stretch-literally. I don't have a gigantic melon, but apparently Respro thinks I do. Perhaps they should develop an extra large size, as the large won't cut it for most American adults.
I have MCS/allergies and Asthma. I was missing more and more work due to co-workers who insist on spraying purfumes, aerosols, plugging in scent disbursing candels or plug-ins, rubbing on lotions or cleaning thier desks with chlorine/bleach wipes or chemical cleaning products. This went on all day every day. My company has a policy against it but refuses to enforce it and I was facing loosing my job for loosing work. My mother bought this mask for me on the recommendation from someone who had purchased one. Except for the sizing is too small and the extender is NOT reliable (keeps popping open) it is a LIFE SAVER....and job saver.
I purchased the Aero mask to replace my Respro Techno mask as I was having a reaction to the neoprene in the Techno. The Aero is much more comfortable and not a warm as the Techno which was a big plus for me. However I purchased a Medium which was the same size as my Techno and was the size recommended for women. It's a tad too small and I am having to use the extension piece that was included. This piece however is simply a piece of velcro which a) is not very comfortable and causes a bit of a rash on my neck and b) it doesn't stick very well. I will be sewing some sort of extension piece of my own to make this mask more comfortable. If it weren't for the size issue, this product would have received a perfect score. Ladies, beware of the sizing!
I use this for mowing the lawn as well as tearing down walls in old buildings. After clogging at the end of the day of dusty work, I washed it, and got full breathability again. It feels a little tight at the back of the neck. I think their Large is a european Large. It would be nice if it came in extra large for a better fit for me. I wear glasses, and this is one of the only low bulk masks that does not fog up my glasses. Slight nose blockage which would be cured with a larger size I am sure. I am conserned that the velcro in the back will wear out too soon. Slightly overpriced, but the best I have found on the market.
If you have chronic fatigue syndrome, fibromyalgia, multiple chemical sensitivities, cancer, or any auto-immune disorder, the Aero Mask by Respro is a life saver! Use these masks to prevent reactive-type migraines, fatigue relapses or muscle pain as a result of exposure to inhaled toxins. Prevent auto-immune responses to off-gassing plastic odors, petrochemical fumes, common household smells,pet odor or your friend's favourite perfume. Relapse prevention is key to strengthening any compromised immune system and with the Aero Mask it makes life smell great again!
Good filtration, easy to breath with ports. Adjusting the ports however caused them to fall out repeatedly. My wife requires a slightly different fit for her head. An expanding stretch in the back strap would help.
I bought this mask as an upgrade for environmental protection after a Bone Marrow Transplant for Leukemia. I feel much safer when I wear it and, except for getting used to the fittings, have found it quite reassuring and usefull.
---

Respro Allergy Mask

The Respro Allergy Mask is perfect for almost any type of mask application. The mask is comfortable, easy to breath through and makes doing outdoor activities much more endurable and enjoyable for allergy sufferers. This mask is recommended for people with hay fever, MCS, and rhinitis. It works well in your home, work, or leisure environments.

With both chemical and particle filters available, the Respro Allergy mask can protect you from irritants like cleaning agents, perfumes, soap, paint, varnish, air fresheners and other common chemicals, as well as particulates like pollen, plant spores, pet dander, mold, house dust and the dust mite allergen.
What I like about the Respro Allergy Mask
Ultra light, soft polyester mask
Great protection from pollutants in nearly any environment
Breathable - low breathing resistance through soft mesh and filter media on the inhale and through replaceable valves on the exhale
Valves help to reduce heat and moisture build-up around your face
HEPA-type filter conforms to European filtration standards, equivalent of N95 protection
Certified Allergy Friendly
Choice of four different sizes and two colors
Choice to upgrade to a chemical filter for smoke, odor, fragrance and chemical vapor filtration
Washable
Small enough to be folded up to fit in purse, backpack or even your back pocket
Latex-Free
What I do not like about the Respro Allergy Mask
I wish it came standard with the chemical/particle filters. But as an "allergy" mask, it does a great job with common particle allergens.
In summary, I give the Respro Allergy Mask 5 out of 5 stars. It is easily one of the best allergy masks and most popular. The great thing about this mask is that it is one of the few masks that gives you a size, color, and filter choice. It has a slim, flexible and comfortable design, but gives you great filtration of a range of allergens and pollutants.
---
Product Questions
I don't see X-Large filter replacements, would the large filter replacement work in the X-Large mask?
How long is the chemical / partical filter good for?
What mask is recommended for heavy Lab work? Particularly a mask that will be able to filter Sulfuric Acid fumes and other harsh chemicals?
---