Respro Allergy Masks
The Respro Allergy Mask, formerly named Aero Mask, is designed for allergy sufferers and individuals sensitive to chemicals and other air particles. Developed with an understanding of the debilitating effects of chemical and particle sensitivity and how submicron particles can be particularly harmful to your health, the Allergy mask protects you from these dangerous chemicals and particulates that circulate throughout the indoor and outdoor air you breathe.
With both chemical and particle filters available, the Respro Allergy mask can be equipped to filter irritants like cleaning agents, perfumes, soap, paint, varnish, air fresheners and other common chemicals, as well as, particulates like pollen, plant spores, pet dander, mold, cigarette smoke, house dust and dust mite feces. This face mask is ultra-light weight. The sporty design is comfortable, washable, reusable, and completely latex-free. It is available in four sizes and to colors.
Please note that the Particle filter comes with the mask, while the Chemical filter must be purchased separately.
---
Respro Allergy Masks - A Closer Look
Respro Allergy Mask Sizing Chart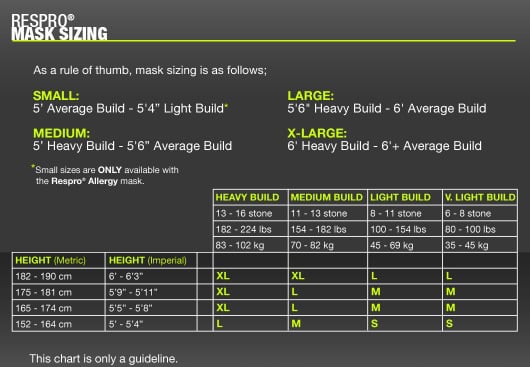 ---
Respro Allergy Mask Filtration & Materials
Both filters types offer EU equivalent of N95 filtration, good for not only allergens but also to help prevent the spread of the flu virus. The chemical/particle filters provide a layer of proprietary activated charcoal to adsorb odors and fumes. Allergy masks are made from inert hypoallergenic materials and are highly unlikely to cause an allergic reaction. The valves are made from polypropylene with medical grade silicon rubber diaphragms.
---
Highly recommend! Superior to all others!

Love this mask. Superior to others in that truly does filter most scents if you are chemically sensitive or have a Mast Cell Disease. However, I do recommend the chemical particle filter for optimum results in masking strong bleach and cologne scents as I noticed these via the filter provided with the original mask purchase.

TOO SMALL!

I ordered a large mask. It is way too small. I have a medium sized head compared to the stature of men in general. When I bend my neck the Velcro pops off as it is not long enough to fasten securely. Poor sizing by the manufacturer as there is no sizes larger than their large.

I can live life again!

With chemical sensitivity, asthma and chronic bronchitis, going outside my home was a risk to exposure that I could not take. Now that I have the allergy mask with chemical filter, I can go out again. This mas allows me to live again.

Finally a Mask I LIKE

When I saw this mask on YouTube, I knew that I wanted it! So many masks are hard to keep on, and they don't fit tight enough to really work well. I LOVE the velcro fitting that secures it in place! I tried it out in the perfume filled restrooms on my trip, and for the first time I felt like I could run into a bathroom without smothering so badly, and my hands were "free". The "fit" definitely helps to keep the perfumes from seeping in the sides and "zapping" you even though you are wearing a mask. If you have MCS, try this out!:

Saved me

I have been recently been diagnosed with Multiple Chemical Sensitivity. I also have asthma and chronic bronchitis. I have worked in health care for 35 years and have had to medically retire. I have worn every kind of mask in my job. The Respro allergy mask with the charcoal filter has gotten me out of my house. I actually got to fly to wee my children and grandchildren for the holidays this year. The most comfortable mask ever.

On airplane

I was flying from spain to rotterdam & seated in middle of cabin for a 2 hour flight. It seems everyone wore perfume/cologne or aftershave for this trip & had to use this mask. What a great filter. I refer to this as the heavy duty mask because of how good it is in comparison to my normal mask honeycomb. What a wonderful mask to have in your arsenal defense. I have a size medium & need a large. I am an adult female and wear plus size clothes. TY achoo allergy for having this mask & in sizes :

Sets the standard for other allergy masks

This is worth the money. Very effective in filtering out pollens--and with the carbon filter sold separately quite good with pollutants. Easy to put on, take off, feels more comfortable against the face than just about any other mask I've worn. Make sure you have extra particle and pollutant filters on hand. Especially pollutant filters--once such a filter wears out, wearing the mask is worse than not wearing it. I rated it at 4, not 5, because the white mask gets dirty easily.

mask''s

The Respro Allergy Mask are good at least now I can go out of my house. I have MCS so it does help to keep out the orders which then I can breath a little better out side my home

ALLERGY GONE

I WORK AROUND CLOTHES WHICH CAUSE A GREAT AMOUNT OF DUST PARTICLES .I ALSO WORK AROUND CHEMICALS SINCE I OWN FIVE DRYLEANERS.I ALWAYS SUFFERED FROM SINUS INFECTIONS AND SORE THROATS AND HEADACHES.IVE BEEN WEARING THE MASK FOR THREE WEEKS AND ALL OF THESE PROBLES HAVE GONE AWAY.I WISH I WOULD HAVE STARTED WEARING THIS MASK THIRTY YEARS AGO. JOSEPH M

Comfortable effective mask

I have pollen as well as allergies to grass and cats. This mask is both comfortable and very effective. The design construction is excellent and better than the chinese made RZ mask. It cost a little more but it is better quality by far. I still get some weird stares but it is worth it to get the allergy relief.
---

Respro Allergy Mask

The Respro Allergy Mask is perfect for almost any type of mask application. The mask is comfortable, easy to breath through and makes doing outdoor activities much more endurable and enjoyable for allergy sufferers. This mask is recommended for people with hay fever, MCS, and rhinitis. It works well in your home, work, or leisure environments.

With both chemical and particle filters available, the Respro Allergy mask can protect you from irritants like cleaning agents, perfumes, soap, paint, varnish, air fresheners and other common chemicals, as well as particulates like pollen, plant spores, pet dander, mold, house dust and the dust mite allergen.
What I like about the Respro Allergy Mask
Ultra light, soft polyester mask
Great protection from pollutants in nearly any environment
Breathable - low breathing resistance through soft mesh and filter media on the inhale and through replaceable valves on the exhale
Valves help to reduce heat and moisture build-up around your face
HEPA-type filter conforms to European filtration standards, equivalent of N95 protection
Certified Allergy Friendly
Choice of four different sizes and two colors
Choice to upgrade to a chemical filter for smoke, odor, fragrance and chemical vapor filtration
Washable
Small enough to be folded up to fit in purse, backpack or even your back pocket
Latex-Free
What I do not like about the Respro Allergy Mask
I wish it came standard with the chemical/particle filters. But as an "allergy" mask, it does a great job with common particle allergens.
In summary, I give the Respro Allergy Mask 5 out of 5 stars. It is easily one of the best allergy masks and most popular. The great thing about this mask is that it is one of the few masks that gives you a size, color, and filter choice. It has a slim, flexible and comfortable design, but gives you great filtration of a range of allergens and pollutants.
---
Product Questions
I don't see X-Large filter replacements, would the large filter replacement work in the X-Large mask?
Is this a washable mask? Does it have replacement filters? HOw long does it last? Thank you.
We are trying to find a comfortable daily use mask for my fiancée to wear. He is a handyman who works among a host of tough climates - wet, moldy basements, dusty attics, etc. But we are most concerned about helping to protect him during his visits to clients&#39 homes who have cats. Seems like more and more people have cats and he is highly allergic. He has asthma flare ups regularly as a result from the dander- one of the most difficult particles to filter from what I understand. Any idea if this mask would filter out a good amount of pet dander? THANKS!!
---