Reliable has been a leader in affordable and effective home appliances for many years. With Reliable steam cleaners, you find this same commitment to effective, affordable cleaning products. Reliable steam cleaners are safe, chemical-free alternatives to cleaning and sanitizing your home. Each Reliable vapor steam cleaner provides a quality "dry" steam that kills mold, bacteria, dust mites, and germs throughout your home. With an variety of styles and price points, we are certain there is a Reliable steam cleaner perfect for all of your cleaning needs.
Filter Results
Price

Body Style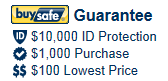 More Information On Reliable
Dry vapor steam cleaning can deep clean and sanitize your home safely while killing dust mites, bedbugs, bacteria and mildew. It is a green alternative to using common household cleaners that are often loaded with chemicals like chlorine and ammonia. These cleaners not only give off noxious odors but can leave by a chemical residue. With Reliable steam cleaners you can clean AND sanitize throughout your home using only heat and water in the form of steam vapor.

Reliable steam cleaners use a "dry" steam to clean. This is a type of steam that is more heat than water which means quicker drying times for you and longer run times for each tank of water. Each comes with an array of attachments and varying price points make the Reliable line of vapor steam cleaners an excellent fit for nearly any budget.

As the most affordable models available, Reliable steam mops offer excellent smooth floor cleaning results at a very economical price point. The Reliable T1 Steamboy was recently rated as a Consumer Digest Best Buy for its category. Fast heat-up times, tank capacity, and cleaning ability all set this model apart. Those looking for a slightly more versatile machine might want to take a look at the new Steamboy Pro 300CU Steam Mop. Not only does it steam clean your floors but also has a built-in scrubbing bristle brush that makes cleaning up tough stains and grout a cinch!

If you are new to steam cleaners and are looking at an entry-level canister style steam cleaner, the BRIO, the EnviroMate E3, and E5 models are a great place to start. The BRIO is your most affordable but only has one tank and lacks some of the attachments found with other models. TheEnivroMate E3 has a stainless steel boiler with a 2 liter capacity. This steam cleaner is ideal for small jobs or for someone that wants to steam clean for about an hour each session. On the other hand, for a little more money, the EnviroMate E5 steam cleaner gives you a continuous water refill ability and a faster heat up time. You also receive seven free attachments with this upgrade.
If you are looking for a little more steam pressure and you do not care about steam volume control on the handle, then the next group of Reliable steam cleaners are for you. TheReliable GO E20 has 5 bar pressure and comes with a 5 year warranty on the steam tank. It works well on longer cleaning sessions. Do you need an upgrade? You need to look at theReliable Viva E40. It comes with Reliable's CSS, or Continuous Steam System. You can refill the water at any time. You also get the bonus accessory kit with this model.
Reliable has developed a comprehensive line of steam cleaners that has an option for everyone. In addition to being able to steam clean your floors, countertops, mattress, oven, bathroom, shower stall and just about any other space in your home, steam cleaners are an excellent way to reduce allergens. With over 200° F temperatures, the steam kills bacteria, mold, mildew, dust mites and even bed bug larvae. So some of the most common allergens, dust mites and mold, can be killed on contact with superheated steam, and with a variety of attachments you can steam hard and upholstered surfaces alike - even take wrinkles out of your clothing! Dirt, grime, grease, mold, mildew and even odors can be cleaned and neutralized with effective steam cleaning.

If you are a professional in the steam cleaning business, theReliable Pro EP1000 is a must have cleaning accessory for you or your employees. The Reliable Pro has the largest boiler capacity and highest steam pressure of any Reliable steam cleaner. It has continuous water refill function and you can purchase the optional trolley. The trolley also has more storage for water, so you can steam clean for extended periods of time without stopping. This steam cleaner can tackle almost any job that you can imagine.
---
Discontinued Reliable Steam Cleaners
Reliable Tandem EV1
Reliable Steamboy T2
Reliable EnviroMate GO E20 Steam Cleaner
Reliable Enviromate E40 VIVA Steam Cleaner
Reliable Enviromate E3 Steam Cleaner
Reliable Enviromate E5 Steam Cleaner
Reliable Enviromate PRO EP1000 Steam Cleaner