Vacuum Cleaner Buying Guide

If you or your children suffer from allergies or asthma, the type of vacuum cleaner you own can make a vast difference in your quality of life. A quality vacuum cleaner helps control dust mites, pet dander, and other allergens by removing them from flooring, shelves, steps, and furniture then trapping them for disposal. The right vacuum can not only remove allergens and dirt from the physical surfaces in your home but can also make your indoor air cleaner and more breathable. However, all vacuums are not created equally. Some may be great at removing dirt and pet hair from carpet while spewing the most dangerous particles, fine particles, back into the air you breathe. Here are some important factors to consider when shopping for a vacuum cleaner:


Standard Filtration vs. S-Class / HEPA Filtration

Vacuum cleaners with a standard filter simply spread allergens around in the air you breathe. They cannot effectively filter and trap fine particles like pollen or pet dander. If you have allergies, you need a tightly sealed vacuum cleaner with an S-Class or HEPA filter that meets the rigorous U.S. HEPA (High Efficiency Particulate Air) standards of removing 99.97% of all particles 0.3 microns or larger. S-Class and HEPA filters are nearly identical in filtration standards, so for allergies and asthma, either will work well. Several brands we carry, including, Miele SEBO, and some Electrolux models, offer a sealed systems with HEPA filtration. All of the SEBO vacuum cleaners we offer come standard with S-Class filtration. With HEPA or S-Class filtration, you can rest assured that your vacuum cleaner will effectively trap almost all of the household allergens.


Upright Vacuum Cleaners vs. Canister Vacuum Cleaners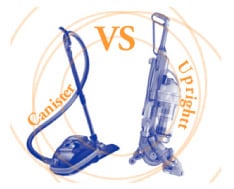 Upright vacuum cleaners are best suited for cleaning carpet. Uprights have traditionally been heavier and more difficult to maneuver than canister vacuum cleaners. Cleaning in tight spaces and under furniture was difficult with upright vacuum cleaners, but the Miele S7 uprights are designed to specifically address maneuverability concerns. When lying flat on the floor, the Miele Swing has a slim 6" profile, and getting around furniture and turning is made simple with their patented Swivel-Neck design. Dyson vacuums are designed to address maneuverability issues as well. If you have a problem with pet hair, we suggest the DC25 Animal or the powerful Dyson DC28 AirMuscle. The Miele Cat & Dog is also a an excellent option for pet owners. Being specifically designed for pet owners, the DC25 Animal features extra attachments suited for removing pet hair and dander, and all of the Dyson Ball vacuum cleaners turn easily and corner around furniture better than traditional wheeled uprights. The update of the DC14 has arrived in the form of the Dyson DC33 Multi Floor. As an introductory Dyson upright, this model balances cost with no frills, cleaning versatility. The SEBO Automatic X4 is a lightweight upright vacuum cleaner that features an extremely thin profile while lying flat. As with all SEBO vacuums, this model features hospital-grade, S-Class filtration.


If you live in a loft or apartment, consider a Miele Universal Stick Vacuum. It may be small, but it has a powerful motor and sealed HEPA filtration system that traps 99.97% of all particles as small as 0.3 microns. The Miele Quickstep very versatile and easily reconfigurable. You can move the canister above the suction wand for easy cleaning under furniture or get rid of the wand altogether to create the world's best handheld vacuum. Another excellent compact vacuum cleaner option is the popular Dyson DC24. This compact upright is small and lightweight but incorporates all of the features that have made Dyson a household name. For pet owners, Dyson rolled out the Dyson DC24 Animal. More compact and lightweight like the other DC24, the Animal is great for smaller homes or apartments.

Canister vacuum cleaners are smaller, lighter, and easier to move around than upright vacuums. These qualities make them better suited for cleaning stairs, under furniture, and other hard-to-reach places. Canister vacuum cleaners work well on both carpet and hard surfaces. They typically come with several vacuum attachments, cleaning tools, and a retractable cord. Our best-selling canister vacuum cleaners include the premium Miele Capricorn & Miele Callisto. The more affordable Miele Titan & Miele Olympus, and the Electrolux Oxygen3 Ultra sit at better price points, and the latter features a washable HEPA filter. The SEBO Airbelt D4 has also become a popular model with canister vacuum consumers.


Bagged Vacuum Cleaners vs. Bagless Vacuum Cleaners
When it is time for dust disposal after vacuuming, bagged vacuum cleaners are better for allergy sufferers, because the dust is collected in a sealed bag. However, bagged vacuum cleaners can lose suction power as the bag fills up. Miele vacuum cleaners have special, high-quality bags that automatically seal themselves upon removal. The new AirClean design filters dirt back into the bag increasing the lifespan of the bag while promoting airflow. Miele vacuums also let you know when it is time to change the dust bag with an indicator light located on the control panel of the vacuum. Though not spring load or self-sealing, many SEBO dust bags have a small plastic cap attached to the bag so that before removing it, you can seal in allergens, dirt and dander.

Bagless vacuum cleaners, like Dyson vacuums, have no bags to get clogged, so you do not have to worry about buying new bags or losing suction power. Bagless vacuum cleaners collect dust in a plastic bin for disposal. The Electrolux EL8502B is designed similar to the Dyson uprights and it has a dust bin instead of traditional vacuum bags. If you suffer from allergies or asthma, we recommend getting someone else to empty the dust bin for you whenever possible. And, it is best to go outdoors to empty the dust bin into the trash.


Easy to Use

Ask yourself: "Are all the buttons and tools on this vacuum intuitive and easy to reach? How easy is it to change the bag or empty the dust bin? How easy is it to maneuver the vacuum cleaner in tight spaces? Does your hand feel right on the handle?" Miele S5 canister vacuums are generally lightweight and much easier to maneuver than upright vacuum cleaners. Our SEBO vacuum cleaners are our lightest upright vacuum cleaners and can fold down flat for vacuuming under furniture. Lastly, Dyson vacuums are designed to access many of those tight spaces.

Performance

The best way to test ergonomics and performance is to get your hands on the vacuum cleaner and see it for yourself. If you are in the Atlanta area, you can stop by our Atlanta show room to "test-drive" our vacuum cleaners. For all of our models, we test their ability to clean dirt and pet hair as well as remove odor and fine dust on both smooth and carpeted surfaces.

Power

Power measured in amps or watts tells us how much energy the vacuum cleaner uses. When choosing a vacuum cleaner, do not rely on the amount of amperage used as a deciding factor. Amperage is the amount of electricity the motor uses and has nothing do the suction power of the vacuum. The suction power is determined by the air flow and is rated as CFM.

Air Flow

Usually measured in CFM (cubic feet per minute), air flow is the force exerted by the moving air which picks up the dirt and moves it into the bag or dust container. Better vacuum cleaners have higher CFM ratings and are more expensive.

Power Head vs. Turbo Head

Turbo heads are purely air-driven and work well in homes with carpet. Power heads have an additional electric motor that gives the brush roll more power to suck up dirt deep in thick or high pile carpet, and many vacuums give you the ability to turn off the brush roll on the power head and use straight suction over smooth flooring. This features can turn a power head into a smooth floor tool with just the flip of switch or push of a button!

Reach

Be sure to check the cord length and make sure that it is long enough for your home or office. Also, think about all the hard-to-reach spots in your home and make sure you find a vacuum cleaner with the ability to reach them. With upright vacuums it is important to take into account the hose. The hose of a Miele S7 upright can stretch to well over 10 feet. This, combined with the crevice tool, makes these vacuums ideal for removing cobwebs from the corners of rooms or sucking up dirt and debris behind a dresser.

Attachments & Options

Do you need a headlight on your vacuum cleaner? Do you need an adjustable, electrified wand so that you can use accessories like upholstery tools and ceiling fan tools? Do you want automatic height adjustment to effortlessly switch from carpet to hardwood? If you decide to get a bagged vacuum cleaner, we recommend that you get one with a bag change indicator light since the vacuum cleaner will not work properly if the bag is too full. Miele vacuum cleaners are regarded as one of the industry leaders when it comes to convenient, state-of-the-art tools and accessories.

Manufacturer's Reputation

A manufacturer's reputation and the experiences of past customers deserve consideration in your decision making process. Certain manufacturers and products are highly respected in the industry for a reason and the same goes for products which have garnered less respect. To do more research on your vacuum, check out our customer reviews and our AchooAllergy.com product reviews located on each product page.

Durability & Warranty

Miele vacuum cleaners offer a seven-year warranty for the motor and a one-year warranty for parts and labor. SEBO vacuums have a five-year warranty on the motor, three-year warranty on parts, and one-year warranty for labor. Dyson vacuums come with a five-year warranty. Electrolux vacuum cleaners have a two-year warranty.

Choose a Miele vacuum cleaner or SEBO vacuum cleaner, and you will not have to worry about buying a new vacuum cleaner for several years.