Allergy relief bedding, HEPA vacuum cleaners, and HEPA air purifiers are essential elements of any allergen avoidance or environmental control routine. This year, we want to focus our gift-giving suggestions on three of our top products in each of these categories.
Allergy Armor for a Great Night's Sleep
We're proud to announce that Allergy Armor Ultra, our most popular fabric within our proprietary allergy relief bedding brand, was recently featured on the television show The Doctors. The episode entitled "Air: Are You Breathing Yourself Sick?" was a big hit with the audience. This endorsement only boosts the appeal of this premium allergy relief bedding as a potentially prized holiday present.
Allergy Armor lives up to its name. Boasting the smallest fabric pore size in the allergy relief bedding industry, Allergy Armor really behaves like armor when you use it to cover your mattresses and other bedding. Dust mites living in mattresses, pillows, and comforters that are covered with Allergy Armor cannot get the food they need from your shed skin cells. And dust mite allergen, pet dander, pollen, or mold spores that may be on pillows or mattresses cannot get through your bedding into your breathing zone.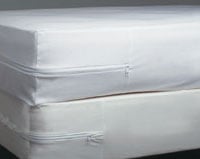 What really sets Allergy Armor apart is its truly luxurious feel. With no hint of noisy, hot plastic that many people associate with allergy covers, Allergy Armor contributes to a restful sleep not only by keeping nighttime allergies to a minimum, but also by melding seamlessly into your bedding. You wouldn't even know our covers are there - except for the tremendous reduction of allergy symptoms and consequent improvement in sleep.
Our Allergy Armor line comes in an array of choices to fit the needs of all your family members. To mention a few, chemically sensitive individuals will prefer our Allergy Armor Organic line, Allergy Armor Classic is our waterproof option, and Allergy Armor Ultra is our top-of-the-line choice for the ultimate in allergen protection and comfort.
Miele Vacuums for Clean Homes and Clean Air
When it comes to HEPA vacuum cleaners, nothing can beat a Miele. With its exceptional construction, German-made motor, compact size, light weight, sealed system technology, and HEPA filtration, Miele vacuums come with every feature one could want in a vacuum. These are used not only for standard cleaning, but for allergy relief-level cleaning.
In fact, Miele's HEPA filtration is so powerful that it performs better than many standard air purifying units. We recently borrowed a particle counter and tested many of our products with it. Miele vacuum cleaners brought particle counts down to a stunning zero! Nevermind a mere vacuum cleaner that doesn't spit allergens back out into your home's air; Miele vacuum cleaners couldn't clean the air any better!
If top-of-the-line Mieles are a bit out of your price range, we've recently launched the new Miele S6 series, just in time for the holidays. These vacuums have a sealed system, but do not come with a HEPA filter. The HEPA filter is an upgrade that can be purchased separately. We love them, and we know you will too.
IQAir Air Purifiers - the Perfect Miele Companion
While Miele vacuum cleaners do behave as well as an air purifier while you clean, you obviously don't want to keep your vacuum cleaner on all the time. For Miele quality air purification, you can't go wrong with IQAir air purifiers. Pairing a Miele vacuum cleaner, used regularly, with a couple of IQAir air purifiers is a great way to ensure that you keep indoor air at pristine levels.
If you want to skip placing multiple air purifiers in strategic locations of your home, consider a whole house air purifier, like the IQAir Perfect 16, the only system rated a perfect MERV 16 for efficiency.
Obtaining top-notch allergy fighting tools from trusted brands like Allergy Armor, Miele, and IQAir to keep allergens out of your family's breathing zone will give the entire household the holiday gift of cleaner air, better sleep, and - overall - better breathing.