Amaircare HEPA air purifiers are some of the most dependable and durable air purifiers available. With true HEPA quality filter media, rubber gaskets and steel construction, each Amaircare air cleaner is a sealed system that won't off-gas while providing the best in quality air filtration. Optional VOC canisters are packed with granulated activated carbon to broaden the range of filtration, adsorbing smoke, odors and chemical vapors. So whether is ridding the air in your home of allergens like dust mites, pet dander or pollen, or trapping harmful gases like formaldehyde or tobacco smoke, Amaircare has a range of models and sizes to suit your home or vehicle. Find replacement Amaircare filters here today!
Call or Chat Now with our Product Experts for Special Offers and Volume Pricing!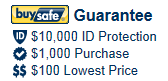 More Information On Amaircare HEPA Air Purifiers
Amaircare Filtration and Common Features
Each of the Amaircare air purifiers we offer come standard with true HEPA filtration. While true HEPA grade filters are important, each model also has a sealed system. With rubber or foam gaskets, each Amaircare HEPA filter seals to the body or housing of the respective air purifier. This seal keeps cleaned air from mixing with dirty air while maintaining a consistent CFM and airflow. This often overlooked part in less expensive models can mean the difference in true particle filtration and simply recycling the air in your home.
In addition to these qualities, all three models are constructed of steel. With the shell or body of these air purifiers being constructed of steel, instead of plastic, you greatly reduce the risk of your off-gassing. Often especially with MCS sufferers, the large plastic bodies of other air purifiers can release chemicals or odors back into the air that cause reactions in some people. Amaircare sidesteps this with a more durable steel frame.
All three Amaircare HEPA air purifiers are manufactured in Canada with primarily domestic parts. Like many quality air purifiers, the motors are of German design and manufacture. Each Amaircare air purifier is particle tested before being packed to ensure that when you receive your air purifier, it delivers consistent particle filtration that meets or exceeds HEPA standards. To see what other customers have asked about Amaircare filters and air purifiers, check out our Amaircare Frequently Asked Questions page.
---
Amaircare HEPA Air Purifiers
As the largest in our line of Amaircare air purifiers, the Amaircare 3000 air purifier is ideal for allergy or asthma sufferers or anyone concerned with particle pollution in their homes. The Amaircare HEPA filter has 100 square feet of filter media that traps 99.97% of all particles 0.3 microns or larger. An activated carbon pre-filter traps larger particles, like pet hair, while adsorbing odors and cigarette smoke. The last layer of filtration is an activated carbon blanket. This adsorbs some chemical pollutants as well as odors and smoke. The Amaircare 3000 has an optional VOC canister for greater adsorption of gaseous pollutants, smoke and odors. With 12 lbs. of granulated activated carbon, the VOC drum makes this model ideal for pet owners. With casters, moving this unit from room to room is a breeze!
Slightly smaller in stature but delivering just as consistent filtration, the Amaircare 2500 quietly fits into most small to medium size rooms. Being smaller and lighter than the 3000, the Amaircare 2500 does not have casters, but it still offers you a choice of 3 colors. Best for spaces under 220 sq. ft., the 2500 air purifier has 50 sq. ft. of HEPA filter media as well as the activated carbon pre-filter and inner filter. This model also has an optional VOC canister that adds 8 lbs. of activated granulated carbon and broadens the filtration range. Filter replacement is as simple as removing 6 screws and your annual filter costs average only about $100. Like other Amaircare air purifiers, the 2500 has a five year warranty backing the motor and 1 year warranty covering everything else.
The last Amaircare air purifier we carry is one our best and longest selling models. The Roomaid air purifier is also a true HEPA air purifier but in a
very compact and lightweight package. Whether used in a dorm room or in the office, at your desk, the Roomaid delivers consistently clean air free of allergens and particle pollution. With an optional car adapter, the Roomaid is an ideal air purifier for removing exhaust emissions, other odors, and air pollution from your vehicle.
The optional Roomaid VOC canister comes with either 100% activated carbon, or features an activated carbon / zeolite blend. A foam pre-filter keeps large particles like dust and hair from clogging the HEPA filter, while thin layers of activated carbon cloth work to remove odors and smoke. An annual Roomaid filter kit takes care of your filter needs between HEPA filter changes (every 2-5 years). With a steel body and 5 year warranty, the Roomaid is a durable, compact air purifier well-suited for traveling with you where ever you go!
---
Amaircare Company History
For almost 20 years, the Amaircare company has provided a full line of air filtration systems for residential, commercial, and automotive applications. Striving to offer the best filtration technology available, Amaircare offers customers the cleanest air possible. "Amaircare's goal is to manufacture the most efficient and complete line of portable and whole house air cleaning products," says Jim Woods, CEO of Amaircare.
Amaircare is based in the city of Mississauga near Toronto, Canada. They continue to produce and manufacture every part (except the motor) of every unit in this office. Because they manufacture and produce all products in their office, Amaircare is able to test every part including the HEPA filter. The Amaircare HEPA filter is tested with a 0.3 micron laser particle counter to ensure that it meets and exceeds the true HEPA standard of air filtration efficiency. The Amaircare HEPA filter is also tested for air flow delivery by measuring the air volumes while the filter is housed in the unit. Amaircare obtains accurate air flow measurements by keeping the filter in the unit during testing.