With their revolutionary HEPASilent technology which combines mechanical and electrostatic filtration, Blueair air purifiers outperform most standard HEPA units by capturing 99.97% of particles 0.1 microns and larger. As Energy Star appliances, each Blueair air purifier consumes about as much power as a light bulb. Thanks to patented SurroundAir technology, the nearly silent Blueair air purifiers achieve peak performance without the noise of a powerful fan. Find Blueair Air Purifiers such as the Blue Air Pro air models and HEPASilent air purifiers as well as Blue air replacement filters below.
Call or Chat Now with our Product Experts for Special Offers and Volume Pricing!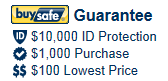 More Information On Blueair Air Purifiers
Selecting the Right Blueair Air Purifier
We are proud to offer the full line of Blueair air purifiers. When selecting a Blueair air purifier, you should ask yourself two basic questions: How much area does it need to cover? And, What kind of air impurities does it need to remove?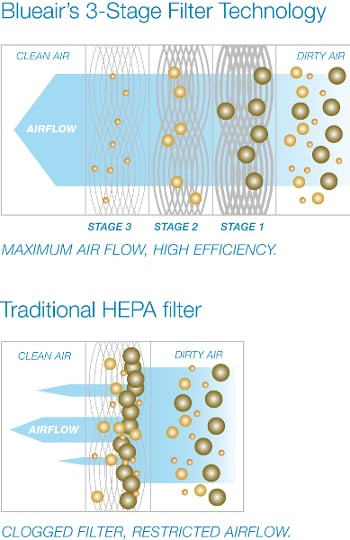 1. Area Coverage: Blueair air purifiers are built to fit a wide variety of rooms. Smaller units like the 203 or the new wi-fi enabled Blueair Sense+ are ideal for small to medium size spaces. Larger units like the 650E are ideal for very large rooms including living rooms and bedrooms, while the new Blueair Pro air purifiers are built for the open floor plans of commercial spaces, offices and large homes. Be sure to select a model that will best suit your space while providing you with 5-6 air exchanges per hour.
2. Air Impurities: All Blueair air purifiers eliminate particulate matter and allergens such as mold spores, pet dander, dust mite allergen, pollen, as well as some odors and gases. However, many allergy and asthma sufferers have problems with smaller particles like smoke, gases, odors, and airborne chemicals. These indoor air quality problems require more sophisticated filters.
If your primary indoor air quality problems stem from allergens and other particulate matter, then choose one of the following models: the Blueair Sense+, the Blueair 203 HEPA Air Purifier, the Blueair 403 HEPA Air Purifier, the Blueair 503 HEPA Air Purifier, or the Blueair 603 HEPA Air Purifier. The standard Blueair particle and gas filter employs some activated carbon for limited removal of smoke, odor, and gas; however, if your primary indoor air quality problems stem from smoke, odors, gases, and chemicals, then select an optional SmokeStop Filter, which uses larger quantities of granulated activated carbon for enhanced removal of smoke, odors, gases, and chemicals.
SmokeStop Filters are available for all of our Blueair air purifier models and each offers 1.79 to nearly 5 lbs. of activated carbon impregnated with magnesium dioxide and copper oxide to not only adsorb but actually break down smoke, odor and VOC molecules.
---
Blueair's HEPASilent Filter
The Blueair HEPASilent filter combines two highly effective forms of air cleaning: mechanical filtration and electrostatic filtration. The mechanical filter is made of non-toxic polypropylene, and its less dense than standard HEPA filters. A carbon layer in the HEPASilent filter adsorbs smaller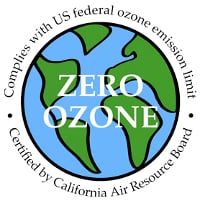 particles and chemicals. An ion chamber inside the air purifier gives particles an electrostatic charge, causing them to stick to the filter. While many electrostatic air cleaners emit ozone (a lung irritant especially dangerous to asthma sufferers) the Blueair air purifier can actually reduce the level of ozone in the air.
The Blueair air purifier produces no detectable amounts of ozone in its ion chamber, and is CARB (California Air Resource Board) certified. Because the filter is less dense than standard HEPA filters, and because the electrostatic charge causes airborne particles to stick to the filter, the fan doesn't have to work as hard, making the Blueair air purifier one of the quietest and most energy efficient air cleaners on the market. Besides being an ultra-quiet Energy Star appliance, the Blueair air purifier does not produce much of a draft since its SurroundAir system draws dirty air in from all sides and gently diffuses air through an area six times greater than the average air cleaner.
---
Blue Air Company Information & History

Originating in Sweden, Blueair air purifiers quickly earned a reputation for top-notch performance, technological innovation, and quality design. Blueair's goal has always been to design and manufacture the best air purification system available. Each Blueair air purifier offers health benefits plus award-winning design that has been recognized by Red Dot, Good Design Award (GDA), and others around the world. Continue reading about Blueair and the history of the company.
---
Superior Quality
The Blueair air purifier boasts the highest CADR among all rated air cleaners. CADR stands for "Clean Air Delivery Rate." CADR is recognized by the U.S.

Environmental Protection Agency (EPA) and American Lung Association (ALA). It is independently measured by Association of Home Appliance Manufacturers (AHAM). CADR ratings measure an air purifiers performance in eliminating tobacco smoke, dust, and pollen and the Blueair air purifier blows its competition away. If you have allergies, you will notice a vast improvement in your quality of life when you purchase a Blueair air purifier. Designated as an Energy Star appliance by the EPA, the Blueair air purifier will not only help you breathe better, but it will also save you money on your power bill.
The Food and Drug Administration (FDA) has listed the Blueair air purifier as a medical device, which means that they meet the strict regulations for use in hospitals, nursing homes, and doctor's offices. Allergists and other physicians may prescribe a Blueair air purifier to a patient since it is a registered medical device. Blueair fans and blowers are manufactured by EBM, a respected medical equipment company. Housed in durable galvanized steel and made from parts of superior quality, the Blueair air purifier is built to last.
---
Blueair and Allergies
Blueair is the system for people living with allergies, asthma, or other respiratory conditions, or for anyone who wants cleaner, more breathable air. Since we live in buildings that are sealed tightly for energy efficiency, air pollution levels are two to five times higher inside the home than out, according to the EPA. We take 9 out of 10 breaths indoors, inhaling about two table spoons of airborne particles a day.
Pollutants include allergens like mold spores, pet dander, dust mite allergen, pollen, as well as household odors and gases, VOCs, tobacco smoke, and other toxic chemicals. A Blueair air purifier will rid your air of these impurities and help you breathe better. To learn more about the health benefits of air purification, read Why Indoor Air Quality is Essential for Your Health and Air Purifiers and Allergy Relief.
---
Discontinued Blueair Air Purifiers
Blueair 501
Blueair 402
Blueair 250E
Blueair 303
Blueair 550E