According to a physician's survey, doctors recommend Honeywell HEPA air purifiers more than any other brand. Honeywell air cleaners offer allergy and asthma relief at an affordable price. Compact, lightweight, and quiet, Honeywell HEPA air purifiers remove pollen, cat dander, dust, mold spores, some odors, bacteria, germs, and other indoor air impurities with a long-lasting HEPA filter and an activated carbon pre-filter. Regardless of the size of your room, there is a Honeywell Air Purifier to meet your air filtration needs.
Call or Chat Now with our Product Experts for Special Offers and Volume Pricing!
Filter Results
Price

Air Purifier Housing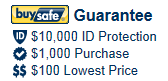 More Information On Honeywell HEPA Air Purifiers
Honeywell Air Purifier Selection

If you're looking for an air purifier for a small room like a bedroom, office, or child's room, then you'll love the
Honeywell 17000 Air Purifier
; it works best in rooms up to 200 square feet and is small enough to fit on an end table or night stand. If you're looking for an air cleaner to cover a larger area, select the
Honeywell 50250 Air Purifier
which works best in rooms up to 390 square feet. The Honeywell 50250 Air Purifier also features three different fan speeds and patented 360° intake and discharge of air, ensuring maximum air flow throughout the room.
---
Honeywell Air Purifier Technology
Originally developed by the US military during WWII to prevent the spread of radioactive contaminants, the HEPA (High Efficiency Particulate Air) filter, by definition, captures at least 99.97% of mold spores, pet dander, dust mite allergen, pollen, and other airborne particles at 0.3 microns or larger. For comparison, a single human hair is roughly 200 microns in diameter. The Honeywell air purifier employs a true HEPA filter to clean the air and reduce airborne allergens which means it meets or exceeds the filtration standards of HEPA filtration. Honeywell air cleaners help reduce airborne germs and bacteria as well. Best of all, Honeywell air purifiers come with a long-lasting HEPA filter. Honeywell air cleaners also remove some odors and vapors with an activated carbon pre-filter that features millions of tiny pores that trap unwanted odors and vapors.
---
Honeywell QuietCare Sound Reduction
Now you can watch TV, talk on the phone, or take a nap without turning off your air purifier! Allergy and asthma sufferers love the silent comfort provided by their Honeywell HEPA air purifiers. Honeywell air purifiers feature sound-reducing technology for ultra-quiet operation. Honeywell sound-reducing technology includes a specially designed fan blade, a rubber isolated motor mount, padded feet, and added insulation, making the Honeywell QuietCare air purifier approximately 30% quieter than comparable air cleaners.
---
Honeywell Air Purifier User-Friendly Features
With filtration certified by AHAM, Honeywell air purifiers use long-lasting filters. Just vacuum the HEPA filters twice a year. You'll still want to replace the activated carbon pre-filter every three months for maximum odor control. Honeywell's Intelli-Check electronic filter indicator lets you know when it's time to change the pre-filter and the HEPA filter. Honeywell's technology minimizes air leaks to ensure that all air passes through the filter for cleaning. A convenient handle makes it easy to carry the lightweight, portable units. Some Honeywell air purifiers also feature a sleep mode feature for the quietest operation. Honeywell air purifiers come with a 5-year limited warranty.
---
Honeywell Air Purifier Health Benefits
As a best-seller among allergy and asthma sufferers, the health benefits of owning a Honeywell air purifier are undisputed. In fact, according to a physician's survey, doctors recommend Honeywell air purifiers more than any other brand. Our allergic and asthmatic customers love the low prices, and the fact that they don't have to buy replacement HEPA filters for Honeywell air cleaners.
MCS
sufferers appreciate that Honeywell's glass-fiber HEPA filters are not treated with any chemicals.
According to the Environmental Protection Agency (EPA), since we live and work in buildings that are sealed tightly for energy efficiency, air pollution levels are two to five times higher inside the home than out (and sometimes they can be 100 times higher!). We take 9 out of 10 breaths indoors, inhaling about two tablespoons of airborne particles a day. Honeywell air purifiers provide true HEPA filtration, eliminating dust mite allergen, pollen, mold, pet dander, odors, and fumes, while helping reduce germs and bacteria. To learn more about the health benefits of air purification, see
How Indoor Air Quality Impacts Your Health
.
---
Discontinued Honeywell Air Purifiers
Honeywell 17005 Air Purifier
Honeywell 18155 Air Purifier