Allergy Armor Cotton Bedding Packages
Allergy Armor Cotton Bedding Packages

Allergy Armor Cotton blend mattress and pillow covers encase your entire bed and zip up tightly to protect you from dust mites, dust mite feces, and other allergens. Allergy Armor Cotton blend allergy relief bedding features a tight weave fabric construction and an average pore size of 3.9 microns. Since dust mite allergen averages around 10 microns, you can rest easier and breathe better knowing that you're completely protected.



Please note that King and CA King bedding packages ship with two-piece box spring covers. If you require a one-piece box spring cover, please order the components separately or call for assistance. p>
---
Features
Your Bedding Package includes:
2 Allergy Armor Cotton

standard size

pillow covers
1 Allergy Armor Cotton mattress cover
1 Allergy Armor Basic box spring cover

Breathable

, Membrane-Free Fabric

Luxurious

246 Thread-Count

Zippered

Covers
Average Pore Size of 3.9 microns

Effective Protection

against Dust Mites, Dust Mite Feces & Other Allergens
Machine Wash and Dry
American Made (AchooAllergy.com Exclusive)
Lasting Allergy Relief with

5-Year Warranty
---
Allergy Armor Cotton Bedding Packages - A Closer Look
Allergy Armor Cotton blend allergy relief bedding is made of a revolutionary fabric that is 40% cotton and 60% polyester. This light, membrane-free fabric has been independently tested and proven to be an extremely effective allergen barrier. Allergy Armor Cotton blend allergy relief bedding is made with double-needle stitching for lasting quality. With a 246 thread count, the Allergy Armor Cotton blend fabric is soft, luxurious, and breathable so you don't have to worry about feeling hot and clammy while trying to sleep. The fabric can withstand high washing and drying temperatures and it comes with a 5-year warranty. You will barely even notice the Allergy Armor Cotton blend bedding beneath your sheets and pillow cases!
---
---
Measuring Your Mattress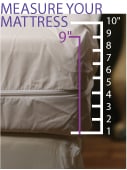 It is important to measure the depth of your mattress before ordering your allergy relief bedding. Most Allergy Armor Ultra mattress covers come in four depths: 9" deep, 12" deep, 15" deep, and 18" deep. For mattresses 9" deep and smaller, order 9" encasings. For mattresses with depths of 10" to 12", order 12" encasings and so on. Extra fabric makes installation easier, and it can be easily tucked between the mattress and box springs.
---
nice product

i purchased my pillow, mattress and box spring covers since I have an allergy to dust mites. It has worked well as far as I can tell. It is nice to know that I am now protected. I had a friend help me put them on the box spring and mattress, otherwise I think it would have been difficult to do it by myself.

Good quality.

The material is good quality, very easy to put on mattress. Had thought about getting covers for several years but never had till now. was not as expensive as I thought they would be.

aaaahh, relief!

For years I've had issues with asthma and coughing that kept me up all night. When I had allergy testing done, the number one culprit was dust mites. My allergist recommended bedding covers and gave me an Achoo Allergy flyer. I reviewed other brands as well and found Achoo Allergy to be the most affordable and had the best reviews. Within a few days I noticed a difference. The mattress and pillow covers are soft and breatheable. I can breathe and sleep soundly throughout the night!

Life Changing Mattress Covers

I have spent a small fortune on doctors and products to help my son with his allergies. His allergy specialist recommended mattress and pillow encasements. I searched and found several companies and all types of products. I decided on achoo! Allergy and purchased the Allergy Armor Cotton products. I could not have made a better decision! I love the allergy armor line and I am about to order more so that every bed and pillow in my house is completely covered! Thank you so much!

Great product

After just a few days of using this product my asthma symptoms have dramatically decreased. The bedding is quiet and cool - such an improvement over the things I've used in the past! Highly recommended.

Good

I am new to all allergy prevention products. I was concerned about making a poor choice. Having allergies is expensive. These casings are easy to put on and you do not know they are there.

Great Deal, Great sheets!

I am very happy with the sheets I got from Achoo Allergy. I heard allergy covers were uncomfortable and made a lot of noice, but these are great. They are soft and think, I love the high quality of them. The customer sevice is wonderful as well.

allergic to everything...except cats

I love this product. My son has such terrible allergies that he doesn't like to leave the house. His skin is red, flaky and wrinkled. He's allergic to everything! We bought the mattress covers for the box spring, mattress and pillows and he's actually clearing up! I'm so grateful to have found something that helps my sons allergies clear up.

Makes a difference

We have an older box spring and mattress. We conducted an extreme clean of our bedroom and all items. These provide an excellent barrier. They fit bed and pillows well.

No More Stuffy Nights

My son was recently allergy tested and Dust Mites was his biggest problem. As soon as the mattress, box springs and pillow cases were covered with Allergy Armor, he instantly slept better and has not needed to take any allery antihistamines. He is feeling great and does not wake up stuffy or sneezing. THANK YOU!!!!!
---

Allergy Armor Cotton Bedding Packages
Anymore, there are a lot of different types of allergy bedding available, and with all these choices, it can be hard to figure out which is best for you. However, with Allergy Armor Cotton Bedding Packages, the decision is easy and real choice you need to make is which size you want! Let's take a look at what makes Allergy Armor Cotton and these dust mite bedding packages a great choice for those dealing with allergies or asthma.
What I like about the Allergy Armor Cotton Bedding Packages:
It is a kit, complete protection for your bedding. With the Allergy Armor Cotton bedding package, your pillows, mattress and box spring are covered. This takes care of most of your most troublesome bedding all in one step!
Material is very comfortable, breathable and durable. There is no membrane as with cheaper bedding products, and this means less noise without sacrificing performance. The blend of cotton and polyester makes the components of the Cotton Bedding Packages more durable than if they were a cotton-only product. And while the warranty period is only five years, you will usually get 10-15 years of use from this product.
The more you wash it the softer it gets. Initially, the covers can feel somewhat rigid, and much like a pair of tennis shoes, it is mainly because the fabric is new, crisp and unused. Regularly washing, not only remove any allergens that can settle on the covers, but it also softens the fabric and will actually tighten the pore size of the covers.
It doesn't make any noise when you sleep on it. Nestled snuggly beneath your fitted and flat sheet, the mattress cover does not make noise and is not crinkly like older style or less expensive covers. The pillow covers may add a little noise, but not much more than a new set of sheets, and this diminishes with washing.
Doesn't retain heat at all, you cant even tell that it is on your bed. Due to the lack of a membrane, these Allergy Armor Cotton dust mite covers will not retain heat. This makes them a great fit for hot sleepers.
Encases entire mattress. Theses encasings cover completely. There are no holes, and unlike covers that mimic fitted sheets, these completely cover the mattress in a layer of allergen resistant fabric.
More hygienic than other fabrics. Unlike cheap terry cloths that have been sprayed with a urethane lining, the tight weave of Allergy Armor Cotton won't hold debris and allergens. And, though it is not waterproof, the tight weave pattern allow water to temporarily bead up, giving you time to clean up spills before it can soak through and stain your mattress.
Easy to care for: hot water washed and dried. Machine wash, machine dry. There are no special cleaners or tricks needed for these. Simply launder as you would your regular bedding.
YKK zippers. This may not seem like much, but with such a basic product, zippers can be and are often the part that fails, but we use YKK brand zippers in each of our Allergy Armor dust mite bedding products.
Made in the USA. We cut, sew and pack each bedding package right here in Atlanta, GA, just for you!
5 year warranty
What I did not like about the Allergy Armor Cotton Bedding Packages:
Can be a bit of a pain to put on, but you only have to take it off and wash it three to four times a year.
The warranty could be longer.
The Cotton Bedding Packages offer complete protection against dust mites and other allergens for your mattress, box spring and pillows - the most common places where dust mites flourish. Economically priced, the pore size provides protection against things like dust mites, dust, pollen and dog dander, the most common particle allergens in the home. Durable and easy to care for, the cotton package blocks allergens and can help to keep you breathing better and waking up without the sneezing, coughing, itching and other symptoms that people with allergies or asthma experience after a night of inhaling the dust mite allergen. As a final note, some of these dust mite packages now come in 12" mattress cover depths, giving you more choice and a more custom fit.


---
Product Questions
Will they shrink because they are made with cotton?
---