Allergy Armor Ultra Bedding Packages
Allergy Armor Ultra Bedding Packages

Why settle for just covering your mattress or pillow when you can protect all of your bedding with one convenient package? With the Allergy Armor Ultra Bedding Package, you receive all the tools

you need to cover your pillows, mattress and box spring with quality dust mite allergy covers.

With urethane or spray-in lining and the smallest average pore size of any woven dust mite fabric, Allergy Armor Ultra covers offer the best protection against the early morning sneezing, congestion, coughing, watery eyes, and night time wheezing that the dust mite allergen can cause. Besides being the best allergy barrier fabric available, each Ultra cover comes with a lifetime warranty.
---
Features
Your Bedding Package includes:
2 Allergy Armor Ultra standard size pillow covers
1 Allergy Armor Ultra mattress cover
1 Allergy Armor Basic box spring cover
Highest Quality Allergy Relief Bedding
Smooth, Soft & Luxurious Microfiber
Breathable Membrane-Free Fabric
Industry Leading 2.8 micron Average Pore Size
100% Polyester Zippered Mattress & Pillow Encasings
Ultra Protection against Dust Mites, Pet Dander, Mold & Other Allergens
Antimicrobial Finish Guards against Stains, Bacteria & Mold
Ultra Mattress and Pillow Covers feature a Lifetime Warranty &
Are Made in the USA
---
Allergy Armor Ultra Bedding Packages - A Closer Look
About Allergy Armor Ultra Fabric
Allergy Armor Ultra mattress and pillow encasings have the smallest average pore size in the industry at 2.8 microns. The ultra-fine 100% polyester fabric goes through an extra finishing process known as calendaring, in which extreme heat and pressure shrinks the pores (the gaps between the threads) to a size that blocks common household allergens.
As a woven fabric, Allergy Armor Ultra can breathe and allow air to easily pass through. This also makes Ultra one of the coolest fabrics to sleep on. In addition to being ideal for hot sleepers, the pore size itself provides unmatched protection. Dust mite allergen averages around 10 microns, but pet dander and mold particles may be as small as 3 microns. Allergy Armor Ultra offers the comfort of luxurious microfiber bedding while keeping you safe from even the smallest allergens. A protective antimicrobial finish provides long-term protection against mold, mildew, soiling agents, stains, and deterioration.
---
Measuring Your Mattress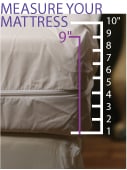 It is important to measure the depth of your mattress before ordering your allergy relief bedding. Most Allergy Armor Ultra mattress covers come in four depths: 9" deep, 12" deep, 15" deep, and 18" deep. For mattresses 9" deep and smaller, order 9" encasings. For mattresses with depths of 10" to 12", order 12" encasings and so on. Extra fabric makes installation easier, and it can be easily tucked between the mattress and box springs.
---
Allergy Armor Ultra

After having been diagnosed with severe allergies to dust mites, I needed to purchase bedding covers. I wanted something that would protect me from my allergies but also be comfortable to sleep on, and not be hot or feel like I was sleeping on plastic. This bedding package has lived up to everything that is says it will. It was easy to put on by myself, my sheets to do not shift around on the cover. I do not get hot at night, nor do I feel like I am sleeping on plastic. These are a great price, and would buy them again in an instant.

No review title given

I ordered a set of the Allergy Armor Advanced bedding sets for a king and queen sized bed. The King size shipped out very quickly and arrived in good condition. The product seems very top notch and my wife's allergy symptoms have decreased after using this product. The Queen size set was backordered however. After a week, I emailed customer service asking how long the product would be backordered. They responded that they thought it would be another 7-10 days, but they would ship out the Allergy Armor Ultra set as a complimentary upgrade right away if I wanted! That is top notch customer service!! The product arrived quickly and in good condition and my allergy symptoms have decreased since using this product as well. Would highly recommend these products and this company to anyone!

5+ dust mite relief

I slept for the first time in decades without a headache! I've also shopped for dust mite covers for years and these are by far the best. Pros - no stuffy, congested nights. Cons - The pillow cases aren't as soft as others. Still wonderful to sleep without pain.

Can now sleep!

I never had allergies until I started remodeling my old house plaster dust, along with the dust of the ages!& my sinuses were overwhelmed now, any dust or cat dander gives me problems. I had been sleeping on my leather sofa in the living room because the bed seemed to set off an attack, even with all the vacuuming & steam cleaning I did to it. At my allergist's recommendation, I bought Achoo Allergy Ultra. It was easy to put on even a king-size mattress and, a month later, I can sleep through the night. My husband & cats are happy, too!

very nice!

I'm glad I splurged for the Ultra. The mattress cover is very breathable and quiet. I feel like I'm doing the best for my daughter's allergy. Very Happy.

No review title given

LOVE that I wake up breathing clear. The only complaint I have is the poorly made spring mattress cover. The zipper split open it's thin and delicate compared to what comes on the mattress cover and the vinyl tends to tear if you aren't careful. Other than that, it's the best purchase I've made for my allergies!!

No review title given

Product is well made, fits appropriately, is soft and washes well.

Good Quality

We bought the package for our queen-sized bed. It fit very well and appears to be very good quality. We bought extra pillow cases because we did not realize that the package actually comes with 3. Would highly recommend.

Allergy Armor Ultra Bedding Packages

I have suffered from severe year round allergies all of my life and have terrible thick post nasal drainage. I have tried everything, including chiropractic care, allergy shots, CT scan, medication both oral and injection and an eastern-western medical procedure which involves injecting B12 into acupuncture points. My best relief so far has come from installing this allergy bedding on my beds in California and Oregon and flushing my sinuses with an irrigator using salt water with Neil Med SinuSurf Surfactant. The Allergy Armor Ultra mattress covers and pillow cases work and fit great. The mattress covers are true to size, unlike some sheet sets, so measure your mattress thickness and order within the size range. The queen size box spring covers are a different story. The two original were both too short. They are supposed to be 80" long and the mattresses measure 79." Both were over 2" short. Customer service was great and I have been sent a replacement for both. The only problem was they fit like the first two, short. Evidently there a manufacturing defect with the queen size vinyl box spring covers, so beware of this problem. My four star rating was based on the mattress cover and pillow cases. If the box spring covers would have fit, I would have rated them five stars.

No review title given

Quality product, prompt delivery, professional all around service!
---


Allergy Armor Ultra Bedding Packages

When it comes to allergy bedding and getting a better night's sleep, covering your pillow is a good first step. Covering your mattress is the next best step, but covering your pillows, mattress and box spring is ideal. That's exactly what you get with the Allergy Armor Ultra bedding package. Included in each dust mite bedding set are a box spring cover, mattress cover and two standard pillow covers. As an added bonus, the packages come with an additional standard pillow cover. How does this bedding package help you control allergies, and how does it compare to other Allergy Armor allergen barrier fabric?

What I like about Allergy Armor Ultra Bedding
The complete bedding set provides you with all the basics to being protecting your bedding. The set covers all of your basic bedding components where dust mites love to hide - mattress, pillow and box springs. Often times people ask about the sheets or blankets, but the reality is, those articles are best washed regularly in hot water and dried at high heat. This process can kill dust mites in blankets or sheets. Washing your mattress, box spring or even pillows is often not an option or nowhere near as easy as washing sheets. Rather than simply accept there are reaction causing dust mites in these, cover them with impenetrable Allergy Armor Ultra.
The average pore size of the Ultra fabric is 2.8 microns, the smallest available for any woven fabric. The pore size is important as this measure will largely determine what allergens can pass through and settle in your mattress, or most commonly what can pass through and come out into the air you breathe at night. The polyester fiber is very tightly woven then run through another finishing process that applies heat and pressure to shrink the pore size down to 2.8 microns, small enough to block dust mites, dander, and pollen. Unlike allergy covers that have membranes or sprayed in linings, Ultra is soft and cool to sleep on. Linings often fall apart with relatively quickly with frequent washing, but Ultra will only protect better and without the noise associated with cheaper plastic or vinyl covers.
The components of the Allergy Armor Ultra dust mite bedding package fit neatly and quietly under your current bedding. Between the fitted sheet and mattress or pillowcase and pillow, these covers block allergens without adding heat or noise. They're also machine washable. Hot water, cold water, it doesn't matter. Ultra covers are well constructed and withstand frequent maching washing and drying, and genuine YKK zippers help to provide you a lifetime of easy use.
Because the Allergy Armor Ultra encasings cover your bedding completely AND they have such a small pore size, they can be a very important first step in feeling better and finding relief from allergy symptoms. For many people, simply adding these to their bedding has meant the end of night time coughing (a common symptom of those with asthma) and/or morning congestion, sinus pressure, watery eyes, sneezing and coughing (typical of those allergic to dust mites). Allergy bedding is not a cure. Its job is to dramatically reduce or eliminate your exposure to the dust mite allergen while you sleep, and it does its job quite well!
The Ultra mattress and pillow covers are made right here in Atlanta, GA from fabric that is crafted in the U.S. Ultra barrier fabric is not an import, so from start to finish the mattress and pillow covers are made in the USA.
What I do not like about Allergy Armor Ultra Bedding
The weakest link in this bedding package is the vinyl box spring cover. True, it is heavy duty, waterproof and completely blocks all allergens, but it is vinyl. For some the smell of new vinyl can be a problem. We recommend you air out the box spring for 24 hours before installing.
Cost can be a bit of a factor for some, especially when you try to compare this product to something you might find at a big box store. While the price is higher, there is no comparison in terms of protection, craftsmanship, effectiveness and longevity.
It is important to remember that allergy bedding covers are just one step people with asthma and allergies can take to better control their indoor environment and reduce allergic/asthmatic reactions. Frequent dusting, vacuuming, and washing you linens regularly in hot water are all additional steps that can help without costing you much extra time or money. The Allergy Armor Ultra bedding package can be more expensive than other types of allergy bedding, but when factor in the quality, pore size, effectiveness and a lifetime of use, you're literally helping yourself for pennies a week. When you're ready to step up from cheap allergy bedding that simply doesn't last, treat yourself to the best and try an Allergy Armor Ultra bedding package!


---
Product Questions
Can the Allergy Armor mattress covers be used with a Sleep Number Bed? I&#39m afraid I can&#39t zip a cover around a SleepNumber bed.
Does the king size Ultra mattress package come with 2 STANDARD size pillow covers or 2 KING size pillow covers?
I noticed a response that although the queen size box spring covers had been too short for queen size box springs, that those coming from a new production would be "fixed." Have they been fixed yet? I&#39d like to order a package, but it seems silly to if the box spring cover won&#39t fit. Thank you.
---